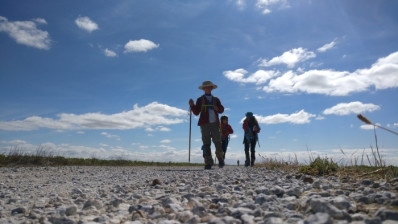 21-05-2019
There is no single Way to Santiago, and there is no single starting point. Once you've figured that out you will want to know what options you have if you are planning your Camino. The French way, the Portuguese Way or the Northern Way are routes chosen by thousands of pilgrims each year, but there are other well-known and documented routes that you may want to try if you've already walked these routes or if you want to experience a different Camino.
On this post we talk about well-established Camino de Santiago routes you may want to travel the next time you embark on your pilgrimage.
VÍA DE LA PLATA AND MOZARABIC WAY

The Vía de la Plata or Southern Way follows an old Roman road and crosses the Iberian Peninsula from South to North in 38 stages (963 kilometers, 598 miles). 9.127 pilgrims chose this Camino in 2018. The Mozarabic Way or Camino Mozárabe goes from Almería to Mérida in 27 stages. Here, in Mérida, it meets the Vía de la Plata. Once you reach Zamora you have two options: you can join the Sanabria Way in Granja de Moreruela or continue to Astorga to join the French Way.
Historically, this Camino was used to trade in silver that came from America in ships to the port of Seville, hence its name- the silver way. This route was established during the middle ages by pilgrims walking from all parts of Andalucia to visit the tomb of the Apostle.
This is the longest Camino de Santiago, so if you are searching for a long itinerary, this is the way to go. This Camino is famous for its calm landscapes, plains and large fields. In fact, on some stages of this Camino, you might have to do 30 km a day because there are no towns in between. It's long and flat stretches make this a great option for cyclists. This Route also goes through Roman ruins, historic cities and lively towns such as Seville, Merida, Caceres or Salamanca.
When walking this Camino, you have to take into consideration that Andalucía during the summer months has a really hot and dry climate and may want to avoid this Camino from July to September. Also, you should always carry enough water and sun protection.
CAMINO SANABRÉS (THE SANABRIA WAY)
The Sanabria Way or Camino Sanabrés was first used by King Alfonso IX to travel back from Santiago after visiting the remains of the Apostle Saint James.
On this Camino, the city of Ourense is the main starting point chosen by pilgrims since it's 100 km away from Santiago, just enough to earn the Compostela. During 2018 3.763 (1,15%) pilgrims chose it as their starting point. 365 pilgrims (0,11%) chose Puebla de Sanabria as their starting point, and 131 (0,04%) chose Granja de Moreruela. If you choose to start in Granja de Moreruela, you will walk 13 stages and 358 kilometers (222 miles). From Puebla de Sanabria you will walk 242,2 kilometers (150 miles) divided into 8 sections.
This Jacobean Route is well provisioned for hiker with a fully-fledged hostel and accommodation network. Even though it has fewer signposts and services than other routes such as the French or Portuguese Way, the Camino Sanabrés is also properly signposted all the way to Santiago de Compostela.
If you choose to walk this Camino de Santiago, you will be able to visit the "Pico Sacro" (The Sacred Peak) a sight linked to a Jacobean Legend. During this pilgrimage that will take you through authentic Galician rural landscapes you will get to enjoy wines, foods and cultural heritage.
CAMINO A FISTERRA Y MUXÍA (THE WAY TO FISTERRA AND MUXÍA)

TheWay to Fisterra and Muxía is a great option if you don't have many days or if you finish your Camino in Santiago de Compostela and you would like to walk towards the "End of the World". During this itinerary you will enjoy quiet walks by the Ocean, beautiful sunsets and the charm of Galician coastal towns.
This itinerary offers several options. You can go from Santiago to Fisterra in 4 stages with a total 90 km (56 miles). You can go from Santiago to Muxía in 3 stages summing up to 82 km (50,9 miles). You can also go to Fisterra through Muxía in 4 days with a 113 km walk (70 miles) or to Muxía through Fisterra in 5 sections of a total of 121 km (75 miles). Last year, 1131 pilgrims, 0,35% of all the pilgrims that walked the Camino, chose this Way that has Santiago as its starting pint rather than its destination.
In Fisterra you can walk through the Langosteira beach and visit the Lighthouse of Fisterra. There, you will be able to enjoy the best view of the sun setting on the atlantic ocean. In Muxía you will find the shrine of A Nosa Señora da Barca and its "Pedra de Abalar" a rock thought to be the vessel in which the Virgin Mary arrived in the Galician coast.
This Camino to Fisterra and Muxía has its own Compostela: the Fisterrana and Muxiana. To earn them you have to continue stamping your Pilgrims Credencial twice a day until you reach Fisterra and Muxía. You can issue these certificates in the Finisterre Hostel and in the Muxia Tourist Office.
CAMINO DE INVIERNO (WINTER WAY)
The Camino de Invierno or Winter Way runs through the Sil river valley as a natural entrance to Galicia. This is a great variant of the French Way during the colder months, since it follows an ancient Roman that avoids climbing the high peak of O Cebreiro, which can be an almost impossible mission in the winter due to the weather conditions such as the snow and the already strenuous walk up. This variant makes it more accessible to pilgrims who, since the Middle Ages, have decided to make the Camino de Santiago in the winter. Even though it's the ideal path to take during the winter, due to the rainy weather and snow, pilgrims increasingly favour this route in the spring and summer.
Ponferrada is the starting point of the Winter Way or Camino de Invierno. This beautiful town is historically linked to the Knights Templar. From here to Santiago de Compostela, pilgrims will walk 263 kilometers (163 miles) divided into 10 stages. The last two stages merge with the Sanabrés Camino.
This Jacobean Route is less crowded than other itineraries, which guarantees a more solitary and quiet pilgrimage. A great alternative for those searching for a quieter route away from the noise of everyday life. In counterpart, you will find less services available for pilgrims, but you will find hostels and accommodations at the end of each section. During 2018, 703 pilgrims (0,21% of all the Camino de Santiago pilgrims) chose this Camino and finished in Santiago, earning their Compostela.
The Winter Way crosses through singular territories such as the region of El Bierzo (León), where the pilgrim can enjoy a stroll through the famous Médulas. You will enter Galicia through Valdeorras in the province of Ourense, then into the South of Lugo and from there to Pontevedra and A Coruña. This is the only Way that crosses all four of the Galician provinces. The landscape on the way is its best asset: you will be able to meander along the Canyons of the Sil river, enjoy the spectacular landscapes full of vineyards in the Ribeira Sacra or climb to the Alto do Faro
Now that you know the history behind these Caminos and the highlights of these routes, which one will you choose? Let us know in the comment section which Camino you identify with the most and share with us your Camino experience.
¡Buen Camino!
Foto principal: Daniel Pallares
---
Your email address will not be published.
Mandatory fields are marked with *