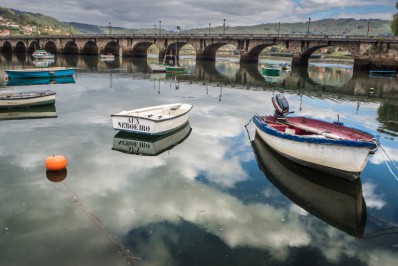 Camino Inglés (The English Way)
From Ferrol to Santiago de Compostela. 5 sections. 122 kilometres. Alternative Route from A Coruña.


The Camino Inglés (English Way) is the first historic maritime route to Santiago de Compostela. From the 11th century until the beginning of the 15th century, an increasing number of European pilgrims, British and Irish in particular, boarded their merchant ships and sailed towards Galician shores. They were joined by the Scandinavians, Flemish, Baltic and Northern French, in maritime adventures full of storms and trouble.
READ MORE
From the shore, they continued their route on foot from two main locations: Ferrol and A Coruña, still the preferred starting points today. The route from Ferrol is over 120 kilometres and takes pilgrims through Narón, Neda, Pontedeume and Abegondo until Mesía. The village of Bruma brings pilgrims coming from A Coruña, a shorter route, together with those coming from Ferrol to continue through Ordes and Oroso until Santiago de Compostela.

When Henry VII ruled the separation of the Church of England from the Catholic church in the 16th century, this route declined but it is booming again today. The truth is, there are many attractions on the Camino Ingés, be it the landscape, history or art. The route combines wild Galician seas and mountains with beautiful towns such as Pontedeume or Betanzos.
The Camino starts in Ferrol with its first section to Neda, and from there it continues to Pontedeume, although most pilgrims decide to walk the 31 km from Ferrol to Pontedeume in a single day.
Camino de Santiago associations
Galicia
Asociación Cultural Grupo de Guías Sant-Yago
Email
ojecoruna@gmail.com
Direction
Rua Costa Rica, 2 - Soto D A Coruña, 15004