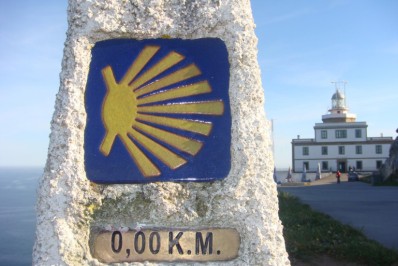 Camino a Fisterra y Muxía (The Way to Fisterra and Muxía)
From Santiago de Compostela to Fisterra. 4 sections. 90 kilometres. Alternative Route to Muxía

This route of the Camino de Santiago does not have the Galician capital as its destination, but as its starting point towards Cape Fisterra and the Chapel of the Virxe da Barca in Muxía.
READ MORE

The Codex Calixtinus explains how the disciples of the Apostle travelled to Dugium, the current Fisterra, looking for an authorisation from the Romans to bury the Saint in Compostela. Already in the 9th century, when the remains were discovered, many pilgrims continued walking until the Costa da Morte or Death Coast.
In Muxía, the Church of A Virxe da Barca merges with the rocks and the sea. Legend has it that the Virgin Mary arrived there on a stone ship to encourage the Apostle during his mission.
Going from Santiago to Fisterra involves 4 stages. You can finish there or continue some thirty kilometres to Muxía. There is another route cutting the walking short by 1 day but this hinders visiting Corcubión. You can get from Santiago to Muxía in 3 days and then from there to Fisterra.
This route is increasing in popularity due to its many attractions, mainly walking and finishing the Camino overlooking the Atlantic. The infamous Death Coast bears this name due to the many shipwrecks that happened there. It still preserves a wild beauty and has been the inspiration for many popular legends throughout the centuries: it is a barren stretch of land, cliffs and waves of unmatched beauty.
Camino de Santiago associations
Galicia
Asociación Neria
Email
asociacion@neria.es
Direction
Calle Castro-Rial, s/n Cee, 15270