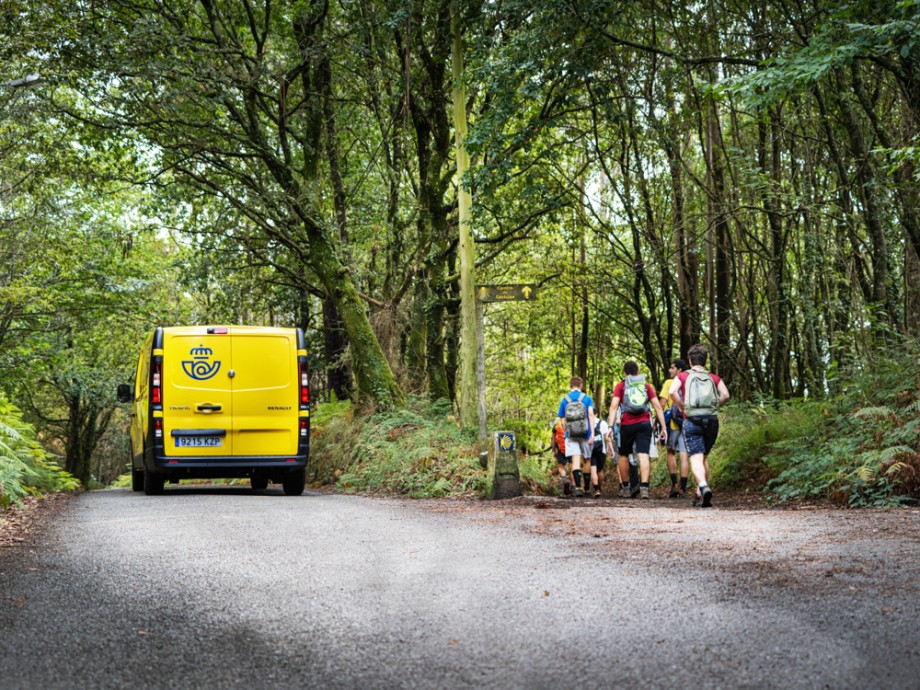 The postman's tips for the Camino de Santiago
Here at Correos we have been travelling these caminos over 300 years to get to every town and home. We do about 700.000 km. daily (that's like touring the world 17 times!!) to get to each and every corner of Spain and we have over 2.000 post offices throughout the country.
So, who better than our mailmen who are close to the Camino de Santiago and travel it daily to help you out and answer you doubts. Here you can read their answer to some of the most FAQ's from pilgrims. Besides, on each stage's information you will find suggestions on what to do, see or eat at each place to really enjoy your Camino.
What should you pack for the Camino de Santiago?

Isabel Martínez Correos Burgos
What to pack shall depend on the kilometres you wish to cover, the days you will have for the Camino, and whether you are going to carry your luggage or have us transfer it for you. If you decide to walk carrying your rucksack, take just the basics, you can wash your clothes at hostels and other places. If you prefer, we may carry your rucksack for you;
you can leave us a suitcase or rucksack
without having to worry about the weight. Whichever decision you make, you can find useful information
here to pack the basics
.
---
What is the Compostela? Where do I collect it?

Pilar MIguélez Correos Santiago
The Compostela is a document issued by Santiago Cathedral to certify that pilgrims have completed the Way of Saint James. You can collect it at the Pilgrim's Office at rúa Carretas, very close to the Praza do Obradoiro. If you wish to obtain it, you need to show your Credencial or Pilgrim's Passport with the stamps to prove that you have covered the last 100 kilometres on foot or 200 by bicycle. When you approach the offices to obtain your Compostela, the staff will ask you if you have done the Camino for religious, religious and cultural, or only cultural reasons. The Compostela will be given if your reasons fall into the first two categories. If you have done the Camino for cultural reasons, they will give you a different certificate. After the joy of reaching the Obradoiro, we recommend that you leave your rucksack in our lockers (150 metres away, at Rúa do Franco) so that you can visit the Cathedral and collect your Compostela and move around unburdened.
---
If I cycle the Camino, how do I send my bicycle back?

José Doce Correos Fene
If you have decided to cycle the Camino, once you get to Santiago or to your final destination, you need not worry about your bicycle on your onward plane, train or bus journey - Correos sends you your bicycle back home. In Santiago, we have our offices at Rúa do Franco 4, very close to the Cathedral, and you can leave it there as soon as you arrive, so that you can go around Santiago unburdened. We send your bicycle neatly packaged and insured. Here you can find all details. By the way, if you prefer to do the Camino without having to carry your pannier bag, you can leave your luggage with us and we will transfer it from one section to the next, according to your plans.
---
Where do pilgrims usually start the Camino de Santiago?

Mª Jesús Vera Correos Quiroga
You can decide where you want to start the Camino. First you have to choose the Route you want to take: the French Way, the Northern Way, the Primitive Way, etc... if you want to finish in Santiago or elsewhere, and see how many days you have.
Pilgrims choose different places as their starting points for the Camino; those on the French Way tend to depart from Saint Jean Pied de Port or Roncesvalles, or further down the Camino in places closer to Santiago such as Sarria, O Cebreiro, the province of León (Astorga, Ponferrada, Sahagún or León), Pamplona or Burgos. For the Portuguese Way, pilgrims usually leave from Porto or Tui; those on the English Way, from Ferrol, and those on the Primitive Way, from Oviedo. Here you can have a look at all the routes and see how you can get to each starting point.
---
How can you get to Finisterre?

Santi Vidal Correos of Bertamiráns
Once having reached Santiago, many pilgrims want to go to Fisterra to see the Kilometre Zero and the sunset over our Land's End. You can get there on foot walking 5 more sections, around 100 km, following the Way to Fisterra, or you can go by bus or hire a tour at a travel agent. If you take the bus, please beware that the last bus back to Santiago is at 19:00. If you want to watch the sunset, you will most likely have to spend the night there.
---
What is the best time to do the Camino?
Ana Isabel Gómez Correos Santo Domingo de la Calzada
You can do the Camino any time of the year, though you must take into account that some hostels close during the winter, so just make sure that you find alternative accommodation. That is why, together with enjoying better weather, most pilgrims prefer to walk from Easter to October.
---
Can I do the Camino alone? Is it safe?

Pilar Díez Correos Bembibre 
Many pilgrims decide to do the Camino alone, and, in fact, those who do so tend to recommend the experience. The Way is safe, there are thousands of pilgrims on it every year and there are no relevant issues. Besides, depending on the time of the year, there are many people on the Way, with similar schedules, so you will never be truly alone. In fact, it is actually an opportunity to meet many different people.
---
Do you really need to get to Santiago de Compostela?

Juan Carlos Ruiz Correos Puente La Reina-Gares
If you want to do the Camino, you need not end in Santiago. You can choose any point on the route. In fact, you can get your Compostela if you do the different sections at different times, the only thing you have to accredit if you are walking is that you have walked all the different sections in the last 100 km leading to Santiago.
---
Is the signage good on all Caminos?

Pepe Claro Correos Mondoñedo
All Caminos have good signage with the ubiquitous yellow arrow that you will see on the floor, on stones, trees, etc. In Galicia, there are milestones every kilometre telling you where you are and how many kilometres are left, although since the beginning of 2016 those milestones are being changed for other types of signage.
---
Are the Original / Primitive Way and the Northern Way as well catered for as the French Way?

Celestino y Aurora Gómez Fernández Correos de Tineo & Grado
The number of pilgrims who decide to follow routes other than the French Way has increased in recent years, in particular, those departing from the Basque Country or Asturias. These Caminos are properly signalled with yellow arrows and have hostels and other types of accommodation along the Way. Both were listed in 2015 as UNESCOs World Heritage Sites.
---
Do I need to be fit to do the Camino? How many kilometres does one have to cover per day?

Amparo Fernández Correos A Fonsagrada
The Camino is suitable for everyone because you can adapt the route to your own capabilities. Even though sections tend to be set and cover on average around 25 kilometres per day, pilgrims may adapt the route to their own physical condition. There are pilgrims who cover 10 kilometres per day while others walk two sections in one go. We see many senior citizens and families with children enjoying their holidays on the Camino. It is true that our rucksack transfer services between sections help people who may not carry heavy loads due to back problems, or who simply wish to be more comfortable. Now you can walk unburdened!
---
What is a Holy Year? When is the next one?

Daniel Calvo Correos Padrón
A Holy Year, also known as Año Santo Jacobeo or Xacobeo is the year when the day of Saint James, July 25th, falls on a Sunday. This happens every 6, 5, 6 and 11 years. During a Holy Year, the plenary indulgence is given to all pilgrims visiting Santiago Cathedral and praying or attending mass, after receiving the Sacraments of Penance and Eucharist. On those particular years, Santiago Cathedral opens the Porta Santa or Holy Door to allow pilgrims inside the cathedral. The next Holy Year will be 2027.
---
Where do pilgrims sleep? What are hostels like? Do they offer bed linen? Can I book my bed?

Teresa López Correos Portomarín
Although traditionally pilgrims used to sleep in public hostels, the range of options for accommodation on the Camino has increased over the years: there are plenty of hostels, boarding houses, hotels, holiday cottages... To choose the best option, you need to consider that public hostels are usually cheaper, but you cannot book them and they work on a first-come-first-served basis; some also have a closing time in the evening. Other hostels boarding houses, hotels, etc. do admit booking and you can return to your room anytime you like. Hostels tend to have large rooms with bunk beds, shared bathrooms and some common room or kitchen. If you are going to use them, do not forget your sleeping bag (although some offer bed linen) and ear plugs, in case somebody snores.
If you don't know where to sleep on your next Camino de Santiago, on our website you can find all the hostels and other accommodations of each Jacobean Route: Hostels and accommodation along Camino Francés, Hostels and accommodation along Camino Portugués, Hostels and accommodation along Camino Primitivo, Hostels and accommodation along Camino del Norte, Hostels and accommodation along Camino Inglés, Hostels and accommodation along Camino a Fisterra y Muxía, Hostels and accommodation along Vía de la Plata, Hostels and accommodation along Camino Sanabrés, Hostels and accommodation along Camino de Invierno, Hostels and accommodation along Camino Mozárabe.
---
What about lunch?

José Rey Correos of O Carballiño 
If you leave early in the morning, you will finish most sections before the afternoon and you can eat in the place where the section ends. Many restaurants on the Camino have the so-called "Menú del Peregrino" (Pilgrim's Menu) and they offer discounts if you show your Credencial. Some hostels have a kitchen, so there is also the option of buying food and cooking it there. If you are taking it easy with the Camino and you do not manage to finish the walk before lunchtime, many villages and towns have restaurants and cafeterias where you can order food and drinks. Still, make sure that you carry enough water with you in the morning for the Camino and, if possible, some fruit, nuts or energy foods in case you feel hungry while you are walking.
---
Are there any tips to prevent foot blisters?
Mª Angeles Frías Correos Castro Urdiales
There are all sorts of tips to avoid blisters. The first tip is not to use new footwear; you have to break it in first. Footwear should fit perfectly, neither too loose or too tight. Wear socks that favour transpiration and that are seamless. Some pilgrims claim it is better to wear two pairs of socks, others that they lubricate their feet well in the morning before they leave, with specific products that you can buy at any pharmacy. Some even use Vaseline or menthol-based cream used for colds. After that, you have to let your feet breath as soon as you can take a break. And if you still get blisters, you can dip your feet in lukewarm water with salt and vinegar. That, and piercing through the blister with a sterilised needle.
If you still have questions after reading these tips, you can send them to us and we will get back to you
Your email address will not be published.
Mandatory fields are marked with *