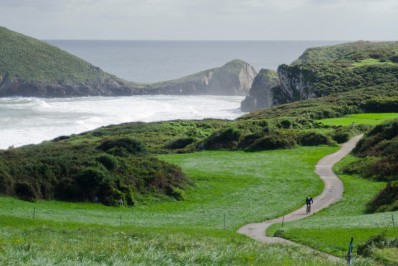 Camino del Norte (The Northern Way)
From Irún to Santiago de Compostela. 35 sections. 820 kilometres.

This ancestral route started attracting pilgrims coming to Santiago de Compostela from the ancient Kingdom of Asturias in the 9th century. Many of them arrived by sea from France, Britain, Flanders and the Scandinavian countries. When the Spanish Reconquista succeeded, the French Way became more relevant and other routes like this one were slowly forgotten.
READ MORE
In recent decades, the Camino del Norte or Northern Way started attracting pilgrims and is nowadays one of the preferred routes due to the beauty of the landscape and the overwhelming presence of the Bay of Biscay. This route is also called the Camino de la Costa or Coastal Way and departs from Irún, goes through the Basque Country, Cantabria and Asturias to enter Galicia through the beautiful town of Ribadeo.

Some sections take you literally along the coast with amazing views over beaches and cliffs. Other sections go inland, with an array of mountains, valleys and forests. The route is always close to villages, towns and cities where you can find any necessary services.
In Arzúa, you will have covered over 780 kilometres from Irún and joined those coming from the Camino Francés to reach Santiago de Compostela. This is the second longest route to the Galician capital after the Vía de la Plata or Southern Route, a very intensive and attractive choice. Pilgrims have several options in many of the sections so that they can choose which places to visit.
Camino de Santiago associations
Asturias
Asociación Cultural Amigos de Ribadesella "Camino de Santiago"
Email
amigosderibadesella@ribadesella.com
Direction
Plaza de Abastos, s/n - Apto. de Correos, 51 Ribeseya/Ribadesella, 33560
Asturias
Asociación de Amigos del Camino de Santiago de Villaviciosa
Email
daflaballera@hotmail.com
Direction
Calle General Campomanes, 26, bajo Villaviciosa, 33300
Asturias
Asociación Astur-Galaica de Santiago Apóstol
Email
asturgalaica-aviles@yahoo.es
Direction
Calle Severo Ochoa, 3 - 1ºD Avilés, 33404
Asturias
Asociación Cultural y del Camino de Santiago "La Humildad"
Email
auroravazquezpomar@hotmail.com
Direction
Carretera General s/n Soto de Luiña , 33156
Asturias
Asociación de Amigos del Camino de Santiago de Siero, Noreña y Sariego
Email
amigoscaminosinosa@yahoo.es
Direction
Párroco José García Galán, 1 La Pola de Siero, 33510
Asturias
Asociación Astur - Galaico de Amigos del Camino de Santiago (Abres - Vegadeo)
Email
asturgalaica@hotmail.com
Direction
Barrio A Ponte, 2 A Veiga/Vegadeo, 33770
Cantabria
Asociación de Amigos del Camino de Santiago de Astillero y Cantabria
Email
aacsastillero@yahoo.es
Direction
Calle Fernandez Escarzada, s/n Guarnizo (Astillero), 39611
Galicia
Asociación "Abrindo Camiño" de Amigos do Camiño Norte de Santiago
Email
elremanso@yahoo.es
Direction
Calle Ferrería, 11. Viloalle Mondoñedo, 27747
País Vasco
Mundo Nuevo. Departamento "Camino de Santiago" (M.N.C.S.)
Email
irunsantiago@yahoo.es
Direction
Calle Fueros, 2 - 1ºD. Delegación Comarcal Txingudi. Apto. de Correos, 555 Irún - San Sebastián
País Vasco
Asociación de los Amigos del Camino de Santiago de Vizcaya
Email
info@caminobizkaia.net
Direction
Grupo Sto. Domingo de Guzmán, 14 - Lonja frente a Calzadas de Mallona Bilbao, 48006
País Vasco
Asociación de Hospitaleros Voluntarios Camino de Santiago Bizkaia
Email
info@hosvobi.org
Direction
Calle Carmelo 6, 2º. Apto. de Correos 7009. Contacto en Albergue Altamira Bilbao, 48004