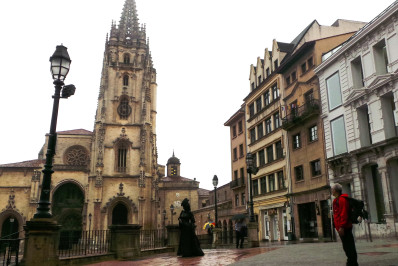 Camino Primitivo (The Primitive Way)
From Uviéu/Oviedo to Santiago de Compostela. 14 sections. 323 kilometres. Section 11 links to The French Way.


The Camino Primitivo (The Original or Primitive Way) is the oldest of all the Caminos: this is the first historic route of which there is a written record. This was the route followed by King Alfonso II the Chaste in the 9th century to visit the tomb of Saint James, which had just been discovered.
READ MORE
Nowadays the route still follows its original layout and there are more pilgrims doing this Camino every year. The Original or Primitive Way departs from Uviéu/Oviedo, the capital of Asturias, and continues towards the West along this region to reach Galicia through A Fonsagrada, in the province of Lugo. It meets the French Way in the village of Palas de Rei.

The route has good signage and crosses lush landscapes on the border between Asturias and Galicia. It hardly goes through roads and avoids traffic most of the time, thus offering a joyful walk through nature.
The Camino Primitivo includes some hard sections with ups and downs, muddy tracks and typical mountain paths. All in all, thanks to the beautiful landscape and a fully-fledged network of hostels and accommodation, more and more pilgrims are choosing this route every year.
Camino de Santiago associations
Asturias
Asociación Astur Leonesa de Amigos del Camino de Santiago
Email
info@caminosantiagoastur.com
Direction
Calle San Pedro Mestallón, 1, Bajo Uviéu/Oviedo, 33099
Asturias
Cofradía Santiago Apóstol de San Lázaro del Camino
Email
cofradiasantiago@gmail.com
Direction
Calle San Mateo - Iglesia de San Lázaro Uviéu/Oviedo, 33008
Asturias
Asociación Cultural "Salas en el Camino de Santiago"
Email
salustianocrespo@gmail.com
Direction
Godán Salas, 33869
Asturias
Asociación de Amigos del Paisaje de Salas
Email
buzon@amisalas.org
Direction
Rabadiellu, 7 Villazón, 33868
Asturias
Asociación de Amigos del Camino de Santiago Astur Galaico del Interior
Email
laureanogarciadez@gmail.com
Direction
Avenida de González Mayo, 3 Tinéu/Tineo, 33870
Galicia
Asociación de Amigos del Camino de Santiago de la provincia de Lugo
Email
lugocamino@gmail.com
Direction
Plaza Comandante Manso, 11, Entresuelo Lugo, 27001