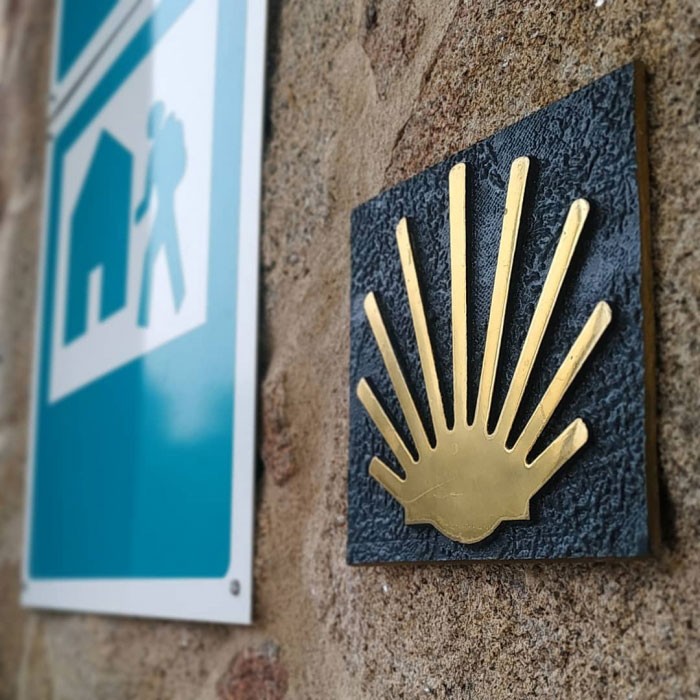 Where to sleep in the Camino de Santiago?
Hostels, pensions, hotels, rural houses ... The Camino de Santiago offers different types of accommodation throughout the many towns that it runs through.
To help pilgrims organize their Jacobean Route, we have created the first search engine for accommodation present on the main routes of the Camino de Santiago. In this section you will find all the establishments that exist in each stage of each Camino. And we have classified them according to their modality: hostels, pensions and hotels / rural houses.
But first, we leave you here a brief explanation of what they are like and how each of them works so that you have all the information before starting the Camino.
READ MORE
The welcome and hospitality are two of the great values ​​of the Jacobean Routes. The constant passage of pilgrims led to the establishment from a very early stage of a whole host network supported, mainly, in pilgrim hospitals. These infrastructures provided shelter for walkers, as well as care and health care.
The hostels on the Camino del Camino are its natural heirs, a fundamental piece for the Jacobean spirit to be more alive than ever. But the new times and the increasing presence of pilgrims has diversified the accommodation offer, allowing everyone to rest according to their tastes and needs.
We tell you the different options that exist today to stay on the Camino de Santiago: from the classic hostels to hostels and pensions, hotels, rural houses ...
Public Hostels on the Camino de Santiago
Public shelters are owned by the municipality, the autonomous community or by associations, religious entities or non-profit organizations.
Their model wants to capture the spirit of the old Pilgrim Hospitals, and that is why they work with volunteer hospitaleros and with prices that can vary between a donation and € 8-10. They are the cheapest option, but they do not allow large groups or prior reservations, as they are usually small and have a different philosophy.
This philosophy has been affected by Covid-19. Since mid-2020, many public hostels have accepted reservations to try to control capacity and strictly comply with security measures.
As long as the pandemic is present in our lives, we recommend that you contact the shelter to find out if it is open, if it has places available and if it is possible to reserve a place.
To this day they are still present in all the Jacobean Routes. In Galicia they are managed by the Xacobeo and are grouped in the Public Network of Albergues del Camino.
How do the public hostels work?
The rooms are shared, they are equipped with several bunk beds, the bathrooms and showers are common and there may be other spaces for common use (kitchen, laundry, living room ...) that vary between hostels. Many close the reception at night, so you will have to come back at a certain time if you want to sleep. Some offer sheets, but not always, so we recommend that you bring your own sleeping bag. And earplugs!
You must necessarily have a Pilgrim's Credential to be able to spend the night in these hostels. The places are distributed in strict order of arrival and pilgrims on foot have priority until a certain time.
If you do the Camino by bike and in high season, you may run out of space. As an alternative in times of more affluence, municipalities usually set up different spaces (sports centers, tents, schools ...) to reinforce the service of the hostels.
Private hostels
Private hostels are another option for pilgrims. Being a private initiative, they are very varied in terms of prices (from € 8-10 to € 20), places, types of rooms, facilities, amenities ... which makes them a good option for many types of people and needs.
In these hostels it is possible to reserve a place and depending on their capacity they can also accommodate groups. An option to consider, especially if you do the Camino in summer and want to ensure a good rest.
On the Camino Francés, a group of these shelters formed the Red de Albergues del Camino in 2001. This association was born to promote, support and drive initiatives and activities in defense of the heritage of the Camino, collaborating with pilgrims, hostels and other institutions.
The Network of Albergues del Camino and Correos have been collaborating for a long time, so in the establishments of the Network you will find some of our services. For example, you can send packages, buy stamps or manage the transfer of your luggage from stage to stage with our PaqMochila. If you know where you are going to sleep in advance, you can reserve it even before you go out.
We remind you that the Correos backpack transport service is available on the French Way from Roncesvalles and Somport, in Portuguese from Tui and A Guarda, in Primitivo from Oviedo, in del Norte from Irún, in English from Ferrol, in the Sanabrés from Ourense and on the way to Fisterra and Muxía. As we also know that many of you write letters or postcards from shelters, we decided to place mailboxes in some of them so that you can send them more comfortably.
Hostels, pensions and rural houses
These establishments are very abundant, because there are many more small population centers on the Camino than large cities, and also because of the constant growth in the number of pilgrims, which has encouraged many people to open accommodation of this type.
Choosing them for the night is not a bad idea if we want to do the Camino without cutting comfort and we have enough resources.
It may also be that in the middle of the Route we urgently need a night's rest away from the snoring of others, in a room all to ourselves.
It must be considered that there are people of all ages and physical conditions on the Camino, and for many it is essential to stay overnight in this type of accommodation.
Hotels, rural houses and paradores
During your pilgrimage you will also pass through medium and large cities where the offer multiplies. If you prefer, you can spend a restorative night (or more) in one of the hotels in the city, while you take the opportunity to visit it more calmly.
Another option that has gained strength in recent years are rural houses. Many are at the foot of the Camiino and allow a total rest after a hard day walking. If you are not one of those who wants to dive into the maelstrom of the cities after a day walking with yourself but you want to have all the comforts of a hotel, rural houses may be a good option.
We do not forget the most VIP option. On the different Routes to Santiago you will find many National Paradores to choose from. The National Paradores are a hotel network that since the beginning of the s. XX converts monuments with great heritage value into accommodation with a high level of quality, thus facilitating their conservation.
Find your hostel or accommodation at each stage
We know that the issue of where to sleep can literally take you away from sleep. To make the task of looking for accommodation easier, in this section you can find and compare the accommodation present along a Jacobean Route, classified by location and type of establishment (hostels, pensions and hotels).
In each Camino, the information is divided into stages. In each one you will find a map, a short description of it, the advice of our postmen and a list of the hostels, accommodations and telephone numbers of interest at each stage.
All information is little when it comes to taking care of rest, pilgrims!