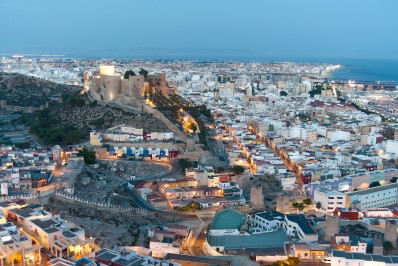 Book PAQ MOCHILA
Vía de la Plata (The Mozárabe-Via de la Plata Way)
The Mozarabic Way is one of the historical routes to Santiago de Compostela used since the Middle Ages by pilgrims from different parts of Andalusia.
With the discovery of the Apostle's tomb, different cities in the Muslim territory of al-Andalus served as a starting point for those citizens who preserved their Christian faith. They were known as Mozarabs, who left cities such as Almería, Granada or Córdoba, until they joined the Vía de la Plata.
READ MORE
It is precisely in the capital of Extremadura, in Mérida, where the pilgrim joins the Via de la Plata to continue to Santiago. This pilgrimage thus becomes one of the longest to Compostela, up to 2 months, for those who decide to undertake it on foot.

The reward of this intense Jacobean Route is daily, with towns full of charm, a range of landscapes and a renowned artistic and cultural heritage. The spectacular monuments of the Andalusian cities, the nature of the Sierra Nevada or Sierra Morena, the olive groves and the valleys, fill the pictures of an unforgettable adventure.

Avoid the hot months
When planning the stages, pilgrims who do the Camino in summer must take into account the high temperatures in this area of southern Spain. Meanwhile, in the winter months, you have to count on snow in some sections that develop in height. Before leaving, it is also advisable to check the accommodation network, since in some villas the hotel offer is limited or they do not have a specific hostel for pilgrims.

The intense work of the Associations of Friends of the Camino de Santiago, from the different Andalusian provinces, has turned the Camino Mozárabe into an increasingly well-marked Route, with more information for pilgrims and with better lodging opportunities.


Suitable for bicigrinos
The Camino Mozárabe, together with the Vía de la Plata, is one of the most suitable routes to Santiago for those pilgrims who decide to travel the Camino by bicycle. Avoiding the hot months, this itinerary runs along comfortable dirt or asphalt tracks, while the route hardly presents any significant slopes.
Camino de Santiago associations
Andalucía
Asociación Jacobea de Almería - Camino Mozárabe
Email
almeriajacobea@gmail.com
Direction
Plaza Vieja, s/n Almería, 04001
Andalucía
Asociación de Amigos del Camino de Santiago "Almería Jacobea"
Email
presidente@asociacionalmeriajacobea.org
Direction
Avenida del Cabo de Gata, 63 Ciudad Jardín, 04007 Almería
Andalucía
Asociación "Granada Jacobea"
Email
administracion@granadajacobea.com.es
Direction
Calle Periodista Mesa de León, 2 - 3ºC Pinos Puente, 18240
Andalucía
Asociación de Amigos del Camino de Santiago de Granada
Email
info@eliniciomozarabe.es
Direction
Plaza Ciudad de los Carmenes, 1 Centro Cívico Berio Granada, 18013
Andalucía
Asociación Amigos del Camino de Santiago de Córdoba, "Casa de Galicia"
Email
caminomozarabecordoba@hotmail.com
Direction
Plaza de San Pedro, 1 Córdoba, 14002
Andalucía
Asociación de Amigos del Camino de Santiago en Cádiz
Email
asociacion@caminosantiagoencadiz.org
Direction
Candray - Esquina Calabaza, s/n Puerto de Santa María, 11500
Andalucía
Asociación Jacobea de Málaga
Email
ajacobeamalaga@hotmail.com
Direction
Calle República Argentina, 9 El Limonar, Málaga, 29016
Andalucía
Asociación de Amigos del Camino de Santiago de Sevilla
Web page
www.viaplata.org
Email
viaplata@viaplata.org
Direction
Calle Castilla, 82, Local Sevilla, 41010
Andalucía
Asociación Jacobea de Jaén
Web page
https://jaenjacobea.es/
Email
caminomozarabejaen@gmail.com
Direction
C/ Nuñez de Balboa 1, local 23007 - Jaén
Andalucía
Federación Andaluza de Asociaciones del Camino de Santiago
Web page
https://caminosantiagoandalucia.org/
Email
caminomozarabejaen@gmail.com
Direction
Calle Castilla, 82, 41010 - Sevilla
Extremadura
Asociación de Amigos del Camino Mozárabe de Santiago de Badajoz
Email
badajozjacobea@gmail.com
Direction
Avenida de América, 6 Castuera, 06420