Luggage storage in Santiago de Compostela
SPECIAL TIME SCHEDULE
Following the instructions of the Real Decreto 463/2020 of the 4th of March, regarding the management of the Covid-19 sanitary crisis, the Correos luggage storage in Santiago is open
- Monday to Friday from 8:30 a.m. to 2:30 p.m. | 3:30-8:30 p.m.
In our branch of CORREOS in Santiago de Compostela you have a luggage storage for rucksacks, suitcases, bicycles and trekking poles. Using this service, you can access the Cathedral (rucksacks are not allowed inside), get your Compostela or visit the city unburdened and without a care.
Our post office in Rúa do Franco, 4, 2 minutes from the Praza do Obradoiro, offers a luggage storage service for rucksacks, suitcases, trekking poles or bicycles. After you have enjoyed your arrival at the Praza do Obradoiro, you can come by and leave your belongings there to access the Cathedral, as access with rucksacks is not allowed. Likewise, you can also enjoy the city without having to carry your bags around.
The office is centrally located in one of Santiago's busiest streets, very close to Praza de Galicia (where you can catch a bus to the airport) and 8 minutes on foot to the railway station.
You can also use the luggage storage to leave you rucksack, suitcase or some bags if you are going to continue on the Camino a Fisterra or tour around Galicia for a while. We will keep them for you until you return.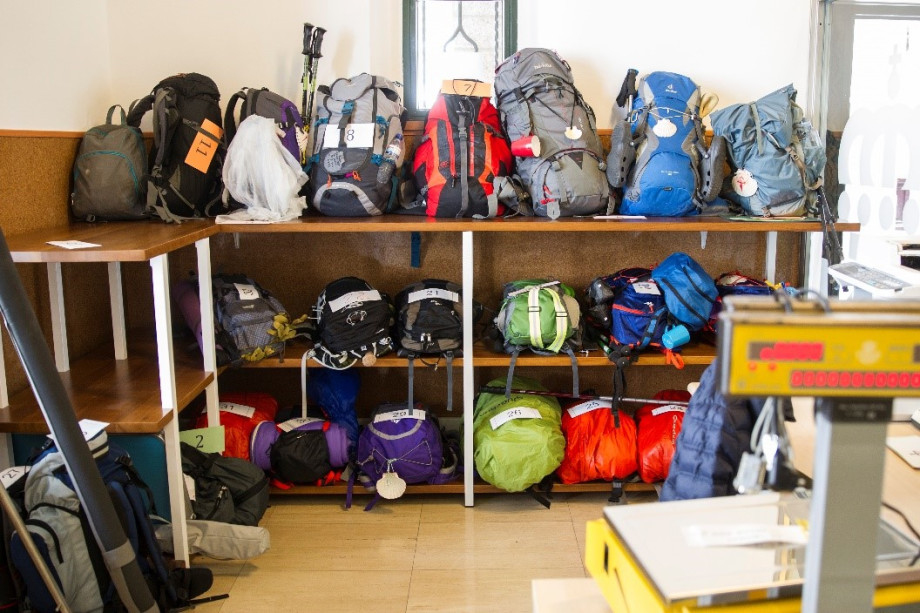 The times our Left-luggage service is avaliable varies depending on whether it is winter or spring/summer.
From Easter until October 31st we open Monday to Saturday from 08:30am to 20:30pm and Sundays and Bank Holidays from 8:30am to 19:00pm.
From November 1st to Easter we open Monday to Friday from 08:30am to 20:30pm and Saturdays from 09:30am to 13:00pm.


Our luggage storage prices are:
Rucksack or suitcase: 2,50 euros/day

Bicycle: 3 euros/day

Trekking pole: 1 euro/day
At our branch in Rúa do Franco we don't just have our left-luggage service. You also have a pilgrims office where you can send your rucksack, bicycle or trekking pole back home, buy stamps, postcards, parcels or hire our Paq Mochila if you want to continue to Fisterra. This video shows how our luggage storage and other pilgrim services work.