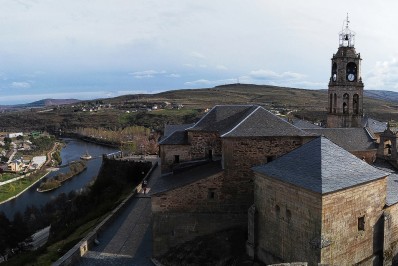 Camino Sanabrés (The Sanabria Way)
From Granja de Moreruela (Zamora) to Santiago de Compostela. 13 sections. 358 kilometres.

If you are walking on the Vía de la Plata or Southern Way, the Caminos Mozárabes or the Camino de Levante, you will reach Zamora. Here you have two options, you can either continue to Granja de Moreruela and Benavente towards Astorga and onto the French Way, or you can reach Santiago taking a detour onto the Camino Sanabrés or Sanabria Way. This Way will take you from Moreruela towards Tábara, Santa Marta de Tera, Mombuey and Puebla de Sanabria.
READ MORE
This is also known as the Camino Mozárabe, king Alfonso IX went back from Santiago using this road in 1225. The Sanabria Way goes along the province of Zamora and enters Galicia through A Gudiña; it then goes through the beautiful city of Ourense, carries on to the province of Pontevedra, and finally the province of A Coruña to reach the Galician capital. The Camino will reveal some Romanesque jewels, landscapes of vineyards and green walkways where tranquillity and nature rule.
Pilgrims on the Camino Sanabrés have a fully-fledged hostel and accommodation network, the route is also properly signposted all the way to Santiago de Compostela. Wine, food and cultural heritage will take the lucky pilgrims on this Camino to their destination. Buen Camino!
Camino de Santiago associations
Castilla y León
Asociación de Amigos del Camino de Santiago Mozárabe-Sanabrés
Email
mozarabesanabres@gmail.com
Direction
Albergue de Peregrinos - Virgen de la Carballeda – Carretera 525, km 49 Rionegro del Puente, 49326