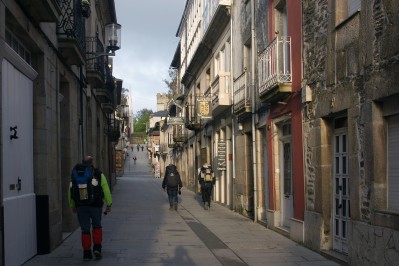 14-08-2018
The Camino Francés (French Way) is one of the most popular routes on the Camino de Santiago. Each year, seven out of ten pilgrims choose this route as one of the most traditional, best signposted routes offering the most infrastructure and services. The majority of the routes that exist in Europe since medieval times converge in the Camino Francés, whose route, stages and sanctuaries were already detailed in the Codex Calixtinus.
Despite its popularity, many pilgrims are unsure as to where they should start walking on a route that covers almost 800 km, or how to arrive at their starting point. Today we will give you some tips that will help you travel to the most popular starting point on the Camino Francés according to the Oficina de Atención al Peregrino: Sarria.
Sarria is the town preferred by pilgrims as the point where they embark on the Camino de Santiago. Of the more than 300,000 pilgrims that journeyed Santiago de Compostela in 2017, some 60% had chosen to follow the Camino Francés. And more than 80,000 of them chose Sarria as their starting point. The main reasons for choosing Sarria is that it offers the minimum distance required for pilgrims to be awarded the Compostela (the pilgrim's certificate). In addition, at Correos we maintain the backpack transport service (the Paq Mochila) from Sarria to Santiago throughout the year. So you can enjoy this section of the Camino Frances without burdens, with your luggage waiting for you at the end of each stage.
The distance to Santiago can be covered in just five stages and boasts a large number of accommodation options and services for pilgrims. Sarria is easy to get to on public transport from different parts of Spain.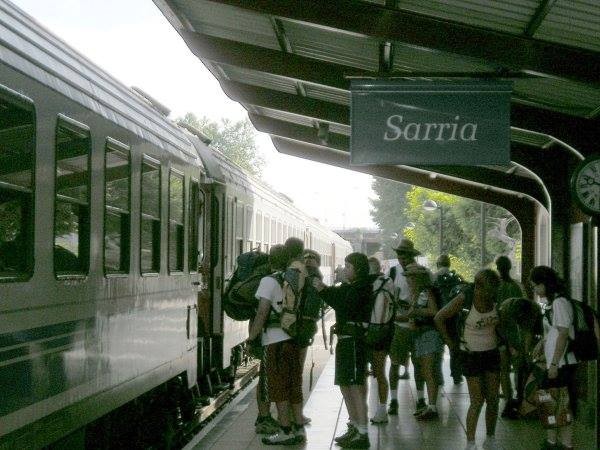 How to get to Sarria by train
Train is one of the most comfortable options if you are travelling from Madrid to Sarria. There is a direct connection that leaves Madrid's Chamartín train station twice a day, with a journey time of approximately six hours. Moreover, there are various trains that connect Madrid with Santiago de Compostela and Lugo, Galician cities from which it is very easy to get to Sarria, with several direct connections every day. You can consult all times and frequencies by contacting Renfe, Spain's national train company.
The train is also the best option when travelling from Barcelona. There are daily direct links from Barcelona (or you can change at Monforte de Lemos), with trains during the day (if you combine the AVE or high-speed train with Long Distance options) and overnight trains. The average journey time from Barcelona is 12 hours. The train from Barcelona to Sarria also connects with other major cities including Tarragona, Lleida, Zaragoza, Pamplona, Vitoria, Burgos, Palencia and León.
From Santiago de Compostela, Renfe offers two daily trains to Sarria: one at 5 pm (two hours' journey time); and at 6.07 pm (with a journey time of almost four hours).
From Lugo, the train is also the most comfortable option. Renfe offers numerous daily connections that will get you to Sarria from Lugo in 30 minutes.
How to get to Sarria by bus
There is no direct connection from Madrid to Sarria but coaches do run to Santiago de Compostela. The only company offering this service both from Madrid's Estación Sur (night bus) and from Moncloa and Madrid Barajas airport T4 is ALSA. The average journey time is 10 hours. It is also possible to catch a direct coach from Lugo to Madrid with ALSA. There are more than five daily connections that will get you to Lugo from Madrid's Sur, Moncloa or T4 stations in under eight hours.
There is no direct coach from Barcelona to Sarria, although ALSA does offer daily coaches to Santiago de Compostela and Lugo.
To get to Sarria from Santiago, your best option is also the bus. The company Monbús runs a direct coach from Santiago's bus station to Sarria, which leaves Santiago at 3 pm. Another company, Freire, runs daily buses from Santiago airport in Lavacolla to Sarria, stopping off at Lugo bus station.
You can also get from Lugo to Sarria by bus using Monbús, with various daily connections between 6.45 am and 8.45 pm.
How to get to Sarria by air
You can also fly from Madrid to Santiago de Compostela. The companies Iberia and Ryanair offer daily flights between the two cities, with a flight time of around 70 minutes. From Santiago airport, you can take the direct bus to Sarria with Freire.
There are direct flights from Barcelona to Santiago de Compostela too. Vueling and Ryanair have daily connections between the two cities. Again, from Santiago airport you can travel to Sarria by bus.
How to get to Sarria by car
If you want to use your private car, the route is quite simple from Madrid. Leave Madrid on the A-6 in the direction of A Coruña and stay on that motorway until you reach Lugo province. Once you're in Lugo province, you'll need to take Exit 479 in the direction of Castroverde/Corgo, and then continue on the CP-1611 and LU-546 in that order. You'll get to Sarria in a little over five hours.
For those travelling from Barcelona, the route involves setting off in the direction of Zaragoza to then take any of the motorways (AP-7, AP-2 or AP-1) leading to Burgos province. Once there, you'll need to take the A-66 in the direction of León, followed by the AP-71 towards Astorga and then the A-6 for A Coruña. Leave the A-6 when you get to Lugo province, Exit 479, to take the CP16-11 and LU-546 in that order to get to your destination in Sarria.
From Santiago, the shortest route is via the AP-9, linking up with the A-6 for Lugo. Once on the A-6, take Exit 488 and follow the Lugo-Monforte/CG-2.2 road to Sarria.
From Lugo, leave the city on the GC-2.2 motorway in the direction of Monforte de Lemos. Sarria is around 30 km further on.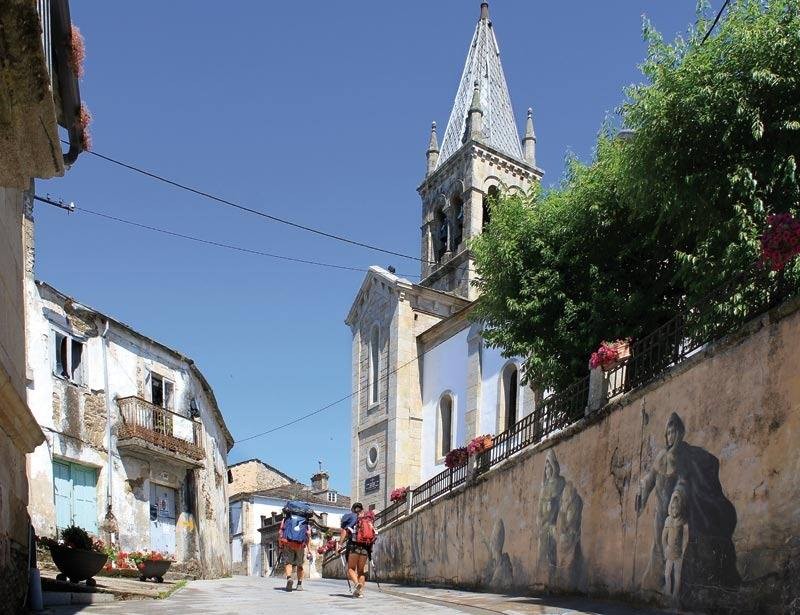 ---
Your email address will not be published.
Mandatory fields are marked with *