Enter the starting and ending point of your Route. Once the reservation has been made, you will be able to detail all the stages and accommodations.
From November 1, the Paq Mochila is available on the French Way from Sarria to Santiago.
As of Easter 2023, the Paq Mochila is available until October 31 at on the Frech Way from Roncesvalles, on the Portuguese Way from Tui, on the Coastal Portuguese Way from A Guarda, on the Variante Espiritual of Portuguese Way; on the Primitive Way from Oviedo, on the Northern Way from Irún, on the English Way from Ferrol, on the Sanabria Way from Ourense and on the Way to Fisterra and Muxía. Paq Mochila is also available on the French Way from Somport and on the Winter Way on request at paqmochila@correos.com.
* The Paq mochila is also available on the Camino Francés from Somport and on the Camino de Invierno on request at paqmochila@correos.com.
Backpack or cabin bag. Max. 15 kg (33 lb).
Maximum distance / day: 60km (37 miles).
FREE cancellation until the day before the start of the Camino.
Offers and Discounts
When hiring your Paq Mochila you can benefit from the following discounts:
Offer for more than 5 stages: € 1 discount per stage.
Offer from Roncesvalles and Irún to Santiago: 10% discount.
Discounts for groups: 5% discount for hiring 5 or more backpacks.
Here are some of the most popular discounted routes:
How does it work?
1. Reservation Through our website or by e-mail hasta at 8:00 p.m. from previous day.
2. Identify Hang in your luggage the label that we send you by e-mail. If you can't print it, identify it with a piece of paper with your data.
3. Leave your luggage Leave it at the reception of the accommodation a before 08: 00h.
4. ¡Buen Camino! We will deliver your luggage to your next accommodation before 2:30 p.m..
At Correos we transfer rucksacks and luggage from one place of accommodation to another all along the Camino de Santiago, every day of your journey.
If you decide to do the Camino without a backpack, Correos will take care of transporting your backpack or luggage every day (also on Sundays and public holidays), stage by stage, to the guest houses, hostels or hotels of your choice.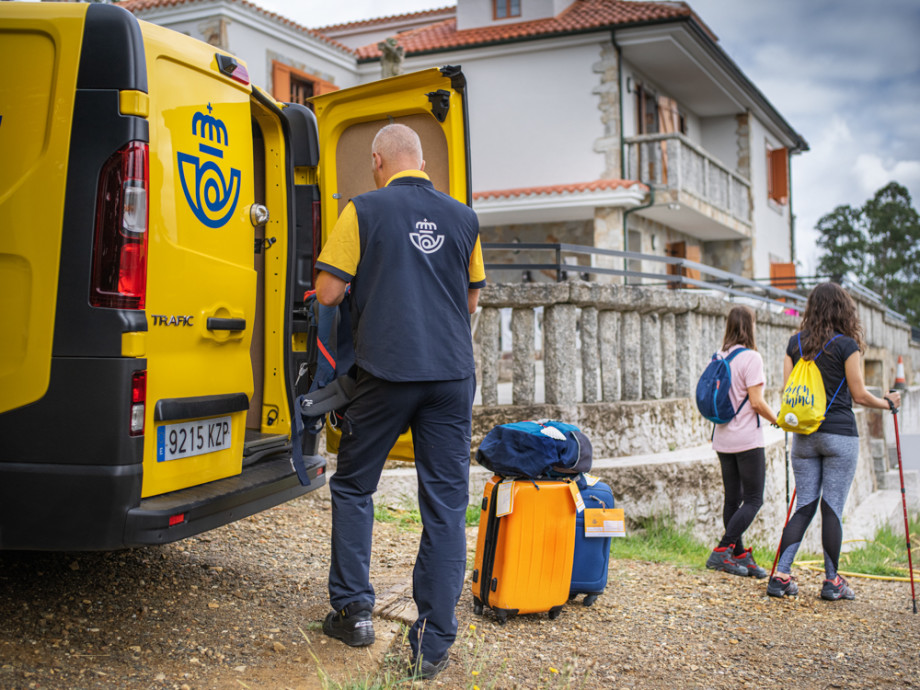 How does Paq Mochila work?
Book the service. Tell us which stages of the Camino de Santiago you are going to do and which accommodation you are going to stay in. The service must be booked before 8:00 pm the day before the transfer.
Tag the rucksack. Before going out walking, you should tag your luggage with the label we sent you when you made your booking. This label contains your details and those of your shipments, which will help us to locate the rucksack and carry out the service correctly. Besides, it will allow you to receive a notification email when we pick up your backpack and when we deliver it to your next accommodation. That way you can walk without burdens and with the peace of knowing where your lugagge is.
If you have not booked online, you will need to place our Paq Mochila envelope on top of your luggage so that we can identify it. You can pick up these envelopes in all of the accommodations along the Way, but you can also download them here. Our postal staff will pick it up and tag it with the tracking code to continue the shipment.
Drop off your luggage. After you have tagged your luggage, leave it at the reception of the accommodation or at the place indicated by the receptionist before 08:00 am.
¡Good Camino! Walk unencumbered and enjoy the Camino de Santiago. Meanwhile, our postal staff will take your luggage to the next indicated accommodation, where you should leave it before 2:30 pm.
How to book the Paq Mochila?
The Paq Mochila can be booked through the online form at the top of this page. The process is very simple: just fill in the required fields and make the payment, by credit card or PayPal.
For online booking we only need to know which stage or stages of the Camino de Santiago you are going to walk, on what date you are going and the location of your first hostel or hotel. Next:
If you have already planned all your stages and you also know the hostels and/or hotels you will be staying at, after making payment you can specify these and all your transfers will be arranged.
If you still don't know which hostel, guest house or hotel you are going to stay in, it's okay. You will be able to access your booking at any time and specify your accommodation. The service must be booked before 8:00 pm the day before the transfer.
Upon completing the booking you will receive an email with all the relevant details and a password in order to make any changes or provide more details about your accommodation.
Each booking is per item (rucksack or luggage) of no more than 15 kg. The maximum route is 60 km/day.
---
FAQS
Paq Mochila reservations can be paid by credit card or Paypal or by going to any Post Office.
* To facilitate payment and comply with the anti Covid-19 recommendations, as of January 1, 2021, cash payments will not be accepted, an exception to those made in a Post office.
You will receive an email with a notification whenever your luggage has been collected and when it has been delivered. In order to be notified you have to hang the tag with your details that you will receive with your booking confirmation on your backpack. If you do not hang that tag, we will not be able to notify you when it is collected or delivered. Remember that our staff will go and collect your luggage from 8am and will deliver it to your next accommodation before 2.30pm.
You can send your backpack to the Post Office on calle Rúa do Franco 4, a 2-minute walk from the Obradoiro and the Cathedral of Santiago. As a Paq Mochila user, the price per day is € 3.00.
Yes. From Easter to 31 October the service is operational from Monday to Sunday, including public holidays. The rest of the year is available on the route from Sarria to Santiago with the exception of December 24, 25 and 31 and January 1, when we rest due to the Christmas holidays.
On the Winter Way and the French Way through Aragón, service is only available from Monday to Friday. For other dates, please contact us at paqmochila@correos.com.
When booking the service, it is only necessary to indicate the first day's accommodation. You can provide details of the rest of the stages and accommodation when you have booked them or even on a daily basis, provided that it is done before 8:00 pm on the day before the luggage is collected.
Yes, it is possible to book the Paq Mochila no matter what type of accommodation you have chosen: hotel, hostel, guest house, apartment, cottage... Only one condition applies: the establishment must have a reception desk to facilitate the collection and reception of the luggage.
In the event that the chosen accommodation does not have a reception, you can find an alternative collection / delivery point and notify us via email paqmochila@correos.es
The Xunta's public hostels do not allow the collection or delivery of rucksacks. However, you can do so at one of our partner establishments. You can find an alternative delivery / collection place or contact us at paqmochila@correos.com.
Yes, as long as the change is on the same Camino. You can make whatever change you want by entering the 'Modify my booking' section using the code we send you by email when you make your booking. Any changes must be made before 8:00 pm on the day before the transfer.
The maximum weight for luggage is 15 kg. If your luggage is heavier, you would have to split the weight between two pieces of luggage and arrange for the transfer of both.
For any incident that may arise on the Way, you can contact us by email at paqmochila@correos.com
If you are unable to start the Way and want to cancel your booking, please let us know by sending an email to paqmochila@correos.com. If you cancel before 8:00 pm the day before the booking, we will give you a full refund.
If you have any other questions you can contact us at paqmochila@correos.com
Other services you might be interested on