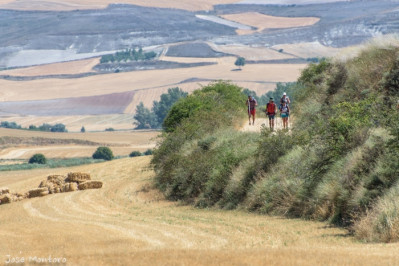 13-07-2023
The summer months are traditionally the period with the highest temperatures on the Camino de Santiago. There are routes that are particularly challenging in summer due to the heat, such as the Vía de la Plata (the Silver Route), which also has long stretches with little or no shade, or the central part of the Camino Francés (French Way) in the provinces of Burgos and León.
Burns, cramps, sunstroke and even heatstroke are just some of the potential consequences if we don't take the appropriate measures before setting off. Today, we'll give you some simple tips so the heat doesn't take its toll on your Camino experience. Let's begin with a piece of advice from Alfonso, Elena and Aurelio, who arrived at their goal in plaza del Obradoiro in the middle of a heatwave and were more than happy to give us some tips for future fellow pilgrims.
Keep hydrated. Pilgrims should drink water whenever they can. This is a crucial rule at any time of year, but especially important in the summer months. It is recommended that you take a drink every half an hour, so make sure a water bottle is your faithful companion. And don't forget to fill it up whenever you can to avoid running out! Keep an eye out for fountains and springs - and always make sure the water you're filling up with is safe to drink. Isotonic drinks are also recommendable, since exercise and heat make us lose mineral salts.
Protect yourself from the sun. The sun is our worst enemy when walking the Camino. To avoid suffering its negative effects, we recommend that you wear breathable clothing in light colours, protect your head with a cap or hat and be sure to apply sun cream every two or three hours. Make sure you apply plenty of cream to the back of your neck and calves, areas that often get overlooked. Eyes can also suffer sun damage, so protect them with sunglasses at every opportunity.
Avoid the hottest times of day. At the hottest times of year, we recommend you avoid walking during the middle of the day when the sun is strongest. The secret is to get up at the crack of dawn! We advise you to leave your hostel at 7 am at the latest so that you can finish your stage before the extreme heat kicks in. And here's an extra tip: if you're walking at night, make sure you take extra precautions and never forget to carry a torch! If you're walking in a group or with company, so much the better. This helps you to stick to your route and means you have help in the event of any incident.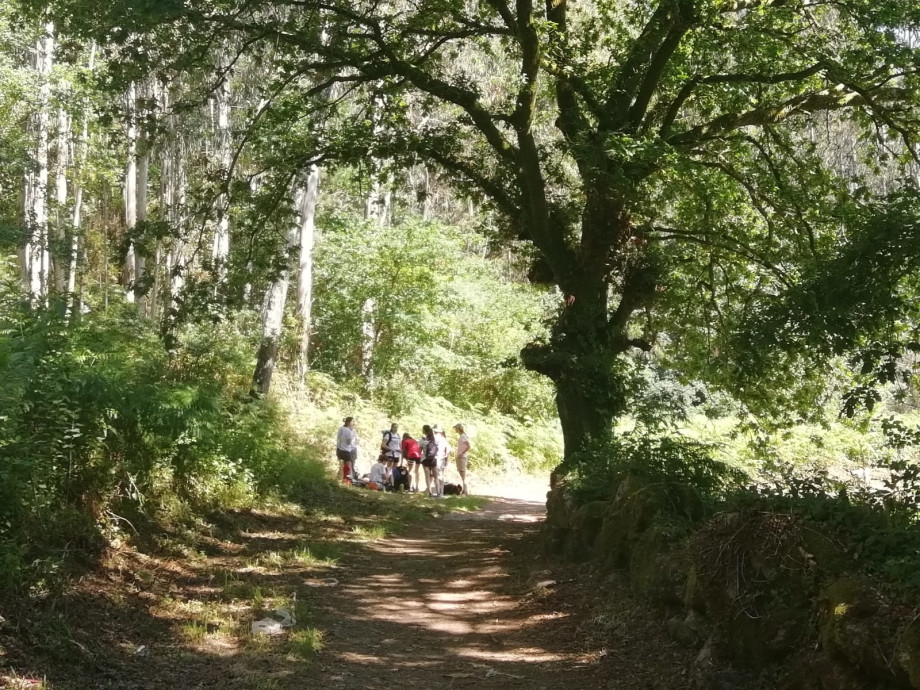 Plan your breaks for the shade. Before you leave, try to plan your route every day, looking for shady areas along the stage. That means you can plan your stops to rest in green areas or places with air conditioning to beat the heat.
Avoid heavy meals... But don't forget to eat! Eating properly is essential to our Camino de Santiago. It's important to keep hydrated and eat something solid along the way, such as fresh fruit and nuts, which will give you the energy you need to finish the stage you're on. To avoid dizzy spells, don't wait until you're really thirsty or hungry to take action. However, remember that walking on a full stomach isn't healthy either, so it's important that you eat your main meal of the day at the end of the stage you're walking. If the stage takes longer than expected for whatever reason, make sure you avoid copious meals. A baguette or light meal is the best option for recharging your batteries and finishing your daily route.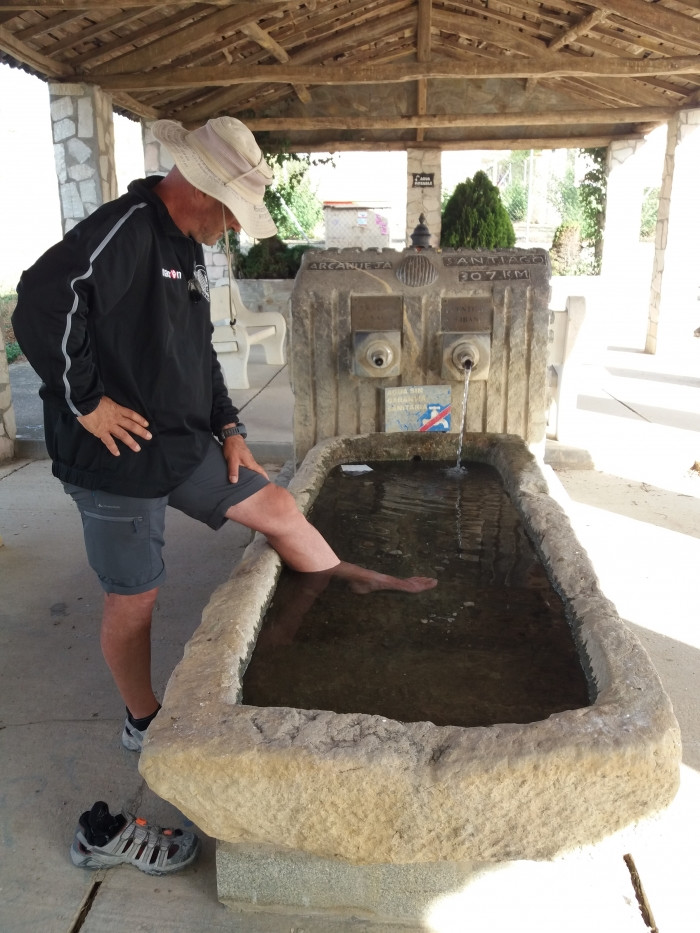 Protect your feet. Your feet require special care when you're walking the Camino de Santiago. But in summer when the heat is on, we should take extra precautions. The best way to ensure you don't get blisters and chafing is to make sure your feet can breathe. Socks play a fundamental role here. We recommend synthetic fabrics with no seams. And, of course, you should never use footwear you haven't broken in. The more used your footwear is, the better!
Don't overdo it. Remember that there's no obligation to complete the kilometres set for the stage in one day. If you're flagging, tired or overheated, just stop! You can make up those kilometres later if it's really necessary. And if you've got extra days, enjoy them! Remember that the essence of the Camino is the road, not some finish line.
Don't shoulder too much weight. Physical exercise in the heat requires more effort and energy. So it's even more important you don't overload yourself. A cap, three t-shirts, two pairs of trousers and three sets of underwear is ample clothing for your Camino. And if you really want to travel light, you might also want to keep in mind that at Correos we offer you a Paq Mochila service to transport your luggage from hostel to hostel so you've got all of your things to hand at the end of each stage. This means you can always carry the same essential kit: water, sun cream, and a bite to eat.
We hope these tips will prove useful if the heat is on for your pilgrimage to Santiago. And to avoid the worst of the hot weather, you can of course try to choose a time of year where temperatures are more forgiving, such as spring and autumn when the weather is less extreme. ¡Buen Camino!
---
Your email address will not be published.
Mandatory fields are marked with *