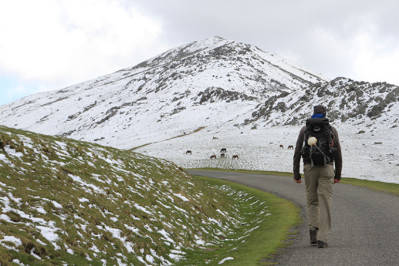 15-12-2022
The Camino de Santiago in winter is an experience as hard as it is extraordinary. All the Jacobean Routes shed their usual hustle and bustle to become more than ever an interior journey. An encounter with oneself, a Route of spirituality, with moments of solitude and postcards of great beauty.
In return, the hardness of the Camino is extreme, especially in the most mountainous areas and in which snow is another companion.
For example, on the French Camino de Santiago you must bear in mind that the variant is closed when entering Navarra. Thus, the pilgrim who leaves Saint Jean Pied de Port must know that they will not be able to cross the pilgrimage route that runs through the port of Lepoeder, which has very harsh weather conditions in winter. Until March, the only option is the western variant, which runs through Valcarlos.
How to do the Camino de Santiago in winter? To answer this common question among pilgrims and avoid these inconveniences, we give you the keys to enjoy the Camino de Santiago also in winter.
Something for which you must follow three keys: choose the appropriate route, plan your itinerary well and protect yourself from the cold.
Plan your Camino de Santiago in Winter
Not all routes are equally suitable in winter. When the coldest months of the year arrive, both some of our services and some of those that you can find along the Camino are modified, since the influx of people is much less at this time.
Therefore, it is important that you are aware of these modifications, not only to be able to plan your Way in the best way, but above all to avoid any type of unforeseen event.
The Camino Francés is still the most prepared route. Although you will find a good number of hostels and possibly restaurants closed, it will be much less than in other itineraries. However, extreme precautions. Rain, cold, snow and wind accompany the pilgrim during these months, encountering some especially tough stages such as the Pyrenees or the climb to O Cebreiro.
In recent years, other routes such as the Camino Portugués have also adapted to the constant flow of pilgrims, being able to travel it perfectly both in summer and winter. Although you will always find some other limitation.
With winter not only comes the end of the most massive season in terms of number of pilgrims. The closing of the season is also stronger for us. A season in which we have worked hard and we have met many pilgrims who have allowed us to accompany them on their way. Either carrying your bike, your backpacks, your suitcases, or simply keeping things in our storage room in Santiago.
Meeting all these people, always so amazed by the Camino, its landscapes, its places and its inhabitants, is a breath of fresh air every day.
Therefore, this article is not only written to tell you about the changes that will take place from now on. We also do it to thank you for having made us enjoy our work every day. Because it is really a pleasure to help people as grateful as a pilgrim.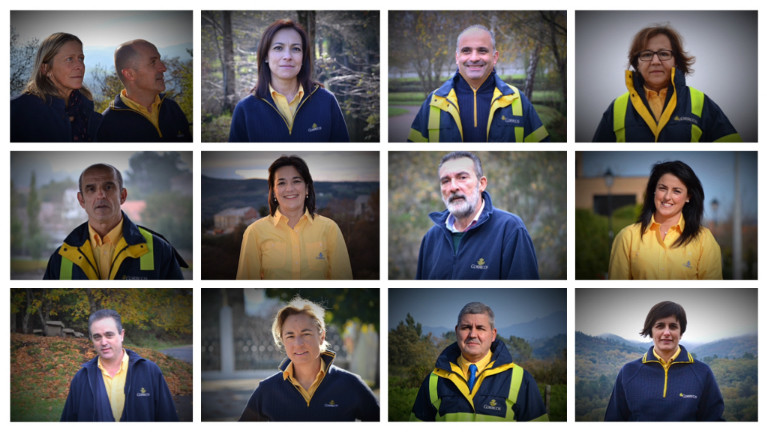 At some point we will already write an article about the enormous amount of anecdotes, curiosities and experiences that we have lived with you in all this time. But we know that now you are wanting to know what to expect from the Camino during the winter.
So, we no longer hold you back with our nerdiness;) and we leave you all the information you will need to be able to fully enjoy the Camino de Santiago in winter.
From all of us Thank you! : D
El Camino con Correos in winter time
In general, our services continue to be provided in the same way as always, only in some cases they will be limited in terms of their geographical coverage or customer service hours. Here is a description of what the modifications will be in each one.
The Paq Mochila continues to operate in the same way, only that, until Easter, it will only cover the stages that go from Sarria to Santiago. Our Call Center is also active for any type of doubt with the reservations.
However, keep in mind that we change our schedule. We are available from Monday to Friday from 8:30 a.m. to 3:00 p.m. at the email paqmochila@correos.com. For more information about this service, click here.
Our left-luggage office in Santiago de Compostela (the ideal place, due to its proximity to the Cathedral, to leave your backpack before visiting it) will remain open. The hours are from Monday to Friday, with the same hours as during the rest of the year, that is: from 8:30 a.m. to 8:30 p.m.
Finally, the Post Office located in the Pilgrim Welcome Office will remain open from 12:00 to 13:00 until Easter. But don't worry! That our office located in Rúa do Franco 4, is only 5 minutes walk from there;)
Apart from these small modifications, the rest of our services (Paq Bicicleta, Paq Peregrino, etc.) will continue to function with exactly the same benefits as during the rest of the year. Of course, if you have any type of query about any of our services, do not hesitate to contact us.
Hostels on the Camino de Santiago in Winter
As we said, when the influx of pilgrims drops considerably, many hostels on the Camino decide to close their doors during the winter season. This can become a problem for those pilgrims who, due to lack of foresight or simply ignorance, are not prepared to face this situation, especially if we consider that they have to face the cold, the rain and, many times, even to the snow.
Remember that public hostels, especially when entering Galicia, remain open all year round. And those deprived of the Jacobean tradition, those who base their activity on hospitality and welcoming the pilgrim, too. In fact, if you want to do the Camino de Santiago at Christmas, you will have to search. But you can do it, since there are accommodations that open their doors on these dates.
Luckily there are certain pages that maintain an updated list of the hostels that close during this time, as well as those that remain open. This has become more common with the emergence of Covid-19 in our lives.
Once again, the most gifted Jacobean Route is the Camino Francés. If you decide on this itinerary, you can check the availability of hostels on the following pages:
Association of Municipalities of the Camino de Santiago. Here you will be able to know in real time the hostels on the French Way that are open and closed and the number of places available.
Aprinca. This page also regularly updates the list of hostels on the Camino Francés that are open in these winter months.
Association of Private Hostels of Galicia (Agalber). When you arrive in Galicia, you can consult the map and a list of all the private hostels that will be available in the winter months.
Xunta de Galicia. Also in Galicia, the government has made a website available to pilgrims where they can check which public hostels are open and even reserve a place.
On the Camino Inglés, they are also working to offer information about the Network of Establishments for the Pilgrimage on the English Way. As soon as it is made public, we will link it here.
Of course, no matter how organized the information they provide us is, we always recommend that you contact the hostels where you plan to stay to make sure you do not have any kind of problem.
Remember that on our website you can find the accommodation for each of the stages of the Camino de Santiago, with address, telephone, email and the services they provide to the pilgrim. We leave you here the accesses by Camino:
Finally, you will surely also see that many restaurants and small venues close their doors. Unfortunately, in this case there are no lists in this regard, so you will have to be proactive and take advantage of those sites that you find open along the Camino.
If it has been useful to you, share this article on your social networks and help other pilgrims to be prepared for the Camino de Santiago in winter.
---
Your email address will not be published.
Mandatory fields are marked with *