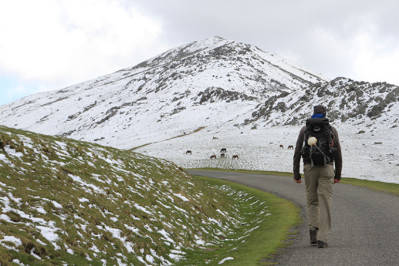 When the winter season arrives, both our services and some along the Camino are modified since the influx of pilgrims is much smaller around this time. It is important that you are aware of these modifications, not only to plan your Camino as best as possible, but also to, above all, avoid any kind of unforeseen events.
Winter not only brings the end of the largest season in terms of visitors, but also ends an intense season for us, a season in which we have worked a great deal and met many pilgrims who have allowed us to accompany them on their journeys: taking their bikes, backpacks, suitcases, or simply keeping their things in our lockers in Santiago. Getting to know all of these people, always amazed by the Camino, its landscapes, its places and inhabitants, is a new adventure every day. For this reason, this article has not only been written to tell you about the changes taking place from now on, but also to thank you for letting us enjoy each day at work. It truly is a pleasure to help those as grateful as the pilgrim. At some point, we will write an article about the enormous number of anecdotes, curiosities and experiences that we have lived alongside of you throughout this time. We know that you want to know what to expect from thee Camino during the winter season, so we won't keep you waiting any longer with more of our nonsense ;) Below is all of the information necessary to enjoy the Camino de Santiago in winter to the fullest.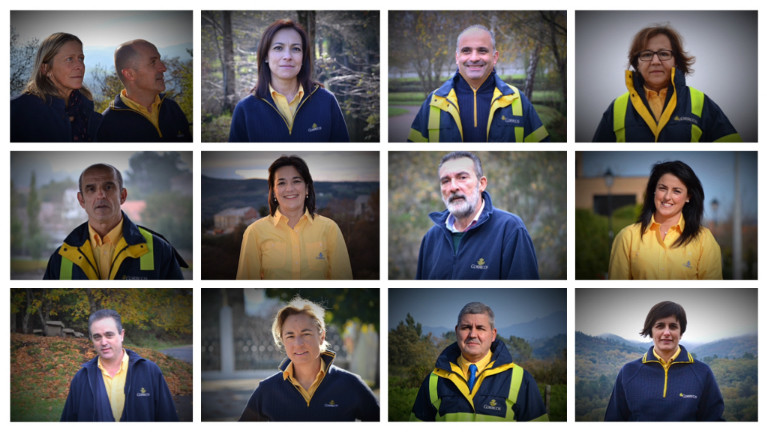 From all of us: Thank You! :D
The Camino Post Office in the winter season
In general, our services continue as usual, except that in some cases they are limited in terms of geographical coverage or hours open to the public. Below is a description of modifications.
The BackpackPak continues operating the same, but during Holy Week the stages from Sarria to Santiago will only be covered. For more information on this service, click here.
Likewise, our locker in Santiago de Compostela (the ideal location to leave your backpack before visiting because of its proximity to the Cathedral) will remain open from Monday to Friday with the same hours as the rest of the year. The only change this to service is that Saturdays it will be open from 9:30 to 13:00, while closing on Sundays and holidays. These changes in hours will continues until the start of Holy Week. For more information about this service, visit this link.
Lastly, the Post Office located at the Pilgrim Reception Office will remain closed until Holy Week. But don't worry! Our office located on Rúa do Franco 4 is only a 5 minute walk ;)
Apart from these minor changes, the rest of our services (BicyclePak, PilgrimPak, etc.) will continue operating the same with the same benefits as during the rest of the year. Of course, if you have any questions about any of our services, don't hesitate to contact us.
Hostels on the Camino de Santiago in winter
As we mentioned previously, when the number of pilgrims falls considerably, many hostels on the Camino decide to close their doors during the winter season. This might be a problem for those pilgrims who, not planning ahead or without prior knowledge, are not prepared for this situation, especially if we consider that they will be facing the cold, rain and, many times, snow. Luckily, there are certain pages that maintain an updated list of hostels that close during this period, as well as those that remain open. Of course, however prepared you may be, we always recommend that you contact the hostels to avoid any problems. You can find the telephone numbers of each hostel at each stage of every camino on our website. Below are the lists:
Hostels on the Camino de Santiago in winter according to Todosloscaminosdesantiago.com
Hostels on the Camino Francés in winter
Hostels on the Camino Inglés in winter
Hostels on the Camino Aragonés in winter
Hostels on the Camino de Le Puy in winter
Hostels on the Camino to Finisterre in winter
Hostels on the Northern Camino in winter
Hostels on the Camino de Madrid in winter
Hostels on the Camino Vía de la Plata in winter
Hostels on the Camino del Salvador in winter
Hostels on the Primitive Camino in winter
Hostels on the Camino Vasco Interior in winter
Hostels on the Camino Portugués in winter
Hostels on the Camino Sanabrés in winter
Finally, we're sure that you'll see many restaurants, big and small, close their doors. Unfortunately, in this case, there are no listings on the subject, so you'll have to think ahead and take advantage of those places that are open along the Way.
Share this article on social media, and help other pilgrims prepare for the Camino de Santiago in winter.
---
Your email address will not be published.
Mandatory fields are marked with *