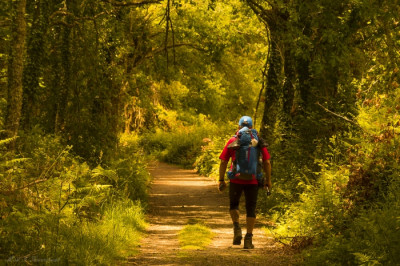 19-01-2023
Do you have to train to do the Camino de Santiago? Is it necessary to be in shape? Do I have to have a previous physical preparation? To do the Camino it is not necessary to be a professional athlete, but prior preparation is recommended to accustom the body.
Along our Camino de Santiago we will walk for days and even weeks, we will travel an average of 25 or 30 kilometers a day, with weather conditions that can be adverse: heat, rain, wind ... Regular exercise or a simple previous training will help us to better carry each stage and avoid possible injury. We leave you some tips to get to the Camino de Santiago in good shape.
Prepare body and mind. The Camino de Santiago is much more than walking a route. It is a unique experience that we recommend you fully enjoy. Therefore, in addition to a suitable physical condition, it is advisable to mentalize and prepare for what is going to happen in the following days.
With your body and mind in shape you will be less prone to injury, you will be less likely to have to give up or to collapse midway. And when you arrive in Santiago de Compostela you will feel that you will never experience anything like it again.
Plan your training. Do you have to train in advance to do the Camino de Santiago? As we told you, it is not about doing a strict training. But it does pick up a rhythm and get used to the body. Keep in mind that if you are in poor shape when it comes to doing the Camino, the Route will become an ordeal when it should be an enjoyment.
1. Start two to three months early. The best option is start to doing physical activity two to three months before. At the beginning, about three days a week and gradually increase until it is done on a regular basis. Experts recommend starting by walking for an hour a day, for example, and gradually increasing in time and difficulty.
2. Choose the Camino that suits your needs. The Camino de Santiago that you choose will also be very important when preparing it. Your resistance should be greater as the stages of the Camino are more. It is not the same to do the French Way from Saint Jean Pied de Port than to do it from Sarria.
The most important thing is to listen to what your body needs and adapt the training to your needs. Don't beat yourself up one day and go for five without going for a walk because you can't get out of bed. Go progressively, introducing different types of effort and difficulty (slopes, unevenness ...), as well as various surfaces: mountain, asphalt ...
3. Backpack, yes or no? The last weeks of training, incorporate the backpack that you are going to take to the Camino. This way you will get used to walking with weight and with the backpack loaded on your back.
If you see that you cannot load or that it will complicate the Camino, remember that you can always use the Paq Mochila, our daily luggage transport service from hostel to hostel.
Medical exmination. It is not essential. But if you are elderly or have a chronic pathology, we recommend that you do a medical examination before leaving. You will spend days and even weeks walking every day, putting your heart, joints and muscles to a remarkable strain. It is better that you start your Camino de Santiago calmly.
Complementary physical exercises. In addition to going for a walk, it is advisable to complete the training with elasticity and toning exercises so that the muscles are prepared during the Camino de Santiago, which will avoid injuries.
Keep in mind that some of the most common injuries are tendonitis, muscle strain, or sprains. The better prepared your body is, the better.
Stretch before and after walking. Stretching is essential during training and along the Camino itself, before and after each stage. It is especially important to stretch calves, hamstrings and quads, as the legs will suffer the most from the dreaded soreness. But don't forget about the other muscles and joints.
How to train for the Camino de Santiago by bike. If you are going to do the Camino on two wheels, the advice is the same. It will depend on how used you are to cycling but, as if it is on foot, you should start training two or three months before so that the body adapts to the bike.
It is recommended that you start on the plains and gradually incorporate slopes and climbs, as well as different terrain. In the last days you should also incorporate the saddlebags if you are going to do the Camino de Santiago with them.
We hope that these tips on how to prepare the Camino de Santiago will be useful to you. And if you have any trick that you have found very useful on your pilgrimage to Santiago, do not hesitate to share it. Buen Camino!
* Miguel Ángel Gómez is the author of the photograph that illustrates the article.
---
Your email address will not be published.
Mandatory fields are marked with *