The values of the Camino in 12 months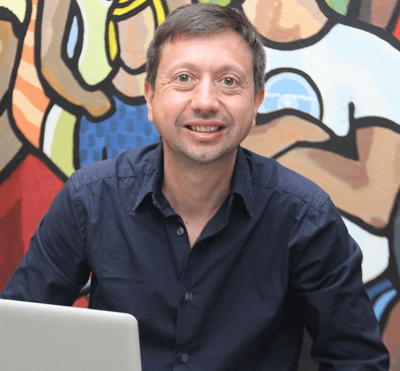 20-04-2017
Stephen Marriott is a British writer and pilgrim who, like many others, the Way of St. James changed his life. His story shows that the pilgrimage is much more than a trip in which to observe landscapes or exercise. That's why we, with the invaluable help of iPeregrinos, are working to show you "The values of the Camino de Santiago in 12 months".
Today we speak with Stephen, who in our opinion is a perfect example of the value of this month of April: Sensibility on the Camino. Stephen's literature is inspired by his travels and roads on the less traveled routes. The sensitivity of the Camino de Santiago was one of the causes for Stephen to begin his new life as a writer, leaving behind a job as an investment analyst who no longer satisfied his curiosity for what the world could bring. The world now brings a sensitivity that comes out in each of his words. For this reason, today for the first time in this blog, we publish a direct interview:

El Camino con Correos: The pilgrimage has changed your life, especially, The Camino. What was the main thing that caused this change in the way you live?

Stephen: The Way taught me to slow down and look around, life is not a race. It is more important to experience life and enjoy all its wonders. I did not have a time limit to complete my Way, which meant that I took my time and actually observed nature: with simple things like stopping to smell a flower, trying a grape on a vine and stopping to look back and observe the landscape by the one that had just passed. I even hugged a tree a few times!
Although I live in London, I now take part in my routine to take a walk most mornings and visit a park regularly. This is my moment of meditation.

"I even hugged a tree a few times!"
In your book, Candyfloss Guitar, you tell the story of a pilgrim's self-discovery, explain us a little more about this discovery ...

My main character Diego discovers his vocation that is to be a professional flamenco guitar player. But he never believed in his ability until he embarked on the journey of the Way. He felt comfortable in his life before, but the Way forces you to consider the most important things in life and your priorities. You learn that there are simple things that are most important; Food, shelter and friendship. But you also learn that you will never be happy in life until you have self-esteem and believe in yourself. And when Diego makes this discovery he realizes that his gift is the musical talent of the guitar. After that nothing will stop him being the best guitar player he can be.

"Many people who walk the Camino seek to make changes in their life and routine but do not know how to do it"
Many pilgrims find in the Camino the opportunity to escape from the daily routine. Could this experience make you change your way of thinking, even if you return to that routine?
Many people who walk the Camino seek to make changes in their life and routine but do not know how to do it. And of course the Camino will not always provide the answer immediately, but people must give time to the seeds of the Camino to grow within themselves.
They say that when the Camino is completed, the real Camino begins. The point is, even if you want to change your life and maybe escape from 9-5, but you return to that routine; you will come back to it with a new way of seeing it and with new ideas. And that is the beginning to make any changes in the routine and other things in your life.

"On the Road people are not strangers for long"
How does the Camino make people more sensitive?
For me it was the realization that my problems were not bigger than others, in fact, they were much smaller. On the Road people are not strangers for long and the camaraderie of the route makes you open to new people.

What makes the Camino a different trip to other types of trips?
It really is as spiritual experience and a true pilgrimage. Although it is a very long walk and that day one in the French Way from St. Jean Pied de Port tests the legs of the strongest pilgrims, crossing the Pyrenees in Spain, the energy of the Road as soon as you take your first steps along your Path. It is quite magical and difficult to describe with words, but if you walk, you will understand.

If you want to know more about Stephen Marriot and his book, Candyfloss Guitar, do not hesitate to visit his website: stephenrmarriott.com
Have a nice Camino!!!!
---
Your email address will not be published.
Mandatory fields are marked with *