The values of the Camino in 12 months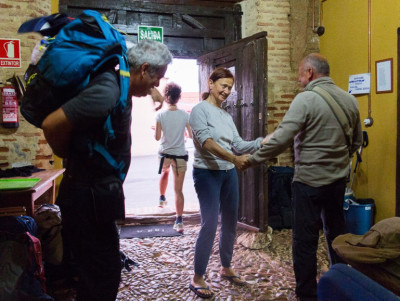 01-02-2018
They are the people who help, cater, care and receive in the Way of Saint James. Without them, the pilgrimage to Santiago would be impracticable. And the unforgettable experience that the pilgrims take, impossible. They are the hospitaleros, authentic guardian angels of the Camino.
Giving to know his figure we put an end to the initiative The Values of the Way in 12 Months that during the last year we have carried out from El Camino with Correos and iPeregrinos. And what better way to do it than talking to some of them and telling their experiences and anecdotes as hospitaleros.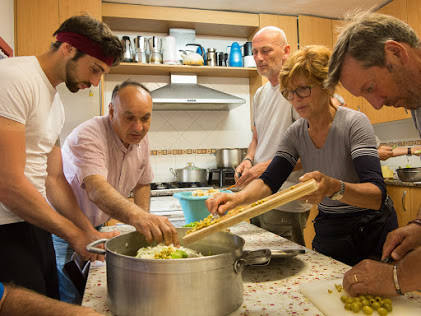 Ángel Herranz has been hosting the Way of Saint james for more than a decade. He is one of the many Volunteer Hospitaleros who each year receive pilgrims in one of the parish and municipal shelters present on the Way. His work is daily, constant and unpaid. Although as Ángel explains to us, "the dedication is altruistic economically speaking but emotionally egoistic".
Ángel became hospitable by chance. He went to Grañón on Friday thinking he was going to do a cooking course. And he left there on a Sunday turned hospitable. A hostel in Nájera was their first destination. And after 15 days side by side with pilgrims and companions, he was united for life with hospitality.
Requirements to be a Volunteer Hospitalero
Hospitality is very rewarding but also very demanding. That's why we asked Ángel what it takes to be a volunteer hospitalero. "We establish three requirements: having made the pilgrimage to Santiago, wanting to dedicate time and skills in an altruistic manner to the reception and conduct a short workshop organized by the Federation of Friends of the Way of Saint James," he explains.
Ángel Herranz: "The people who decide to become voluntary hospitaleros seek to return to the Camino what the Camino gave them"
Ángel himself is also a trainer and highlights the need for everyone to go through that experience. "The role of voluntary hospitalero is usually hard work and nothing like an alternative vacation. And people should know", he says. "Most of the people who take the step and decide to become an hospitalero seek to return to the Camino what the Camino gave them", adds Ángel, who nonetheless tells us that there are people who fall in love with hospitality for life. But there are also people who do not return after their first experience.
Ángel Herranz gives us the keys to a perfect hospitality. And is that in addition to the daily work at the shelter, this veteran reminds us that the hospitalero must attend to the pilgrims and complement their peers. "It's not just hygiene, food or the resolution of doubts. You have to create an environment or a climate that favors the reception", he says. With this done, everything else goes smoothly. "You may not know languages and not understand someone, but always appears a person willing to translate or help. In the hostels there is a magic that does not occur anywhere else" he says.
Finally, Ángel is clear about the perfect hospitalero: "An hospitalero is that who attends all the pilgrims but makes everyone feel unique and special. And, above all, that who the pilgrims take in the memory but do not know his name."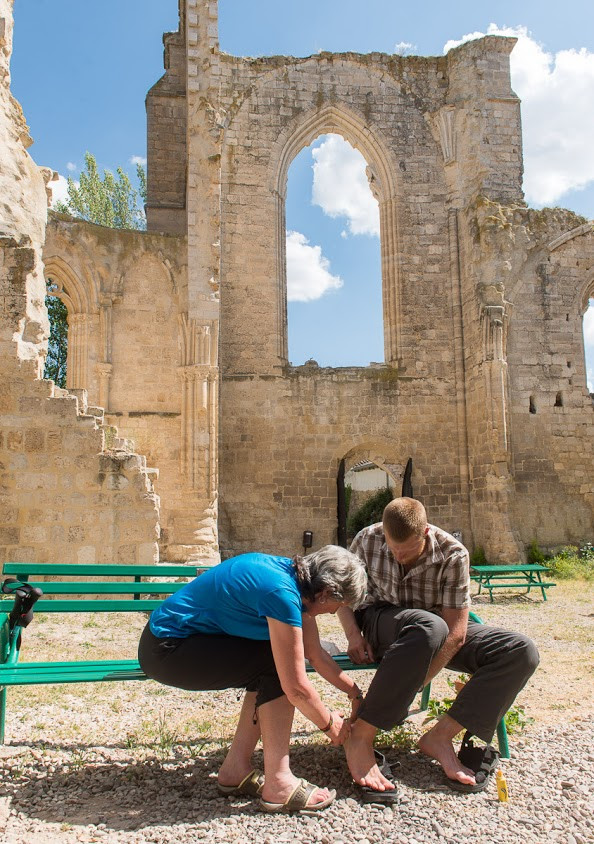 Help to the pilgrim
Volunteers are not the only ones offering hospitality on the Camino de Santiago. In private hostels, although there is an economic remuneration, welcoming is also key. A good example is Celestino Alonso, owner with his wife of Albergue El Cántaro de Navarrete, a town 12 kilometers from Logroño.
This marriage has been fourteen years in front of the shelter receiving 4,500 pilgrims every year. And in all this time Celestino has learned that the pilgrim's help is his fundamental pillar. "We are here to assist you, to solve your doubts, even to chat with you" he tells us, a function that, of course, must be combined with the maintenance of the establishment.
For Celestino one of the most fascinating things about being hospitalero is the opportunity to meet very different people, to gather at the same table people who in other circumstances would never sit together to chat.
Celestino Alonso: "We are here to take care of the pilgrims, to solve their doubts, even to chat with them"
Despite everything, Celestino believes that the spirit of camaraderie, essential of the Camino is being lost. "Before, the relationship with the hospitalero was more intense. Even among the pilgrims themselves. Now they are a little more individualistic and they only pay attention to the mobile ", he tells us laughing. In spite of everything, Celestino knows that his life is the Way and hospitality. That is why he invites everyone to live that experience.
* All the photographs that accompany this report are by Manuel G. Vicente.
---
Your email address will not be published.
Mandatory fields are marked with *