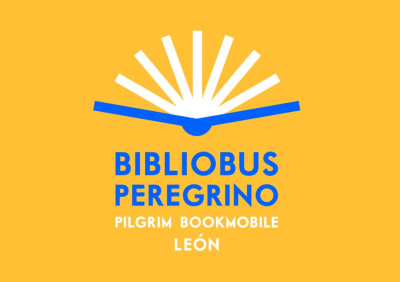 05-07-2018
The Pilgrim Bookmobile initiative was dreamed up with the aim of filling the Camino de Santiago (also known as the Way of Saint James) with opportunities to read! This Pilgrim Bookmobile service, promoted by the Provincial Council of León in partnership with Correos (Spain's national post office service), will allow pilgrims travelling through the province of León to add a book to their backpack!
The service will be provided by two coaches (Library Bus No. 2 and Library Bus No. 5) that will visit a total of 15 hostels along the 2,210 km of the Camino de Santiago routes that cross the province of León. This Pilgrim Bookmobile will offer a wide range of books (starting with an initial set of multiple copies of 33 different publications) written in Spanish and English on subjects of interest to pilgrims, from guides to the Camino de Santiago or monuments and places to visit on the Way of Saint James to publications on León, walking routes or books for learning Spanish.
The service works in a very simple way: each pilgrim can borrow books free of charge from any of the library buses or the 15 hostels that have signed up to the service. Once they've finished reading, they can return their book free of charge by handing it in to any of the 17 Correos post offices on the Camino de Santiago in the provinces of León, Lugo and A Coruña.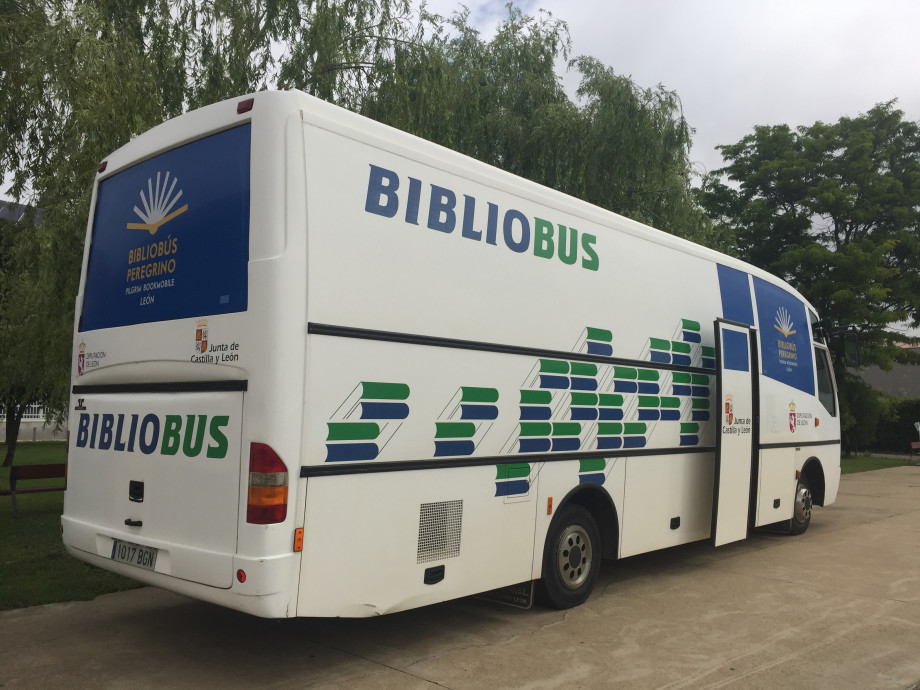 Offering more services for pilgrims
The Pilgrim Bookmobile was launched this week at the Albergue Don Antonino y Doña Cinia de la Virgen del Camino. Those attending the event at this pilgrim's hostel were able to appreciate the benefits of this service first-hand. "We are launching the Pilgrim Bookmobile with the aim of increasing the services available to these visitors and helping them to get to know the province", said Juan Martínez Majo, President of the Provincial Council of León. Martínez Majo reminded an audience including 15 mayors of municipalities on the Camino de Santiago that León is a very important milestone on the Way of Saint James, since the province boasts one of the largest stretches of the route, and is a halfway point along the French Route where a substantial number of people join the Camino.
The event was also attended by Ángel Pérez, Director of Zone 1 for Correos, who positioned this innovative initiative within the philosophy of assistance for pilgrims of El Camino con Correos, a set of services designed to help to walkers and cyclists before, during and after their journey on the Camino de Santiago.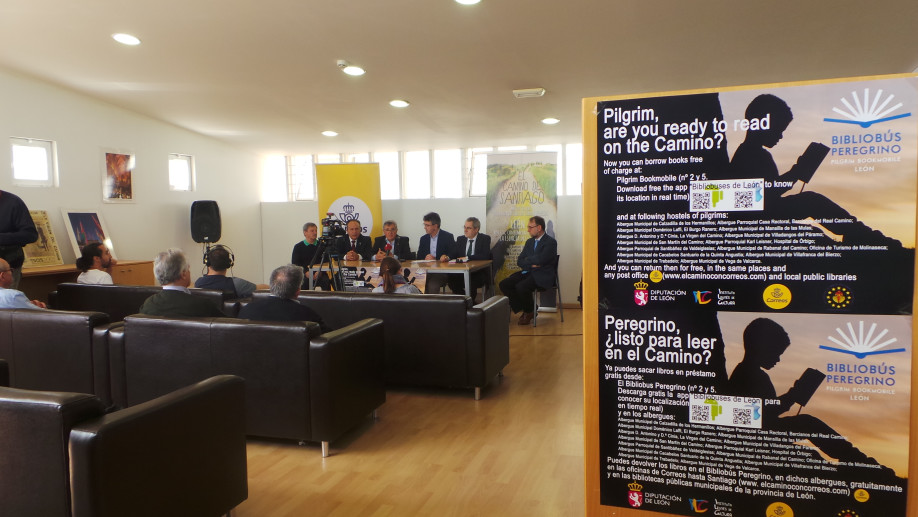 15 hostels and 17 post offices
The two Pilgrim Bookmobile buses, one based in León and the other in Ponferrada, will provide this public library service to pilgrims passing through the province of León as of this month. Walkers and cyclists will also be able to access free book loans in the 12 municipal and three parish hostels (albergues) taking part in the project. These are: Albergue Municipal de Calzadilla de los Hermanillos, Albergue Parroquial Casa Rectoral de Bercianos del Real Camino, Albergue Municipal Doménico Laffi de El Burgo Ranero, Albergue Municipal de Mansilla de las Mulas, Albergue Don Antonino y Doña Cinia de La Virgen del Camino, Albergue Municipal de Villadangos del Páramo, Albergue Municipal de San Martín del Camino, Albergue Parroquial Karl Leisner de Hospital de Órbigo, Albergue Parroquial de Santibáñez de Valdeiglesias, Albergue Municipal de Rabanal del Camino, Oficina de Turismo de Molinaseca (Molinaseca Tourist Information Office), Albergue Municipal Santuario de la Quinta Angustia de Cacabelos, Albergue Municipal de Villafranca del Bierzo, Albergue Municipal de Trabadelo and Albergue Municipal de Vega de Valcarce.
Books can be returned free of charge on the library buses, and at the hostels listed above, municipal public libraries in the province of León, and Correos post offices along the Camino de Santiago, which are listed here. Apart from providing the service, Correos will monitor the books on loan, all of which have codes, from the point of return to the Centro Coordinador de Bibliotecas (Library Coordinating Centre).
The mobile app "Bibliobuses de León" ("León Library Buses") will give pilgrims information on when the buses are next visiting a town and the real-time location of buses, as well as providing a library catalogue, a selection of e-books and news on activities related to the service.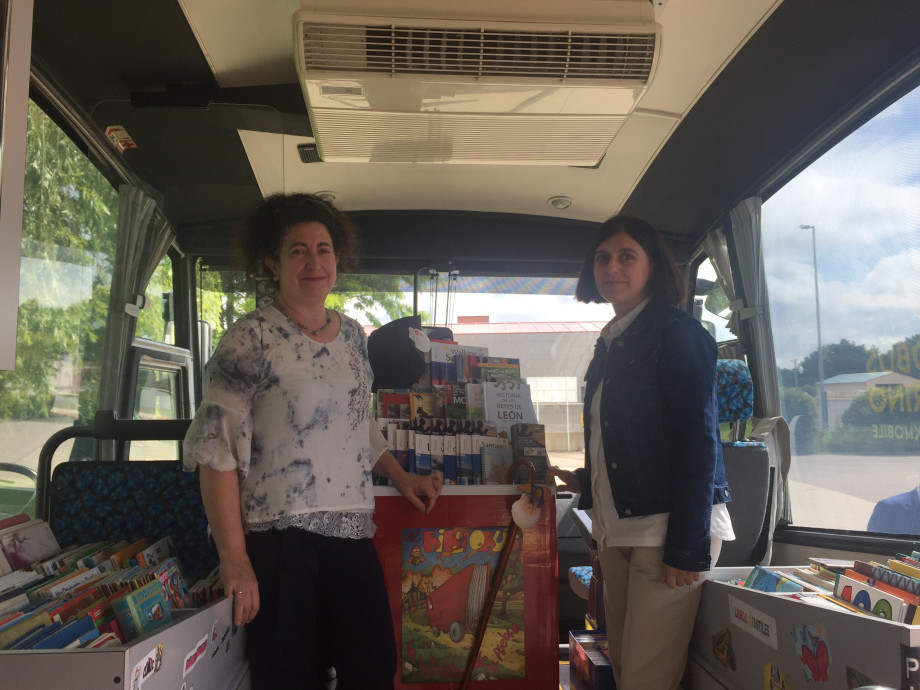 Pilgrim Bookmobile: A big happy family
The service of library buses provided by the Instituto Leonés de Cultura (León Cultural Institute) was launched in 1974 with the aim of improving access to reading in areas with scarce cultural resources or infrastructures. There are currently six coaches that travel around the province, providing access to books to a total of 419 towns in the province of León.
Olga and María Antonia are two of the librarians in charge of providing this service, and they will be responsible for welcoming pilgrims to enjoy the Library Bus. Their vast experience will stand them in good stead. Olga has been visiting towns and recommending books since 1986, contributing to the education of thousands of people in the province of León. María Antonia, 23 years old, says: "It is a wonderful and very rewarding job. You meet people and can follow their progress from birth and even up to their death. And that brings us together. That's why the Library Bus is like one big happy family."
So if you're passing through León on your Camino, don't hesitate to join in. Hop on the Pilgrim Bookmobile and get carried away by the magic of books and the superb recommendations offered by Olga and María Antonia! This is a service that will undoubtedly make your experience on the Camino de Santiago more rewarding. ¡Buen Camino! And enjoy your read!
---
Your email address will not be published.
Mandatory fields are marked with *