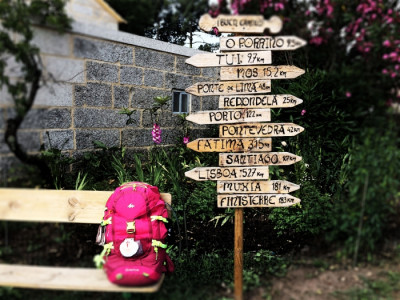 12-07-2022
The Camino de Santiago should be undertaken with both enthusiasm and lightweight luggage. However, this often creates logistical difficulties when it comes to planning your Route: How do I get my luggage to El Camino's starting point? What if I want to buy something along the Camino? Am I allowed to have extra luggage when arriving in Santiago?
Our Paq Peregrino is there to help walkers and cyclists alike to make sure that their luggage is not an issue. Here we shall show you how it works, its advantages and just how we can help you transport your luggage before, during and after your Camino de Santiago.
The Paq Peregrino allows you to send a suitcase, backpack or package to any point along the Camino de Santiago from any of the 2,000+ Correos branches throughout Spain. We will transport your luggage so that it is waiting for you at the destination branch, where will keep it for up to 45 days as required by each pilgrim. With the Paq Peregrino you can send a suitcase of up to 15kgs for €20.95 with 15 day storage, or up to 25kgs for €31.40 with 15 day storage (you can check all of the rates here).
if you want access to your luggage day by day, stage by stage, without having to carry it on your back, Paq Mochila is your best option. All you need to do is leave your backpack or suitcase at your accommodation first thing in the morning. The postman will collect it from 08:00 so that it is waiting for you at your next hotel, hostel or lodgings. You can book the Paq Mochila via our website or by email at paqmochila@Correos.com.
How to order the Paq Peregrino?
The Paq Peregrino can be purchased from any of the more than 2,000 post offices in Spain. All you have to do is bring your suitcase or parcel ready to be sent, choose the destination post office and the storage time. Remember that Paq Peregrino already includes 15 days by default, which can be extended up to 45 days.
From today, it is also possible to order online the Paq Peregrino here. With this option, you can reserve and pay for it online and you only have to go to the post office of your choice to make the delivery. The online booking also offers you the possibility that the postman picks up the luggage directly at your home or at any accommodation on the Camino de Santiago, without having to go through a post office. The storage in the office is in this case a maximum of 30 days.
Sending suitcases, backpacks or packages to Santiago de Compostela
The Paq Peregrino is most useful when it comes to sending a suitcase or backpack to Santiago de Compostela. Doing so gives you the chance to have clean clothes available once you have arrived at the finish line or extra luggage in case you wish to enjoy a few days' holiday. The destination office is at Rúa do Franco, 4, which is open from Monday to Sunday, from 8:30 am to 8:30 pm during the high season.
What if I end up somewhere else? No problem. You can send your suitcase to any point along the Camino de Santiago. When you arrive at the finish line, your luggage will be waiting for you at your selected Correos branch.
Sending luggage to the starting point of the Camino de Santiago
As long as it is from somewhere in Spain, with the Paq Peregrino you can also send your luggage to the starting point of the Camino de Santiago. This will help you avoid having to carry your suitcase from your local point of departure, especially if your trip involves several transfers or connections to reach your destination.
For those pilgrims who want to start their Camino at Saint Jean Pied de Port or Roncesvalles, they can send their luggage to the Correos branch in Burguete. Its opening hours are 08:30 to 09:30 from Monday to Friday.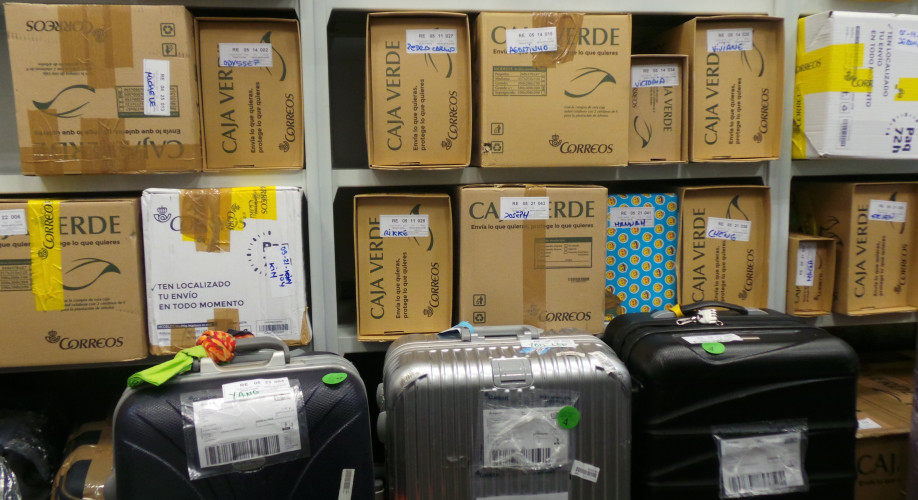 What if I want to buy something along the Camino and not have to carry it with me?
The Paq Peregrino allows you to send your purchases anywhere along the Camino de Santiago. If there's a nice souvenir you cannot do without but likewise do not want to carry it the whole way with you, keep in mind that you can send it anywhere you like, whether to Santiago de Compostela or to your local branch. As such, you can enjoy your gifts when finishing the Camino or when you get home. The same applies if you have additional luggage, particularly if you packed things that originally seemed useful but could now live without whilst on your Camino. Don't struggle with carrying things that will slow you down. At Correos we can help take the burden of the things you no longer need.
Sending luggage at the end of the Camino
At the end of the Camino you can send your suitcase back with the Paq Peregrino. This will allow you to travel without carrying it and, if you are travelling by plane, save the check-in costs of an airline. You can also send the backpack with which you did the Camino to avoid carrying it during your stay in Santiago, your walking stick or any purchases made. In case you have done it by bike, remember that you can also send your bike and panniers with the Paq Bicicleta.
Please note that if you choose the online option of the Paq Peregrino, you have the possibility to have your bike shipped directly to your home.
We hope this information will help you and allow you to enjoy the Camino de Santiago experience to the fullest and without worries. ¡Buen Camino!
---
Your email address will not be published.
Mandatory fields are marked with *