The values of the Camino in 12 months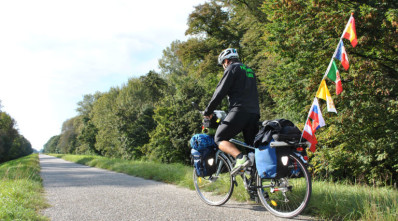 11-05-2017
Solidarity on the Camino de Santiago is felt at each step. It helps us keep going towards Santiago despite each obstacle on our route, but there are many who use their Camino as a tool to help other people. Such is the case of Ionut Preda.
Ionut is a Paralympic athlete. Born in Timisoara and based in Galicia, he is also a pilgrim and traveler. Today, Ionut has travelled many Caminos de Santiago and he tries to help young people with mobility problems, who because of lack of funds cannot get an orthopedic limb. From the Camino, he sells t-shirts at a shop window and, in this way, helps a large number of children in need.
Because of this, Ionut Preda is a perfect example of the value we're discussing this month of May on our blog: Solidarity on the Camino de Santiago.
From Romania to the Camino
His story involves many twists and turns. The son of a gymnast mother and boxer father, his family always supported in to do sport. However, his path was not easy. At the age of 8, he suffered an accident that resulted in the amputation of his right foot, but that did not stop him from competing in sports, including gymnastics, swimming, weightlifting or judo.
At 20, curiosity led him to get on his bike and begin a journey across Europe, in which he would encounter new cultures. A journey that ended when, in Barcelona, his bicycle was stolen. He searched for work and settled in the city. He forgot about the bike, his travels and his Camino.
In 2009, after the death of his father, he decided to break away from everything and resume his dream of traveling the world on bicycle. That year, Ionut was already walking with a prosthetic leg after having an operation on his right limb again, two years prior.
Ionut Preda: "I don't consider myself an expert, but rather a person who has spent a lot of time on the Camino"
Ionut arrived to the Camino attempting to "try out a new bike, equipment and survival gear to experience one great trip," but everything was changing. In 2009, he travelled the Camino under the slogan "If I can do it, so can you," the first person with an amputated leg, which he used to encourage more people in similar conditions.
Today, already with more solidarity initiatives in mind, is preparing a project known as "I love to walk." "For the first time, I will walk, in order to document each month, which will bear the name of the person requesting help to walk again," Ionut explains, who, until now, has made his pilgrimages as a bicigrino.
The Camino is solidarity
Amongst all of the pilgrim that we consulted to create the Values of the Camino in 12 months, we could tell that solidarity was one of the most underscored. The spirit of solidarity is a common feeling amongst those who pilgrimage to Santiago. Ionut gave us his explanation: "On the Camino, there is no status or titles. It is a place where everyone is willing to listen and understand others, because although everyone carries his or her own shoes, we all go the same way and have the same objective: to achieve our goal."
And the goal may be Santiago, it may be an internal goal or an external goal, like Ionut who wants to help those who cannot walk. These common goals are those that, according to him, create an environment of solidarity on all of the Jacobean routes.
"I remember a 50-year-old pilgrim […] with a girl of 15 with an injured ankle, carrying her on his back"
If you can't walk, I'll carry you
In order to highlight all that we've said about solidarity, Ionut Preda tells us about an act that struck him the most on all of his Caminos de Santiago: "On one occasion, a 50-year-old pilgrim came with a girl of 15, who had a sprained ankle, carrying her on his back. She had come from France and told me that she could only experience the true vibrations of the Camino through her heartbeats and not through a tow or any other means of transportation."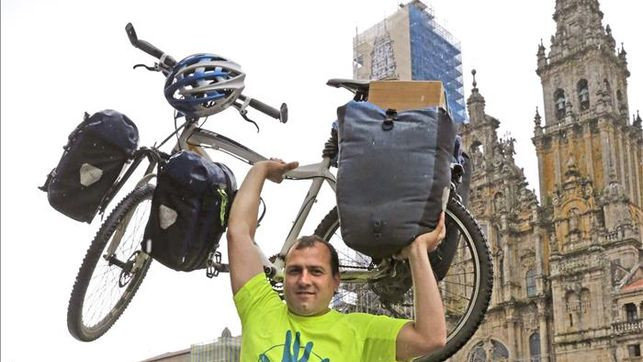 Despite his experience, Ionut does not consider himself an expert on the Camino: "Every day, new complementary routes are created along the Camino de Santiago. Each Camino is a different experience." Therefore, he tells us that he is simple "one more person who has been on the Camino for many years."
Finally, he left us with this resounding phrase: "Solidarity requires sacrifice and giving up what you want to take care of someone else's needs, without expecting anything in return."
Don't expect anything in return, one of the keys of solidarity, which we are featuring this May on Facebook, Twitter and Instagram. We only hope that it inspires you and encourages you to begin your own pilgrimage.
Safe travels to all!!
---
Your email address will not be published.
Mandatory fields are marked with *