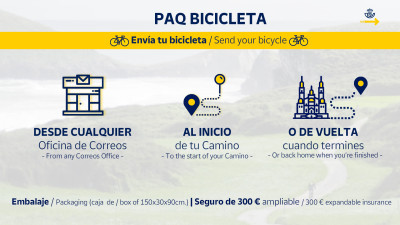 12-02-2020
Many pilgrims travel the Way on two wheels. Bicycles can be great travel companions, but transporting them, at times, can hinder the experience. If you want to cycle the Way of St James but still don't know how to send your bike, CORREOS offers pilgrims the Paq Bicicleta. This bicycle transport service enables you to send your bike to the starting point of your Jacobean route, or back home after finishing. In this post, we will clear up any doubts you may have about sending bicycles on the Way.
How do I send my bicycle to the starting point of the Way?
Setting out on the Way involves a number of preparations that have to be taken into account before starting the trip: planning itineraries, packing, getting into a suitable fit state, etc. And if you are planning on travelling the Way of St James by bicycle, you will also have to consider your travel companion and the spare parts it will need.
Thanks to the Paq Bicicleta, you won't have to worry about transporting your bike, neither at the start nor at the finish of the Way. You can send your bike from any CORREOS offices in Spain to the office in the town where you are going to start the Jacobean route. There, they will store it for two weeks, to avoid any last-minute rushes that may spoil your trip.
We recommend that you send your bike in plenty of time, since Paq Bicicleta can take between two and three days to reach its destination within the Iberian Peninsula. You can go to your nearest office and ask about the Paq Bicicleta. That way, our colleagues can help you with any enquiries, and you can make sure that there is packaging available for shipping whenever you want.
To clear up any doubts before sending your bike on the Way of St James, here is a video explaining how the Paq Bicicleta works:
What is involved in shipping a bicycle on the Way of St James?
If you already have your bicycle ready, you don't have to worry about packaging. The Paq Bicicleta includes the shipping box, which measures 150x30x90cm.
If you are sending your bike within Spain, you can send the bike and luggage together with everything you may need to travel the Way of St James stress-free. Remember that the maximum weight is about 20 kilos and the only restrictions are dangerous goods.
Your bike will be well protected inside the box. To avoid any problems during transit, the handlebar, front wheel and a pedal are disassembled. In addition, if transport is by plane, the wheels are deflated to respect air regulations. However, all fragile parts are given extra protection to ensure the bicycle is not damaged in any way. If you send it once you reach your goal in Santiago de Compostela, staff in CORREOS will advise you and will help you pack the bicycle so you won't have to worry about anything. Here you can see how it's done:
Can I send my bike back home after finishing the Way?
If you have reached your final goal on the Way, in Compostela you can go to the CORREOS office, which is 150 meters from the Cathedral, and leave your bike in the storage while you enjoy the city. Or, if you prefer, you can also arrange to ship it back home to anywhere in Spain or Europe.
Both in this office and in the one located in the Pilgrim's Office, our colleagues will help you with packing.
If your route ends in Fisterra, you can go to the local post office and send your bicycle back home via Paq Bicicleta, and then enjoy the "End of the World" with peace of mind, because when you get home your bike will be waiting for you.
How much does it cost to send bicycles?
If you are going to send your bike somewhere in Spain you have two options. Both include packaging, and also an insurance against theft or loss, in the price.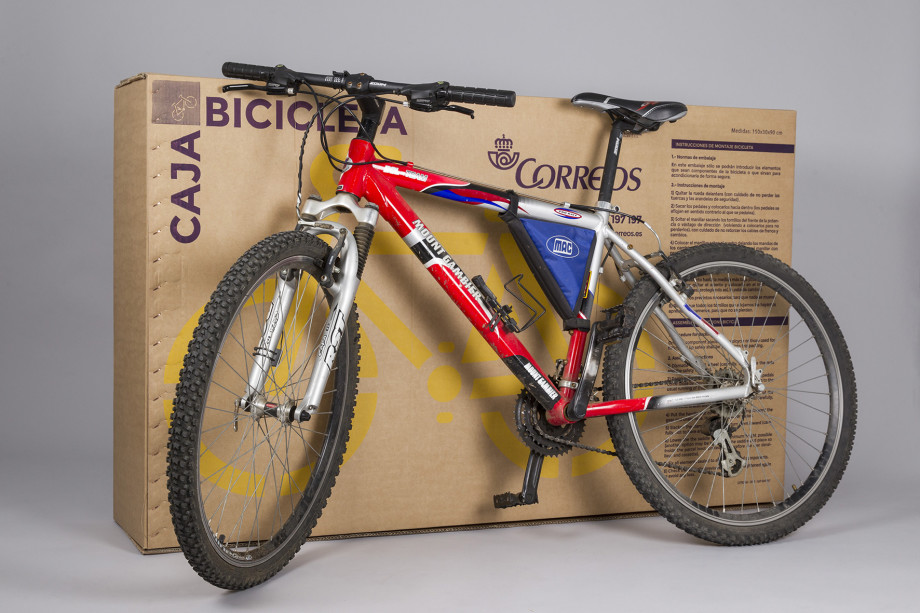 One Paq Bicicleta shipping, that is, a standard one-way bicycle shipment, costs €47,50 (2023 price). As we have explained, this service includes an insurance of €300, the box and storage in the office of destination for two weeks. You will have your bicycle in your city in 72 hours.
If you live in the islands, the terms and the price of the Paq Bicicleta vary. Shipments of bicycles to the Balearic Islands maintain the same characteristics, but the price differs: €69,55 (2023 rate).
If your bike is destined for the Canary Islands, the shipping conditions change. This type of shipment includes packaging and an insurance of €101. You must bear in mind that shipments to the Canary Islands have to go through a customs procedure, which may delay the estimated delivery date. We recommend you write a content statement when arranging your shipment to make work easier, and remember to not include anything that could be dangerous during transit.
Shipments to Europe
And if you live outside of Spain, we can also ship bikes to Europe from our post offices in Santiago and Finisterre. In these cases, each country defines the kilos permitted per shipment and the conditions. So we recommend you go to a post office to be properly informed. If you live in Portugal, the shipping cost is €62. If you live in France, the cost is €84 and for the rest of Europe it is around €96,20.
What if my bike is special?
If your travelling companion requires special care, we can also help you. If you are the owner of an e-bike, you can send it by CORREOS with the Paq Bicicleta service, but only within the Iberian Peninsula.
If your faithful partner is high-end, you can also extend the insurance up to a maximum of €3,000 per bike. Although this will involve an increase in shipping costs.
As you have read, at CORREOS we offer you all the solutions within our reach so you can send your bicycle in a convenient, safe and cheap way using the Paq Bicicleta. So you can enjoy the Way of St James in the best way possible—in the company of your faithful friend! Buen Camino!
---
Your email address will not be published.
Mandatory fields are marked with *