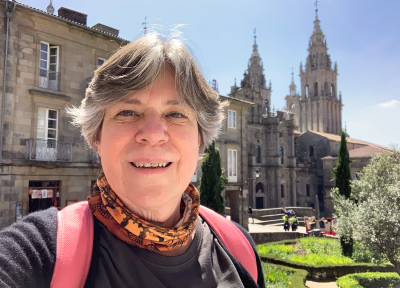 06-02-2020
Anne Born first learned about the Camino de Santiago in an art history course at the University of Michigan. It wasn't until almost forty years later that she decided to experience it herself. Her first time walking the Camino was with her son and they never finished. But she tried again. And ever since then, she hasn't stopped.
Author of the book "Buen Camino! Tips from an American Pilgrim", Anne now spends her time going back and forth to New York, Michigan and the Camino. Her advice for everyone is to not be afraid, because the rewards are many, and the risks remarkably few.
Her favourite Jacobean Route is the Camino Primitivo (also known as Original Way or Primitive Way), and talking to strangers is her favourite part of the experience. At the moment, she is working on a new publication focused on the Catedral de Santiago.
We spoke to her after finishing her latest Camino (Sarria to Santiago), and we soak up her knowledge and advice for an upcoming Camino.
How did you come to meet the Camino de Santiago? How was your first time on the Jacobean Route?
I first learned about the Camino in an art history course at the University of Michigan. It was a study of Romanesque sculpture. It was 1971 and I didn't believe the road still existed, was far to afraid to travel by myself, and I put it aside - for 38 years. In 2009, I walked the first stage of the Camino Frances - St Jean Pied de Port to Roncesvalles - with my then 19-year-old son. I was carrying too much, had the wrong boots, got a terrible sunburn, and called it quits. We took a cab to Pamplona and a train back to Madrid. It wasn't until the following year that I finally earned my first Compostela, walking by myself from Sarria at the close of the Holy Year. That was a much better experience. And I knew I would come back.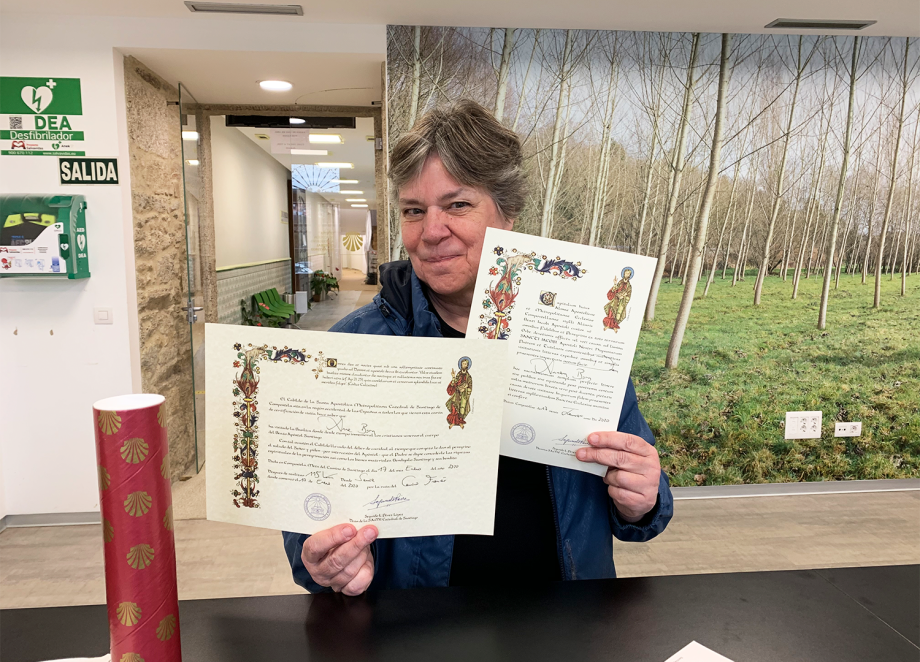 What routes have you walked? Are there any that you prefer over the rest? Which one do you recommend?
I have walked all of the sections of the Camino Frances over several trips, the Camino Ingles, the Camino Primitivo, and the Camino Portugués from Baiona to Santiago. There are stretches of each that I really enjoy, but nothing compares to the Ruta de Hospitales on the Primitivo. 31.7 km of mountain views, circling raptors, wild horses, and the tiny refugios. I always recommend the Primitivo.
Your book Buen Camino! Tips from an American Pilgrim collects important recommendations for new pilgrims. If you could only choose one, what would be one piece of advice you would give to an American first-timer walking the Camino?
Do not be afraid. As St Teresa tells us, "Let nothing disturb you, let nothing frighten you." You may get lost, you may be too tired to keep going, you may find yourself in the pouring rain, and you may find that everything is closed - the way I did just a few weeks ago! But the goal is to offer thanks to the Apóstol, to pray for your friends, and to be grateful that you are capable of achieving something so profound. The rewards are many, the risks are remarkably few. Just buy a plane ticket and go.

A great number of pilgrims come from the US. Where does such interest in the Camino come from?
I think the Emilio Estévez film, The Way, was a real catalyst. It actually premiered just a few weeks before I arrived in Santiago in 2010 - everyone was talking about it. The film offers such an upbeat, hopeful look at the walk, it's easy to see why it became so popular.

How do the logistics of coming all the way from the US to walk the Camino work?
Coming from NYC is fairly simple, but it can be fairly expensive. I walked with a friend in 2018 who took a flight from her hometown in Michigan to New York, then another to Madrid, another to Santiago, followed by a bus to Ferrol, the beginning of the Ingles.
In retrospect, that is a lot of travel, but in reality, it was nothing compared to the joy of being able to walk. In fact, when we arrived in Santiago together, to take the bus, I told her we had enough time to take a quick visit to the Cathedral before heading out to Ferrol. Her response? "No. You can't get there from here." Meaning, we had to walk to achieve that visit. I loved it. It was her first Camino and that's when I knew she understood it. Understood what a pilgrimage was all about.
You come back almost every year to do the Camino de Santiago. What does is give back to you? What would you say is the best thing about the Camino? And the worst?
I do come back. I have such good friends in Spain now. And I love talking to people. I will chat with cab drivers, waiters, bartenders, hotel workers, people in church, people waiting on the corner.
I look for any excuse to ask a question or ask directions. It's my gift - I talk to strangers. Everyone will tell you it's the people you remember from every walk. The woman who gave you a bottle of water, the man who walked for 20 minutes with you so you wouldn't get lost, the nun who offered to help get you a sello...
Lastly, from what we've gathered, you have an interest for photography and have taken your camera to several Caminos. What would you say are the most beatiful or interesting Caminos, stages or places for those interested in photography?
I love to bring people with me when I walk by myself - so I take pictures and post them on my blog or on social media so everyone can see what I'm seeing. It's how I bring my friends with me.
I can tell them about the weather, the day, the way the Eucalyptus trees sound when the wind blows through their leaves, or the woman who called out to her cows the way a flamenco singer calls to the dancer. And I can do all this with just a few photos.
The pictures I have of the walk from Melide to Arzua are my favorites. I've worked twice in Ribadiso as an hospitalera so I know that area pretty well and it has become my favorite for photos.
What are your future projects regarding the Camino de Santiago?
I'm writing a new guide to the Cathedral for pilgrims. It will not list lots of dates and numbers but will tell the stories of the pilgrims, poets, politicians, and priests who have been involved in the Cathedral over its history.
Called "If You Stand Here," the people I have profiled so far include Cosimo de Medici III, Eva Perón, Eugenio Montero Ríos, and Rosalía de Castro. My hope is to make the cathedral a living, vibrant place where you can stand in the very spot where something marvelous happened
---
Your email address will not be published.
Mandatory fields are marked with *