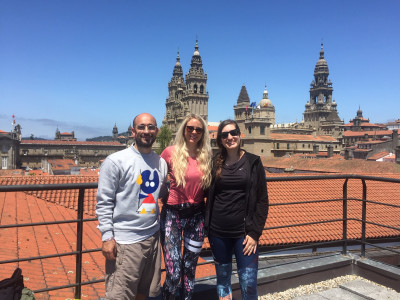 23-06-2022
To get to know the Camino de Santiago in a closer way through creators who tell the experience in first person. With this objective, Turespaña brought together Oscar and Ophélie, or in other words the cartoonist 72kilos and the blogger Limitless Secrets, so that together they traveled for the first time the Camino Vía de la Plata from Ourense to Santiago.
The result: a very inspiring pilgrimage, told through vignettes and images that have been followed through the Instagram profiles of the Basque illustrator and the French travel blogger. Today we relive the Camino de Santiago with them and review some tips, anecdotes and experiences of this first experience for both in the Jacobean Routes.
"I knew the Camino de Santiago from friends and people close to me but I never found the time to do it. It was there as that pending adventure" says Óscar Alonso, Bilbao-born cartoonist who is behind the Instagram profile @72kilos, with more than 2 and a half million followers. In this profile he shares daily vignettes with messages full of optimism and positivity.
His work was also brought to paper in the form of four bestselling books: Las vidas que dibujamos, El mundo es un regalo, Las cosas que importan and Un libro contigo.
During the month of June he walked the Camino Vía de la Plata from Ourense to Santiago thanks to an invitation from Turespaña. Five days that have allowed him not only to fall in love with the Jacobean experience but also to get to know Galicia in a different way, the character of the villages, the hospitality, the good work of the people...
He was not alone on this adventure. He was accompanied by Marta, on behalf of Turespaña; and Ophélie, French travel blogger behind the Instagram account @limitlesssecrets and the blog limitless-secrets.com, followed by thousands of people around the world. A travel and food enthusiast, she travels the world with her camera in hand to discover those places we should all visit once in our lives.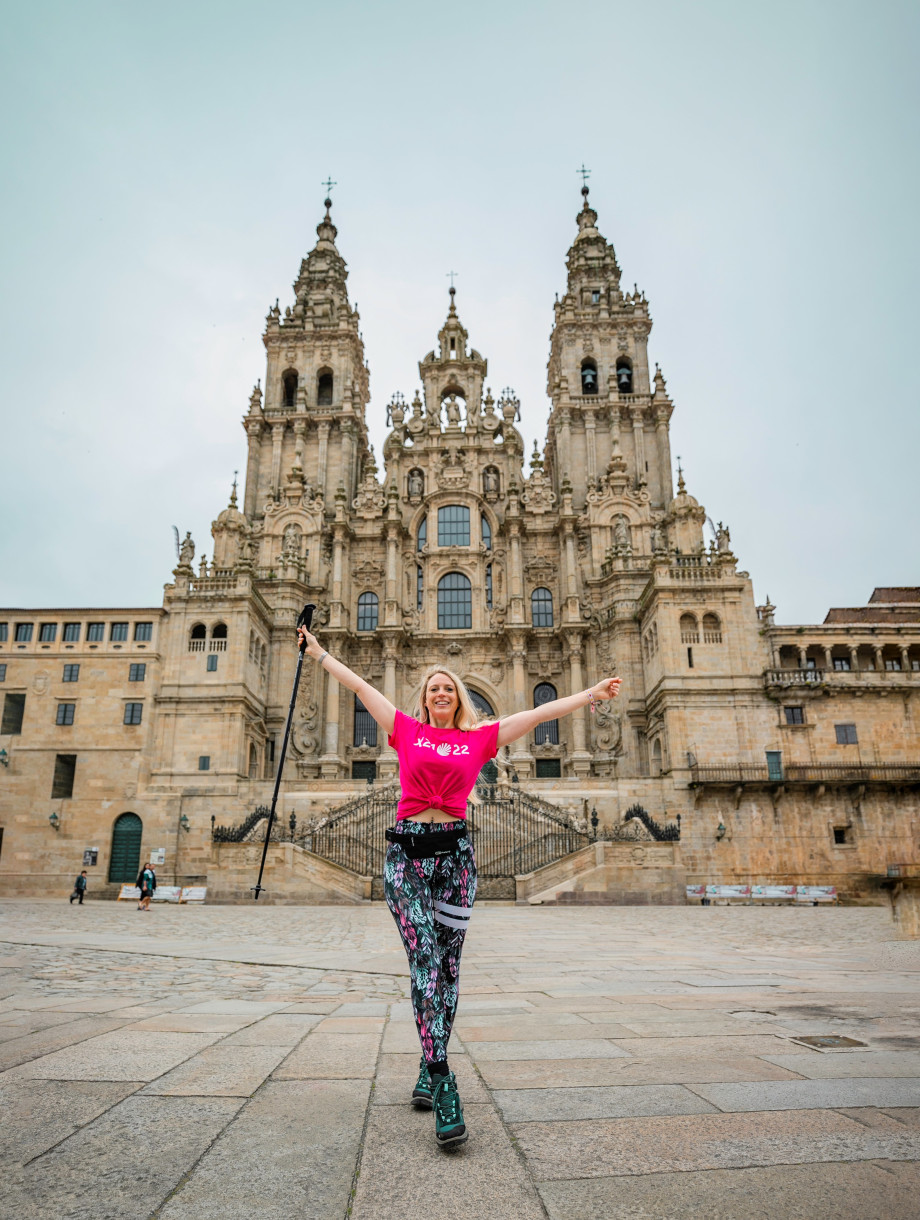 Ophélie on her arrival at Obradoiro Square
For Ophélie it was also her first time on the Camino de Santiago. As a Frenchwoman, she was aware of the existence of the Chemin de Saint Jacques de Compostelle. But she was never sure she would be able to overcome the challenge it entailed. Until the invitation from Turespaña arrived.
"I decided to challenge myself. I love discovering new places and walking in nature. Moreover, the prospect of sharing this experience with my audience on my Instagram and blog was also motivating, as it is a bit out of the ordinary for travel bloggers," Ophélie explains.


The Camino as a source of inspiration
People say that the Camino de Santiago is a source of inspiration. Walking helps to think, to observe calmly, to connect with people and nature and to awaken the senses and creativity.
And Oscar and Ophélie corroborate this. "You are on your own. You walk for 5 or 6 hours. You see things you don't normally see. You talk to people who are not in your circle. You see yourself in new situations. And you have a lot of time to think", Óscar explains.
He captured this inspiration in drawings that he posted on the stories of his Instagram account. A kind of Camino de Santiago in vignettes that allows us to follow the route in a more intimate way.
"It wasn't what we had planned. The idea was to do one illustration per stage. I was going to get inspired, to see what it was like. But I always carry a notebook with me, to write things down and then post them on Instagram. I started drawing and thought it was something nice to share. It became a compilation of what I was liking, of what was happening to me, which serves to document my Camino and to remember everything I experienced," he explains.
72Kilos sketchbook
But the inspiration did not stop on the Camino. This experience has helped Óscar to consider new projects. "Now I'm thinking of making a notebook of my summer holidays. It is a very simple language, very easy to carry in my trouser pocket and very useful for my work", he adds.
The Camino from Ourense to Santiago
The chosen route was the Vía de la Plata. Specifically the last 100 kilometres that separate Ourense from Santiago. It is an itinerary that crosses essentially rural areas of Galicia and is not among the most popular routes for pilgrims despite having great attractions.
"I loved exploring the region of Galicia! We passed through forests straight out of a fairy tale and discovered hidden gems such as the Monastery of Santa María de Oseira or the Fervenza da Toxa. The beautiful architecture of the cities of Ourense and Santiago de Compostela also surprised me," Ophélie sums up.
Óscar agrees. "I loved the orography and the landscapes", he says. And if he has to choose a place, he is certain: "La Fervenza da Toxa. We walked about 2 kilometres away from the Camino. We walked blindly, thanks to a woman's advice, and we got there. It was a magical moment. We spent a Little over an hour in a spectacular place, completely alone, where I could sit and draw in peace. I found it very beautiful and one of the best moments of the Camino.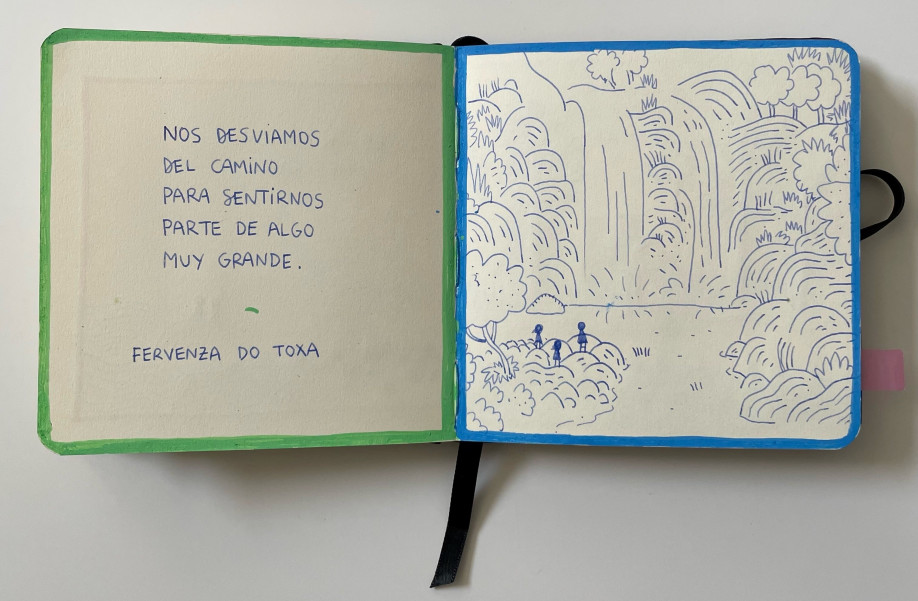 "We encountered few pilgrims and this has some benefits such as the fact that we had nature to ourselves - it's better if you want to connect with it and not walk in the crowd, or take pictures of the landscapes for photographers like me!", Ophélie adds.
But the beauty of the Camino de Santiago was not the only thing that captivated them. For both pilgrims there is something that makes it magical: the people. "The people are very friendly and helpful. Sometimes you think they might be tired of so many pilgrims and meeting new people every day, but no. It seemed like we were the first pilgrims on the Camino de Santiago. It seemed that we were the first pilgrims who passed through there and they treated us with great affection. It is something to remember".
"There are as many Paths as there are people or times you do it"
When asked about what image of the Camino de Santiago will stay with them forever they have no doubts: the arrival at the Plaza del Obradoiro. Ophélie sums it up: "It was extraordinary! On one hand I felt relieved to finally stop walking and on the other hand proud to have been able to do it. Oscar, Marta and I hugged each other. We were so happy to have achieved this challenge together!"
Óscar also gets emotional remembering the moment: "One of the most beautiful moments that I will remember all my life is when we were in the Obradoiro square. That moment, with the markers and my notebook. And that feeling of having achieved something".
Every pilgrim that comes to Santiago knows what they are talking about. Arriving at the Obradoiro and seeing the Cathedral is one of those moments that make the Camino magical and special. "The atmosphere in the square is one of joy, energy and emotions," Ophélie explains. "People were cheering each other on, hugging each other, taking pictures and calling their friends and family. We stayed there for a few hours because we wanted to stay in this incredible and special mood," she adds.
After the experience, both are clear that they will repeat. "I already talked to one of my best friends and told him that we had to do the Camino by bike," says Oscar. And it is that, as he says, the Camino is infinite and you can live it in many ways. "I want to do it again. Even with my children, my wife, with my brother, with my parents. There are many Caminos within the Camino. It is not an experience that you do once and that's it. There are as many Caminos as there are people or times you do it", he sums up.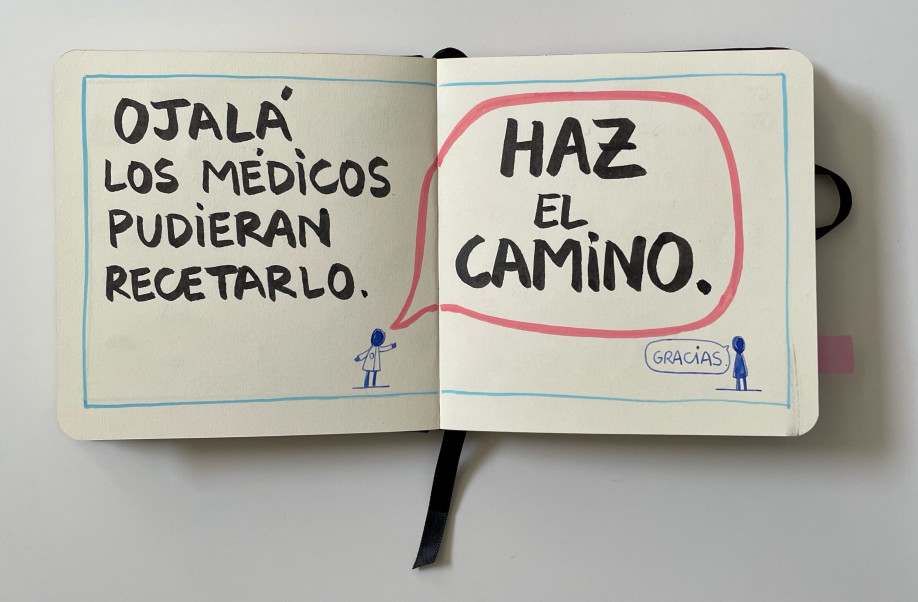 Ophélie agrees. She enjoyed the Camino so much that she would like to do it again in a few years. Probably another route to experience it again for the first time and create new memories.
Advice for future pilgrims
Before we say goodbye, we asked them for some advice for future pilgrims. On the more practical side, Ophélie recommends choosing the Route according to one's interests: "All routes are beautiful and interesting but have different landscapes and levels of difficulty, more or less people and more or less comfort".
When it comes to backpacking, she recommends wearing clothes and footwear specialised in hiking and carrying the essentials. However, one of the things that have surprised her most is the number of services offered by the Camino de Santiago, such as the existence of agencies specialised in planning the route or the backpack transport service.
"It's very useful for people who don't have time to organise everything themselves. And knowing that I had to carry my heavy photographic equipment (a camera, several lenses and a tripod) for several hours, I was relieved when I knew I wouldn't have to carry the rest of my stuff," she says.
Last but not least, Ophélie leaves us with a classic piece of advice from veteran pilgrims: take Vaseline or an anti-friction cream to prevent blisters and reduce chafing and irritation.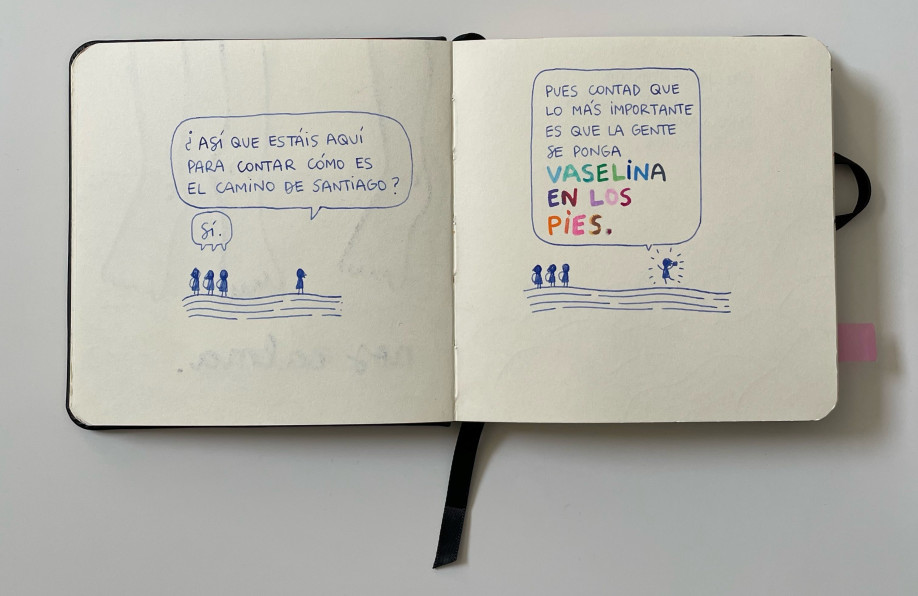 To all of them, Óscar adds one more. "I recommend everyone to take something to record their Camino: a notebook, a camera, audio notes... That is very nice because what happens there cannot be replicated later, no matter how good your memory is. Those details, those greetings, are lost as the days and months go by. It is part of the mystery, of the magic of the Camino. Having the ability to absorb it in the moment and capture it is very interesting," he concludes.
In addition to being able to follow this adventure on Instagram, Turespaña will give it continuity. The idea of the public body dedicated to the promotion of Spain as a tourist destination seeks to take the campaign outside the social networks, giving it an extra dimension.
The experience of Óscar and Ophélie will be added to that of other creators and illustrators who have travelled different routes: Camino del Norte, Camino Francés and, soon, Camino Portugués. And it will have a new life in the form of postcards or guides to encourage more people to live the experience of the Camino de Santiago and be inspired by it.
---
Your email address will not be published.
Mandatory fields are marked with *