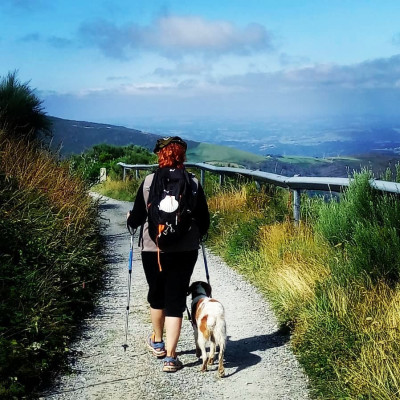 06-09-2018
An increasing number of people are deciding to experience the Camino de Santiago with their best friend: their dog. And the facilities for doing so are improving all the time. Hostels that accept pets, canine credentials and their very own official certificate: the "Perregrina".
Our colleague, Conchi Moreno Saiz and her dog, Draco, are two pilgrims that walked the Camino Francés (French Camino) from O Cebreiro. If you would like to enjoy a worry-free experience, we have put together some recommendations, courtesy of Conchi and Draco, along with a few other tips. Follow them and the Camino de Santiago will be an unforgettable experience for the two of you!
Preparation. Before starting your Camino de Santiago, you and your dog should be prepared. Whatever Jacobean Route you choose to do, there will be parts of it that will require a good level of fitness. So, before becoming pilgrims, you should get used to doing long, 1-2 hour walks per day. And leave yourself enough time: start 2 or 3 months before your trip.
This will ensure you make steady progress and avoid any nasty surprises during the initial stages. Our pilgrims, for example, go running every day of the week and at the weekend, Conchi takes Draco out on 14 kilometre hikes. A comprehensive training schedule, enhanced with dogagility training, so this 4-year old Brittany Spaniel can channel all his energy.
Apart from a good level of fitness, it is important to bear in mind the time of year in which you plan to walk the Camino.Obviously, not everyone has the luxury of choice. But if you can, try to avoid the winter and the peak summer months, so you don't experienceany unpleasantincidents such as heatstroke.
Conchi and Draco walked the Camino during the summer and she is adamant that she would "never do it again in August, because if you walk with your dog, you have to get up at the crack of dawn to avoid the hottest part of the day". Spring and autumn are the bestseasons to do it. However, if this is simply not feasible, take extra care and pay close attention to our recommendations.
Precautions. The first thing to bear in mind is that the stages along the Camino are designed for humans. Therefore, you may have to rearrange the kilometres based on your dog's requirements.
Optimal hydration is essential during the Camino.Both you and your dog should drink plenty of water during the route, rest in shaded areas and try to cool off in streams, fountains or any other available source of water."Stop for plenty of mini-breaks" and carry a good supply of water: "I always carried around 3 – 4 litres of water in a small rucksack for Draco". There will be stages when you won't need to as you will come across streams or fountains, but there will be others where there will not be many water sources. It is better to be prepared.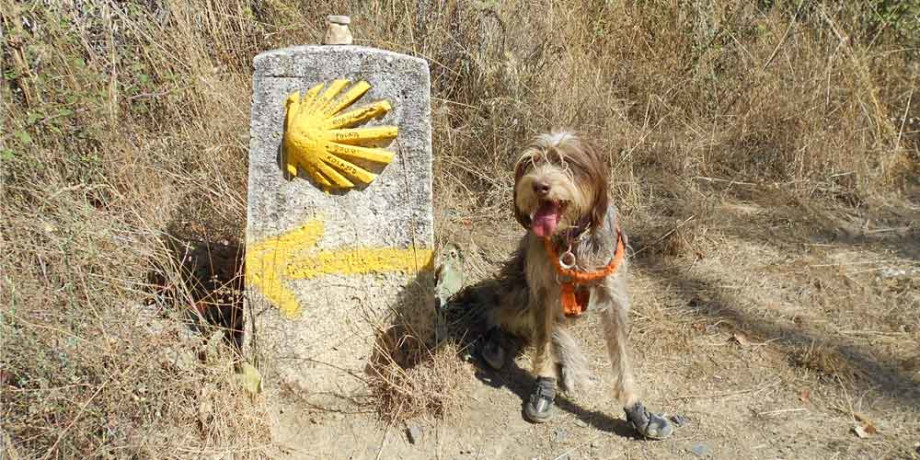 Take extra care of your dog's pads. To avoid cuts, your dog's pads should be well-moisturised.You can simply apply some moisturising cream or liquid Vaseline while your dog is resting and, if you like, just before beginning your walk. Draco didn't experience any problems during the Camino and although he is used to long walks in the woods, Conchi always puts Vaseline on his pads before setting off on their walk.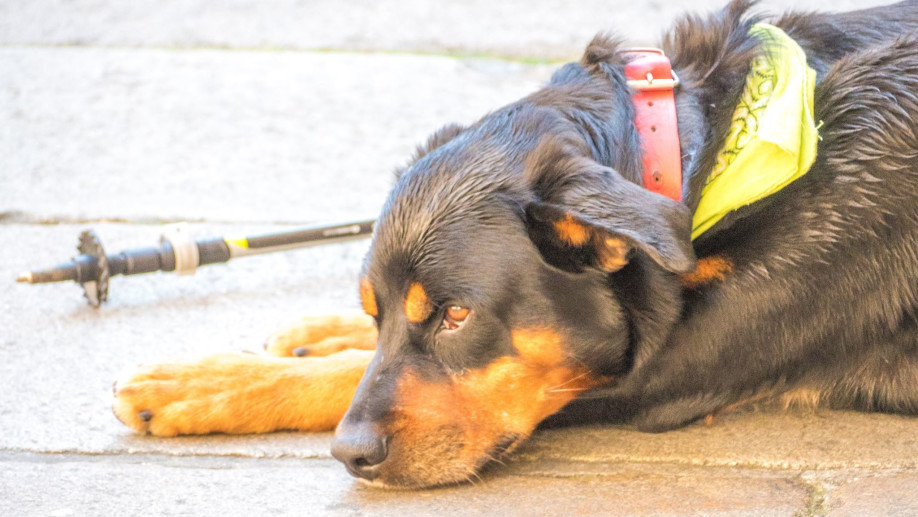 Getting a good night's sleep is essential for recharging your batteries and tackling the next stage full of energy. Remember, dogs need more sleep than humans.And with the long walking days, your dog will probably need even more rest.Once you reach your accommodation, prepare a space for your dog to allow him/her to rest.
Food. Eating well during the Camino de Santiago is fundamental. Both you and your dog will be burning more energy, therefore you will need to eat well to prevent health issues. It is advisable to stick to your dog's normal eating habits and simply feed a little extra throughout the day. Conchi told us, "When we reached our accommodation, I would prepare his stuff so he could rest and I gave him a little bit more than he would normally eat".
It is important to maintain a feeding schedule."You should never feed your dog just before exercising", as this is not good for dogs. Your dog may not feel like eating after a particular stage of the Camino, however, he always had room for "the pieces of bread that many pilgrims would give us along the way". However, your dog will need a proper meal once you your reach your destination. Don't worry about this though, because all the towns and villages along the Camino de Santiago have supermarkets or stores selling dog feed.
However, if you do want to be sure, carry 1 or 2 kilos of dog feed on you. If you prefer to walk without hauling your luggage and your dog's equipment around with you, as well as your rucksack carrying "essential items" (water, first-aid kit, Vaseline, treats…) as Conchi did, remember that at Correos, we offer the Paq Mochila service, transporting your bags and your dog's equipment or feed, along all the stages. And if you want to enjoy Santiago without carrying load, you can send your luggage come to home with Paq Peregrino service.
The Camino at night, keep your dog on a lead. During the summer months, it is particularly advisable to start walking very early in the morning .Conchi and Draco would get up at "5:00 am to begin walking at 6:00 am and avoid the hottest hours of the day". Remember your furry friend is more sensitive to the higher temperatures and the sooner you get walking, the better.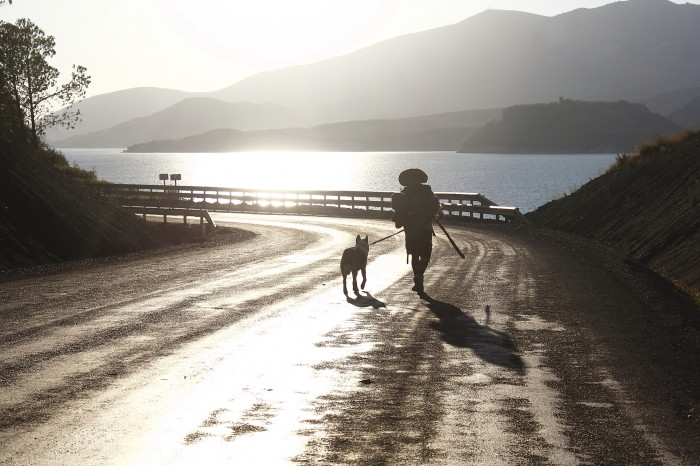 The downside to this is that at night your perception maynot be as good and if you don't know the route, you may not be aware of nearby roads or loose animals. Therefore, when walking when it is still quite dark, you should keep your dog on a lead to avoid any incidents. Once the sun has risen and, providing it is safe, you can let your dog off and start enjoying the freedom of the Camino.
Where to stay. Pets are still not allowed to stay in public hostels.Nevertheless, there are a number of private hostels or other types of lodging along most of the Routes, which do allow pets to stay. Therefore, when choosing the Camino you are going to do with your four-legged friend, you should bear in mind that it is much easier to find accommodation along the better-equipped and more popular routes, such as the Camino Francés. However, Conchi recommends: "not taking any chances and booking everything before you set off on your adventure".
The APACA association offers a list of establishments recommended by pilgrims that have already done the Camino with their best friend. Here is the link if you would like to check these out: https://apaca.paradoxahumana.com/albergues-para-perregrinos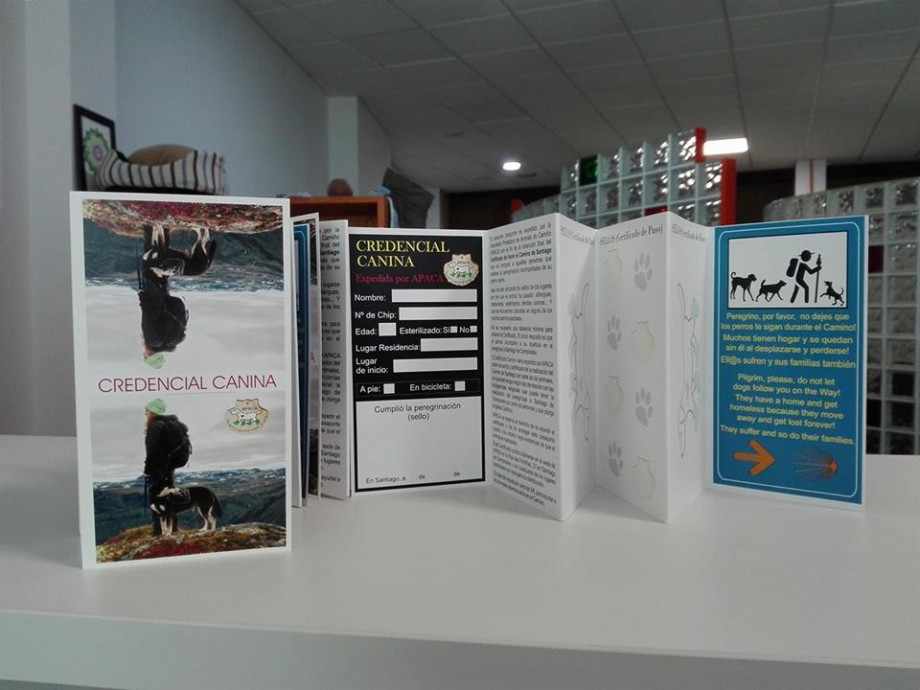 Documentation.Your dog is a pilgrim just like you. Therefore, your dog can be accredited as such with the Canine Credential. Although not official, this document is equivalent to the Pilgrim's credential. Both must be stamped along the different stages of the Camino. Here is a list of the places in which you can obtain it.
Also, when you reach Santiago your dog will receive the Perregrina, a certificate equivalent to the human official certificate called the "Compostela". This initiative was created by the APACA association, with the aim of raising awareness among pilgrims along the Camino de Santiago of the problem of pet abandonment and animal cruelty. To receive "La Perregrina", you simply have to visit the APACA centre with your dogs, so they can verify that they have walked the Camino de Santiago with you. The centre is located along the last few metres of the Camino Francés (Fontiñas 27).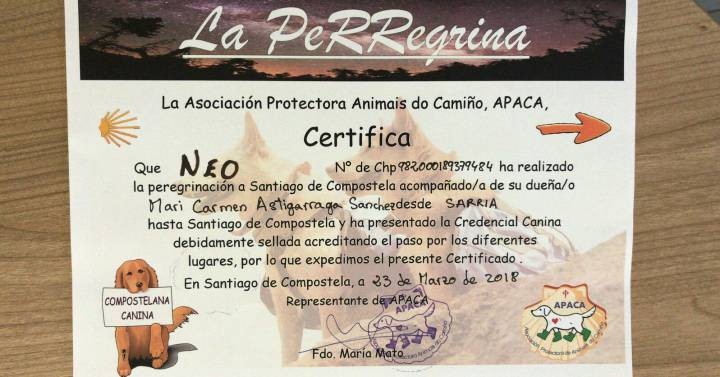 Apart from the "perregrina" dog documentation, don't forget to travel with your dog's health certificate, which includes the microchip and vaccines just in case you have any medical problems along the Camino.
Getting there and leaving. There are more limitations when travelling with your pet. The lack of options was the worst part of the Camino for Conchi. If you choose to take the train, remember, the weight of the animal cannot exceed 10 kilos and pets must always travel in the appropriate pet carrier. If you travel by bus you will also need to carry your pet in the appropriate pet carrier, but in this case they will have to travel in the luggage compartment. If you don't fancy any of these options, the only option is private transport, in your own vehicle or a taxi, so your dog can travel with you and you can choose the rest times that best suit you for your long journey. Conchi chose the latter to travel with Draco.
Having read these tips, if you decide to do the Camino de Santiago with your best friend, you will discover a different route. For Conchi, who decided to do the Camino as a personal challenge after a kneeoperation, it was a "very good experience". Having Draco by her side helped her liaise with other pilgrims, since "90% of them stopped to talk to Draco and spoil him; and Draco "always looked happy" walking with his owner. So much so, that they plan to do it again next year, but this time from Santiago to the "End of the World".
---
Your email address will not be published.
Mandatory fields are marked with *