Camino de Santiago and Covid-19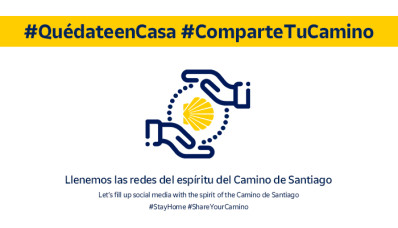 20-03-2020
These days we cannot step on the Camino de Santiago. We cannot enjoy the company of other pilgrims. Nor the hospitalero's warm hospitality.
The emergence of the coronavirus and its rapid spread has forced an unprecedented decision: to close the Camino de Santiago for the first time in its history. This is not the moment to do the Camino de Santiago. Now it's time to stay home and take care of yourself.
From Correos we want to help you in this task by taking the Camino de Santiago to your home. We started the #ShareyourCamino campaign an initiative with which we want to remember the good times lived. And think about the ones that will come.
Through messages, stories, photographs, videos, poems, quotes, songs, phrases…. We will fill the networks of the spirit of the Camino de Santiago. Would you sign up?
How to take part?
Share your Camino on Social Networks (Facebook, Instagram or Twitter) with the hashtag #ShareyourCamino and #StayHome. You can upload stories, messages, photos, phrases, videos, poems, songs, quotes, drawings ... Anything you want to share about your Jacobean Route.
If you prefer you can also send it to us by private message.
What will we do?
We will collect all your memories, wishes, hopes…. and we will be publishing videos that summarize this universal feeling for the Camino de Santiago.
If you want to take part in it it's very easy. You have a lot of photographs of your pilgrimage to Santiago for sure. Or you feel like sharing your thoughts with other pilgrims. Maybe there is a song that reminds you of those days. Or you have a favourite route and would like to share the reasons.
Perhaps there is a very special place somewhere in the Jacobean Routes. It is possible that you had always wanted to tell the story of that companion or that hospitable one and you never dared. Or there is something in your house that always takes you to relive those good times on the Jacobean Route.
Everything is valid to keep the spirit of the Camino de Santiago alive. #ShareyourCamino and help us virtually fill the Jacobean Routes with pilgrims. We count on you. Buen Camino!
---
Your email address will not be published.
Mandatory fields are marked with *