13-03-2017
Safety on the Camino de Santiago is an issue on which we have written about on our social media channels: Facebook, Twitter and Instagram, providing little tips for day-to-day travel. Lately, you've begun to ask us about security more frequently on our section known as "Postmen's Advice", that's why we've decided to gather all our recommendations in this article, developing a guide to ensure safety along the Camino.
The Camino stands out as a peaceful conflict-free journey. However, it is always necessary to prevent and understand the terrain where you move and this is something that those coming from afar especially want to know. We want all pilgrims to feel safe, especially when coming from other countries. This is why we've included this guide on security on the Camino de Santiago, in the section on Foreigners on the Camino, even though this advice is applicable to everyone.
Is it safe to travel the Camino alone?
Yes, it is safe and it is a very common option among those who want to disconnect and connect with themselves. We know that making the decision to travel the Camino is more difficult from a distance and that many foreign pilgrims question their safety if walking alone:
The low level of conflict on the Camino de Santiago is a stand-out issue. One of the reasons this is true is that, in reality, you will never be alone on the Camino. Departure times and arrivals are usually the same for most pilgrims, who choose to start early in the morning to arrive to their destination in the afternoon. This is increased in the high season, from April to the end of September.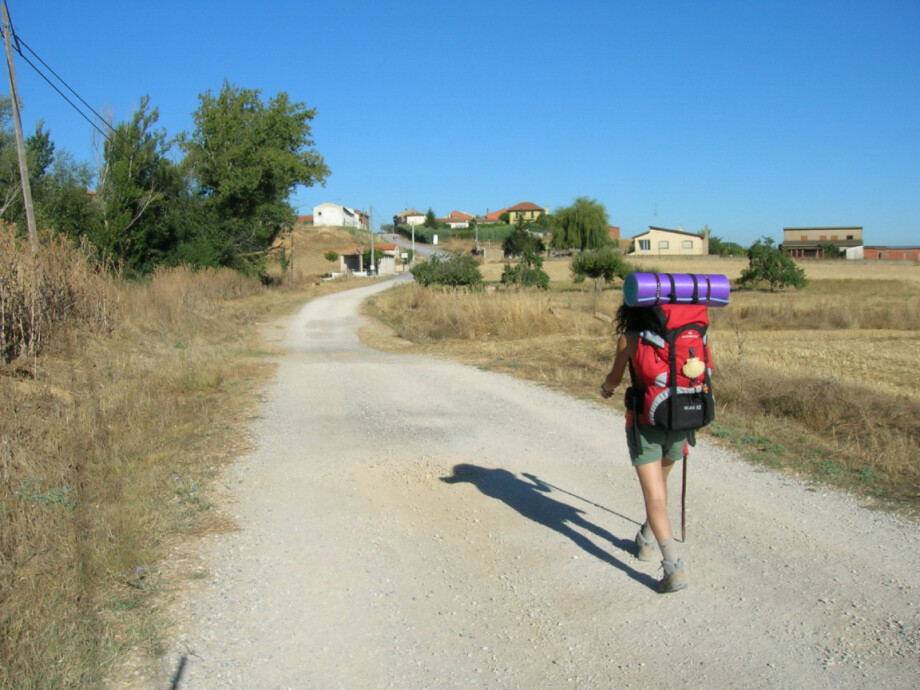 Walking in solitude may be a life experience, one of great spirituality for many pilgrims, thus, there are many who decide to undertake a solo course in order to connect with themselves. Travelling alone, far from meaning vulnerability, facilitates meeting other people and leaving the Camino with a full experience and with a backpack stuffed with stories.
Are my belongings safe?
Delinquency is not common on the Camino, although we have to take into account that you will be in crowded places, which can increase the risk of theft. While it is not a common trend, it is our responsibility to minimise the chances of an unwanted event occurring.
Safety in hostels is a main concern of pilgrims. Year after year, hostels improve their services and many are already offering locker services, highly recommended for leaving your valuable belongings. However, we typically have to keep our backpacks in the hostel room, which we share with several people. To prevent petty theft, avoid carrying too many valuables and do not neglect your belongings such as backpacks, mobile phones, cameras and other valuable items. To separate these valuable objects, there are tricks that include using a small cloth bag where you can keep them inside. Always carry money with you, along with your mobile phone, glasses and other valuable things, without having to carry a full backpack when resting.
Bicigrinos. They travel with a constant concern: taking care of their bike. The bike is the most faithful companion of the bicigrino, without which there would be no travel. To avoid theft, it is recommended that you stay in shelters that have a safe place for storage for the night and park them in sight when you stop to eat. Additionally, most cyclists use padlocks and even portable alarms that can be stored in a triangle pouch.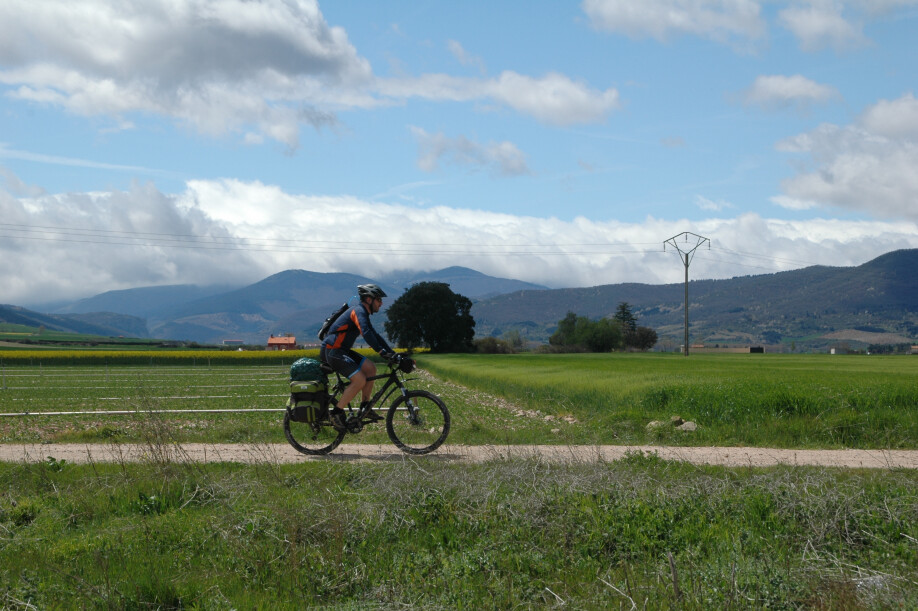 Losing your bike could mean the end of your Camino, which would be very traumatic and goes beyond economic loss, that is why we recommend that you use padlocks and always keep it in sight.
Signage and Road Safety on the Camino
All the different routes of the Camino de Santiago have abundant signage. It is easy to follow the path indicated by markers, signs, yellow arrows ad even mounds of stone that are left by pilgrims. On the other hand, it is also easy to get confused talking to other Camino pilgrims or taking in the landscape.
Therefore, if you lose confidence and are not sure which direction to go, you should always trace back your last steps where you were sure you were on the Camino. If you are well-targeted, at least you'll be sure of the right way and will avoid going around in circles and, above all, getting lost.
Another way to ensure you are well-oriented at all times is to carry a GPS device or use a navigation application. It's very useful. If, instead, you prefer not to carry electronic gadgets in order to completely disconnect, you'll have to look at the signs and, in case you get lost, don't hesitate to ask a local, who are the best connoisseurs of the land.
Are road sections safe?
Yes. They are safe, as long as the rules of the road are respected. The latter being very important. On the Camino, ideally you would want to avoid road sections, but there are areas when it is necessary to go small distances on them. You should:
​
Drive on the left-hand side of the road to have visibility of vehicles coming from the front. If there is no shoulder, you should walk as close to the edge as possible. If the left-hand side has obstacles, it would be advisable to walk on the right but to be very careful so as not to lose visibility of vehicles driving in the same direction.
Wear flashy or reflective clothing, especially when walking in low light. In this case, it is also advisable to carry a front light.
If walking in a group, walk in a line, one by one, keeping a distance of 3 meters each.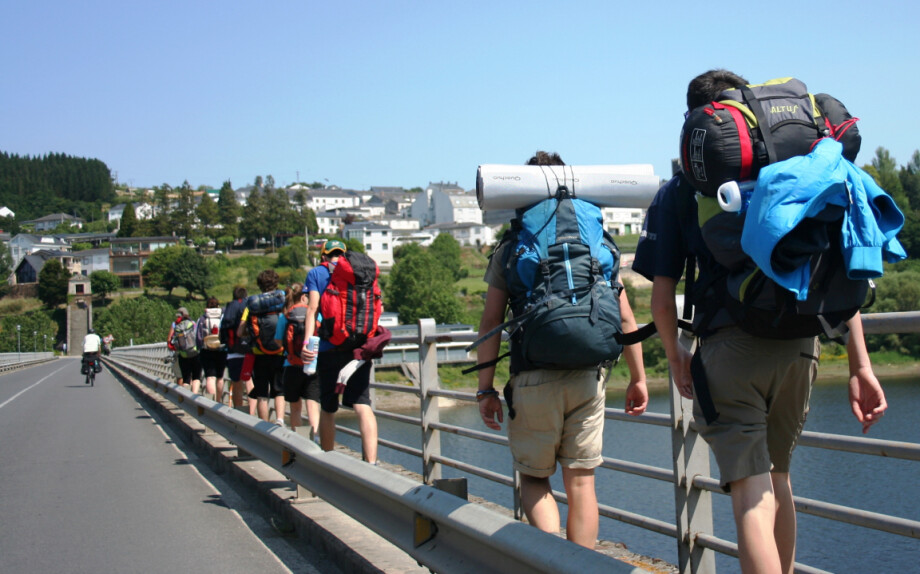 In 2015, the Government of Spain created a Road Safety Committee on the Caminos de Santiago, in charge of analysing all of the measures arranged to improve the transit of pilgrims and that continuously evaluates new implantations.
These are just little tricks that make the Camino safe and successful. The Camino de Santiago is an unforgettable experience for all pilgrims, which makes an indelible mark on their spirit. If you follow certain prevention measures, you'll be able to enjoy each and every step to the fullest, leaving aside all your fears and enjoying everything the Jacobean routes have to offer.
---
Your email address will not be published.
Mandatory fields are marked with *