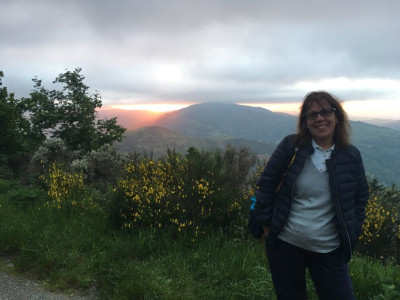 26-07-2018
One wish: to give back to the Camino de Santiago everything it's given. One journey: from Buenos Aires to O Cebreiro. And one promise: to come back. That sums up the experience of Rosana Montano as a volunteer.
Her two weeks as a volunteer have brought her closer to people, living an intense daily life and discovering a new dimension to the Way of Saint James. Today we'll tell you her story. It's the story of a wish shared with so many other pilgrims: to show their gratitude to the Camino by helping others.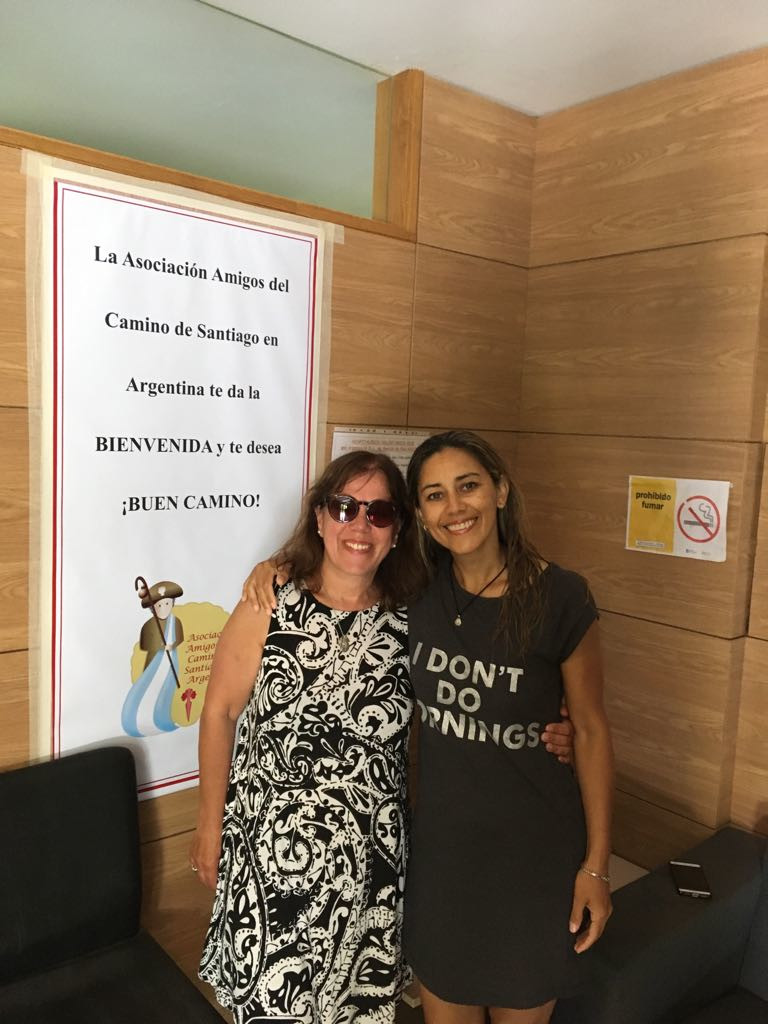 Rosana in the public pilgrims' hostel of O Cebreiro
Rosana and the Camino de Santiago: a veritable tale of love and destiny. Rosana travelled to Spain for the first time when she was just 24 years old. On 25 July, she was on a train travelling between Ferrol and Vigo.
On impulse, she stopped off at a city that had caught her attention on the map: Santiago de Compostela. There she forged a lifelong bond with the city that has led Rosana to undertake the pilgrimage to the Apostle's tomb dozens of times; create – along with her husband – the Asociación de Amigos del Camino de Santiago (Association of Friends of the Camino de Santiago) in Argentina; and, most recently, become a hostel volunteer for two weeks.
We spoke to Rosana when she arrived at O Cebreiro, flushed with the emotions and experiences of the last fortnight. From the first time she did the Camino in 2008, she knew that she would be a hostel volunteer. Now, just a few hours before returning to Buenos Aires, she knows she'd do it again. She confesses: "Working as a hostelera is as addictive as doing the Camino itself – or more so. It's different. More intense."
Rosana with a group of pilgrims in O Cebreriro
"I still have vivid memories of the first time I did the whole Camino de Santiago in 2008. Even today, I pass through certain places and I remember conversations I had there with my friend."
This intense experience led Rosana to make a decision: "I have to give back to the Camino what it has given to me. And one way of giving something back is by helping others. You might think certain things are very obvious that the pilgrims are unaware of. There are people who grab their backpack and take to the road to do the Camino but don't know which is the next stage, where they can stay, what they can do, how to get around... So it's a way of giving and helping."
Ten years after making that promise, the chance came up in the form of the Xacobeo and its hostel volunteer programme throughout Galicia's programme of public hostels. "I didn't know what I would be doing, how it was done, if I'd be able to help... I was a bit scared. So I avoided choosing a hostel from Sarria onwards since the volume of pilgrims is more intense. But I've got much more out of it that I thought. I've given back, but I've also got a lot out of the experience," she tells us.
Rosana Montano: "Working as a hostelera is as addictive as doing the Camino itself – or more so. It's different. More intense."
Contact with people. Hearing their stories. Sharing their joys. Easing their pains. This is the best part of being a hostel volunteer, in Rosana's opinion. "You give and people give to you. But you get more out than you put in". The worst thing? Learning that there are people that don't share the values of the Camino. "The essence of the Way of Saint James and staying in hostels is sharing, talking, getting together around a table. But some people don't take it on with this spirit," she explains.
Rosana has made up for the few bad experiences she has had by participating in the mass and blessing of the pilgrims celebrated every day in the Church of O Cebreiro. It's a small celebration during which Paco, the priest, gives each pilgrim a stone bearing a yellow arrow: "It symbolizes that the Camino does not end in Santiago; rather, it is life itself. And the yellow arrow shows the way," Rosana tells us.
"During the last days of my stay, Paco called me to give me the arrow. And he embraced each of the pilgrims, and I hugged everyone. And that was really touching," she remembers.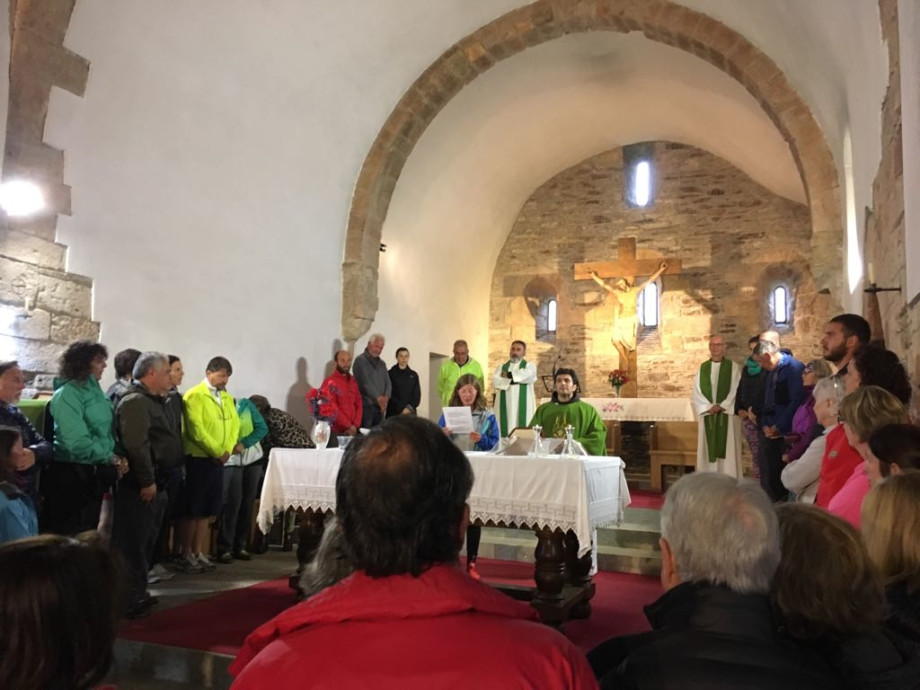 Blessing and mass of the pilgrim in the church of O Cebreiro
After this first experience as a hostel volunteer, Rosana knows she'll be back. And that's why she's working within the Asociación de Amigos del Camino de Santiago in Argentina, an association with 430 members that seeks to provide information and assistance to pilgrims.
Its aim is to contact the Federation of Associations of the Friends of the Camino de Santiago to promote the work of hostel volunteers among Argentinian pilgrims. And to make it possible to do the hostel volunteer course from the other side of the Ocean. "Many people are discouraged by the fact that there's a course to do first, since on travelling to Spain we try to optimize the time and costs of the journey," Rosana says.
Meanwhile, she'll continue to give support to hundreds of people who also decide to take on this adventure. "More and more Argentinians are deciding to do the Camino de Santiago and giving them advice is very important. They want to know which are the best dates to go, how to start, what to do... It also helps them to feel less daunted, since for many people Europe is an unknown and they don't know what they're going to find," she adds. And who better to help them than Rosana, a true fan of the Camino de Santiago who'll always be back when she can!
---
Your email address will not be published.
Mandatory fields are marked with *