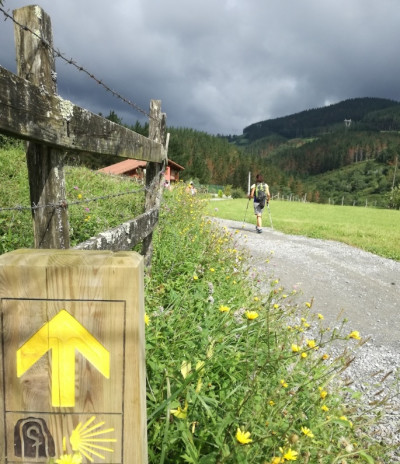 23-04-2019
The Camino de Santiago, or Way of Saint James, is a pilgrim route across Spain that dates back to medieval times. This pilgrimage leads to Santiago de Compostela (Galicia) in northwestern Spain where the remains of the apostle Saint James are buried.
If you are planning on embarking in this journey, you probably have some unanswered questions or worries about the route. Today we'll try to clear your concerns and help you get ready for your Camino de Santiago.
What are the most popular routes?
The most popular route on the Camino is the French Way (Camino Francés), followed by the Portuguese Way (Camino Portugués) and the Northern Way (Camino del Norte). The way to Fisterra and Muxía is also popular amongst pilgrims, especially for those that finish the Camino in Santiago de Compostela and want to continue their pilgrimage to Fisterra (what was thought was the end of the World). You can read all about the Caminos on our website and choose the one that suits you the most.
How many Kilometers do I have to walk a day?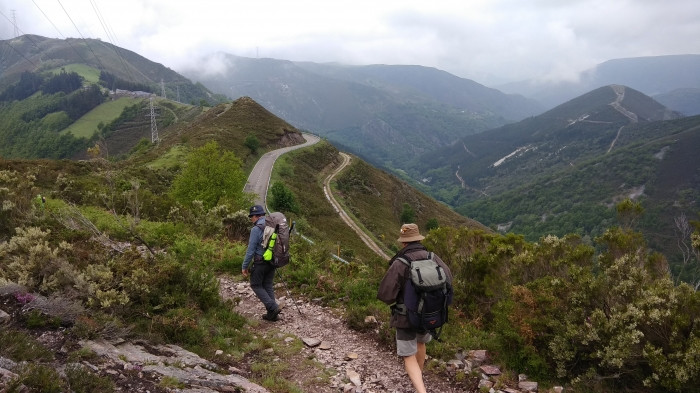 The good thing about the Camino de Santiago is that you can plan it according to your needs. Typically, stages are divided in 25 to 30 Km (16 to 19 miles) and if you're doing your Camino by bicycle, cyclists tend to cover between 50 and 60 kilometers per day (31 to 37 miles). You can divide your stages into smaller or larger sections. There are pilgrims who cover 10 kilometres per day while others walk two sections in one go. Some Routes and stages are more challenging than others and you should take this into consideration when planning your Camino. You have to keep in mind that the Camino is not a race, and the most important thing is to enjoy the experience.
Where should I start?
You can start the Camino wherever you want, depending on the route you are walking, how much you want to walk, if you want to finish in Santiago or elsewhere and the amount of days you have.
Pilgrims choose different places as their starting points for The Way. Those on the French Way tend to start in Saint Jean Pied de Port (France) or Roncesvalles. They also choose places closer to Santiago such as Sarria, O Cebreiro, León or Pamplona. For the Portuguese Way, pilgrims usually choose Porto (in Portugal) or Tui; those on the English Way depart from Ferrol, those on the Primitive Way start from Oviedo; for the Northern Way they choose Irún, for the Winter Way Ponferrada and Ourense the Sanabria Way.
What shoes should I wear?
Since you will be on your fe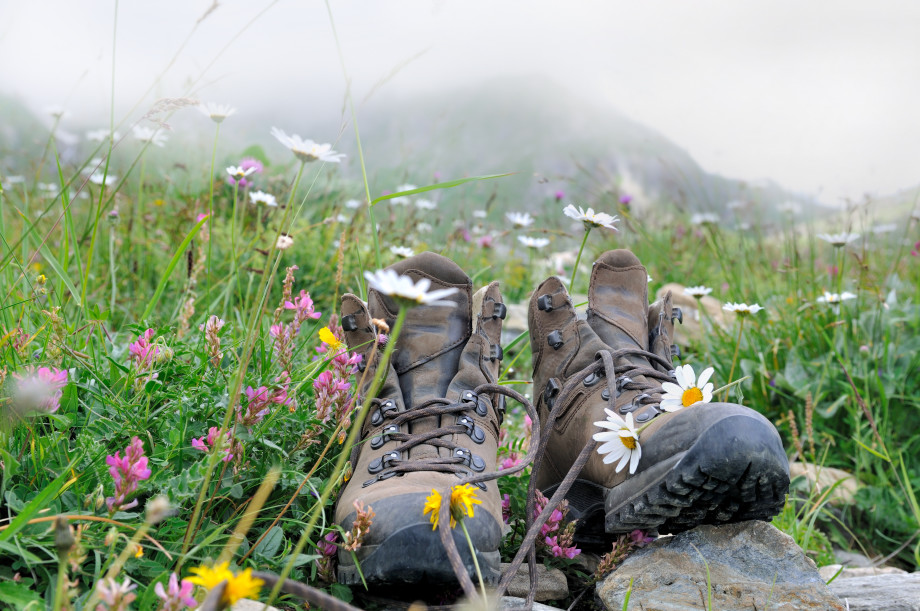 et all day, footwear is really important. You should never wear new shoes. Instead, bring a pair of shoes that is already broken in. Pilgrims usually choose hiking boots or walking sneakers, or they alternate between them. Each one has their advantages. Hiking shoes offer more support, but sneakers are lighter. Take into consideration the weather conditions as well when making this decision. Boots are recommended for the winter months or rough terrain, but sneakers will be a better option on hot days. Regarding the material, we recommend Gore-tex, because this material breaths and lets the sweat and humidity out without letting water in. It's also important that you wear socks that favor transpiration and that are seamless.
What should I take in my backpack?
You should only pack your bare minimums for the Camino de Santiago. The more you put in it, the more you will have to carry on your back. Generally, it is recommended to use a backpack with 35-40 L of capacity, and you shouldn't carry more than a 10% of your own weigh. In the following video we show you some essentials that you will need on your Camino:
If you need to take more things on your Camino or you can't carry the weight on you back, you can always book the Paq Mochila service and we will transfer your bag daily along the Camino. We will pick your luggage up in the morning in your accommodation and deliver it to the next one so you don't have to worry about it. If you have extra luggage that you don't need until after your Camino, you can send it to Santiago (or any other point on the Camino) with our Paq Peregrino and we will hold it for you up to 75 days.
Where can I sleep on the Camino de Santiago?
Although traditionally pilgrims used to sleep in public hostels (known as albergues), the range of options for accommodation on the Camino has increased over the years. Now pilgrims have options ranging from camping out to luxury hotels. Each of them has their advantages and disadvantages.
The public Albergues are usually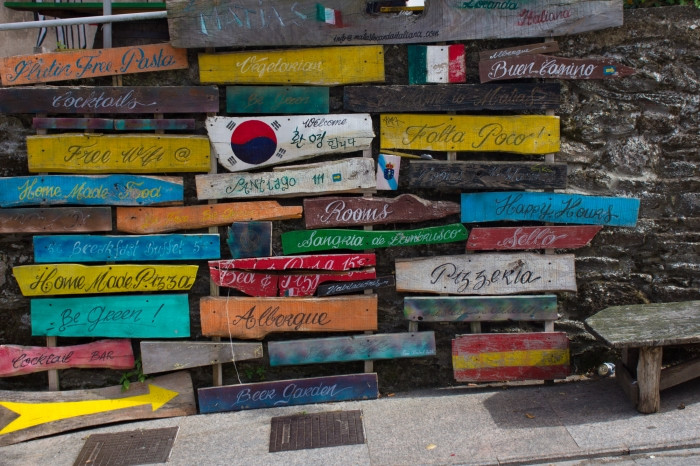 cheaper and you'll live the true Pilgrim spirit. These accommodations tend to have large rooms with bunk beds, shared bathrooms and some common room or kitchen. The problem with public albergues is that you can't book them in advance, and they work on a first-come-first-serve basis. A similar option are the private albergues, an inexpensive option that you can book in advance. If you are going to an albergue, do not forget your sleeping bag (although some offer bed linen).
Other accommodations such as boarding houses or hotels might come at a higher price, but they also offer other amenities that you might value more, such as bigger and more comfortable beds and more privacy. For more information, on our website you will find a list of accommodations sorted by Camino and the stage they are in.
Is it safe to walk the Camino de Santiago?
Thousands of pilgrims walk the Camino every year, and there are no relevant issues regarding safety on the Jacobean Routes. Departure and arrival times are usually the same for most pilgrims, so if you choose to walk The Way by yourself, you will never be truly alone. Travelling alone facilitates meeting other people and leaving the Camino with a greater experience and a handful of stories.
Delinquency is another concern for foreign pilgrims. Even though this is not common on the Camino, you have to take into account that you will be in crowded places, which can increase the risk of theft. Safety in hostels has also improved over the years. Many hostels already offer locker services, highly recommended for your valuable belongings.
However, if you are worried about carrying your money safely during your Camino, the CORREOS Prepaid MasterCard® is the perfect solution for you. With this card you can load the amount of money you want and use it to pay your accommodations and withdrawal cash from ATMs and CORREOS offices. Plus, you'll save on foreign exchange fees by paying with a national card. If you lose it, you don't have to worry because it is not linked to any bank account and you can block it directly from your phone. This will enable you to enjoy a stress-free Camino and get the most out of the experience.
What is the Compostela and how can I get one?
The Compostela is a document issued by the Cathedral of Santiago de Compostela that certifies that a pilgrim has completed their Camino de Santiago. This document can be collected at the Pilgrim's Reception Office located in rúa Carretas, very close to the Cathedral. In order to get your Compostela, you will need to stamp your Credencial or Pilgrim Passport twice a day to prove that you have covered the last 100 kilometres on foot or 200 by bicycle. These stamps can be gotten at hotels, restaurants, cafes, churches and Correos Offices along the route.
---
Your email address will not be published.
Mandatory fields are marked with *