Culture & Traditions of the Camino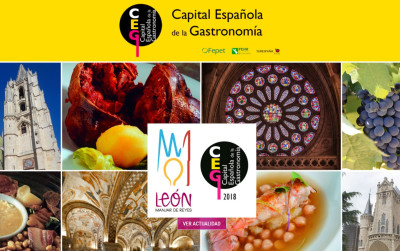 25-01-2018
León will be a mandatory stop in 2108 on our Camino de Santiago. Famous for its cecina, blood sausage and Barrio Húmedo, León has just become the Spanish Capital of Gastronomy for 2018. We're using this distinction to walk you through one of the essential stops of the Camino Francés and recommend some of the star products of its pantry. As they say: León, a Feast Fit for Kings.
On your way through León, the pilgrim can enjoy some of the most spectacular monuments in Spain. The Cathedral and its beautiful stained-glass windows, the frescoes of the Collegiate Church of San Isidro--known as the Romanesque Sistine Chapel--, or the plateresque facade of the Hospital of San Marcos do not go unnoticed by anyone visiting this city. But if there is something that truly defines León is its tapas though the Barrio Húmedo or the Romantic Quarter.
The cecina, a Guinness Record

Throughout 2018, León will have the opportunity to demonstrate its culinary excellence. With 16 figures of quality, three Protected Designations of Origin, new protected Geographic Indications, three Trademark Guarantees and a Collective Trademark, León has programmed a total of 160 activities--one every two days--among which is a Guinness Record: the biggest cecina, a vermouth route, and Michelin starred chefs.
As Spanish Capital of Gastornomy for 2018, León will dedicate each month to a dish or typical product of the province. From the botillo and lemonade, to the lechazo and pony meat, cecina, cheese, beer, wine from Bierzo and blood sausage. With it, more than 350 bars and restaurants in León adhering to this initiative will have to make a dish or tapa according to the motto León tastes good, tastes divine. The initiative starts this February with León's chorizo being featured.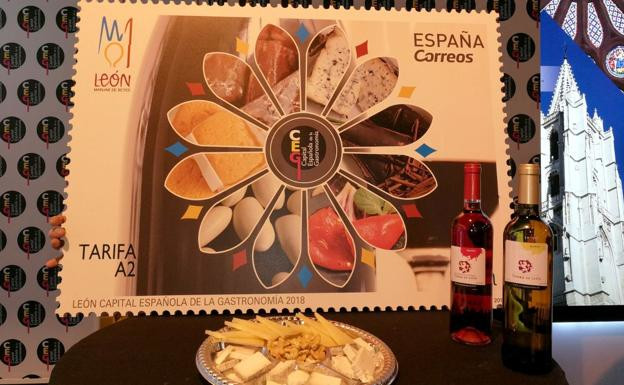 A Feast Fit for Kings, a special Correos stamp
Cheese from Valdeón, cecina from León, roasted peppers from Bierzo, beans from Bañeza, chocolate and shortbread from Astorga are the six products that Correos has chosen to honour the gastronomy of León. In addition to the celebration of León as Spanish Capital of Gastronomy, Correos presnted a special stamp in Fitur that features an illustration of the famous rosette of the Cathedral, highlighting some of the most significant flavours of León's pantry.
The stamp, which belongs to the Spanish Capital of Gastronomy series, has a circulation of 200,000 units and reproduces the logo created for the occasion under the motto, a Feast Fit for Kings.
What to eat in León

León is a land of sausages, meats and even fish, vegetables, exquisite cheeses and exceptional sweets. From the Camino con Correos we also want to join this tribute to the gastronomy of León, recommending ten dishes that you can't miss when passing through León.
Cecina of León. You can't visit León and not try its cecina. A land of exquisite sausages, cecina is an exclusive and unique delicacy. It is a meat sausage cured and regulated since 1995 by a Protected Geographical Indication.
Botillo. King of Bercian gastronomy, it is one of the most popular and unique sausages in Spain. Rib and pork tail are the basic ingredients of the botillo, which, depending on the stove, can carry tongue, cheek, shoulder and spine. All seasoned with salt, paprika, garlic and other natural spices.
Blood Sausage. Is one of the most popular goods of León's gastronomy. Its preparation is typical slaughter-wise and, unlike other varieties, is made with pig's blood and onion.
Valdeón Cheese. León is a land of cheeses with proper names. If we had to feature one, we would choose that of Valdeón. With a pungent smell and intense flavour, this blue cheese made with goat's milk, cow's milk or both, leaving it to mature in natural caves.
Roast pepper from Bierzo. Cultivated in the Bercian region since the mid-seventeenth century, it is characterized by its triangular shape, its fleshiness, sweetness and slightly spicy touch.
Maragato stew. Although traditionally a dish that was served to farm workers facing a hard day's work, now it is a classic that cannot be missed in the towns near Astorga. It is served and eaten in reverse: first a combination of 7 meats, then chickpeas and finally soup.
Stewed tortilla. Emerging as a recipe for leftovers, but so delicious that today it is prepared as an original dish. To make it you just have to cook a potato tortilla (or use one from the previous day) and then stew it with peppers, garlic, onion and a little paprika.
Trout soups. Nothing is better to cope during winter than with a hot soup that, in addition to trout, has water, bread and paprika.
Lamb stew. León enjoys and promotes a simple recipe that requires quality lamp and then just onion, garlic, parsley, white wine and paprika.
Shortbread from Astorga. Although León enjoys some delicious sweets, we cannot leave without recommending Astorga's shortbread. It is obtained from baking wheat flour, egg, butter, lard and sugar, and is characterized by its softness and sponginess. It's delicious!
We hope that all these recommendations are helpful. And remember that when passing through León, leaving with a full stomach is a must. Safe travels!
---
Your email address will not be published.
Mandatory fields are marked with *