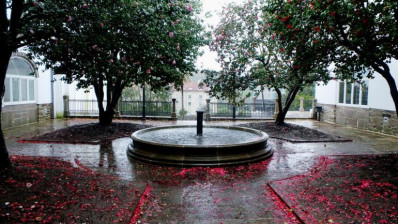 19-04-2016
A few months ago the Pilgrim's Office packed up and moved from its historic headquarters at the Rúa do Vilar to new facilities on Carretas street. From this new location, they continue their hosting work, certification and the ever increasing tally of all those coming through the Camino.
In March of 2015, 5,080 persons passed through the Office. In March of this year that figure doubled, exceeding 11,000. The new facilities, large and remodelled, allow them to cater a large volume of pilgrims more comfortably and efficiently.
How to get here and what you'll find
The new Pilgrim's Office is a bit farther away from the Cathedral than the formers Vilar headquarters. If you prefer to visit the temple or take a stroll before doing your paperwork, we recommend that you go over to our Post Office located on Rúa do Franco 4, just a few steps from the Obradoiro. There you'll be able to leave your things in a locker and enjoy the rest of your day without any hindrances, free to retrieve them when necessary.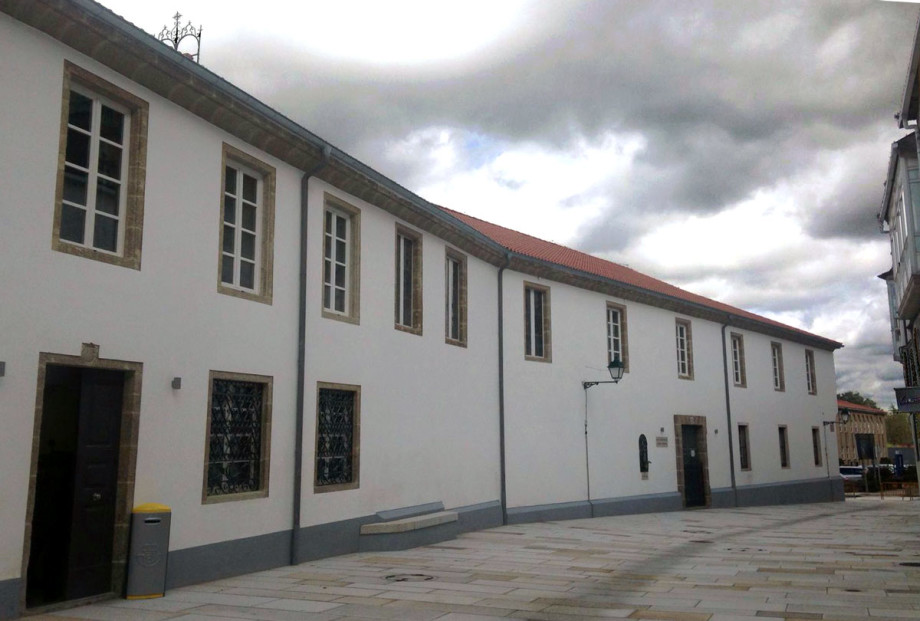 To reach the Pilgrim's Office, go down the Costa do Cristo (the street that extends from the door of the Hostal de los Reyes Católicos). The first street on the right is Carretas; you will pass by the door of the office we have created there (we'll tell you how this post office works in a while).
At the end of the street, turn the corner and you'll find access to the Pilgrim's Office down Domingo García Sabell street.
Upon entering, your first surprise awaits: a garden with benches, trees and delightful fountains. With good weather it transforms into a very lively and picturesque setting. Here's a tip: sit on one of the benches and take in the feeling of having "passed the test" once you've arrived to Compostela.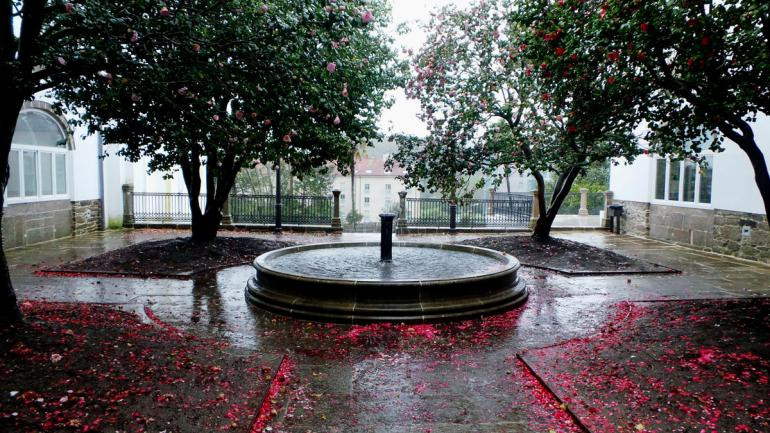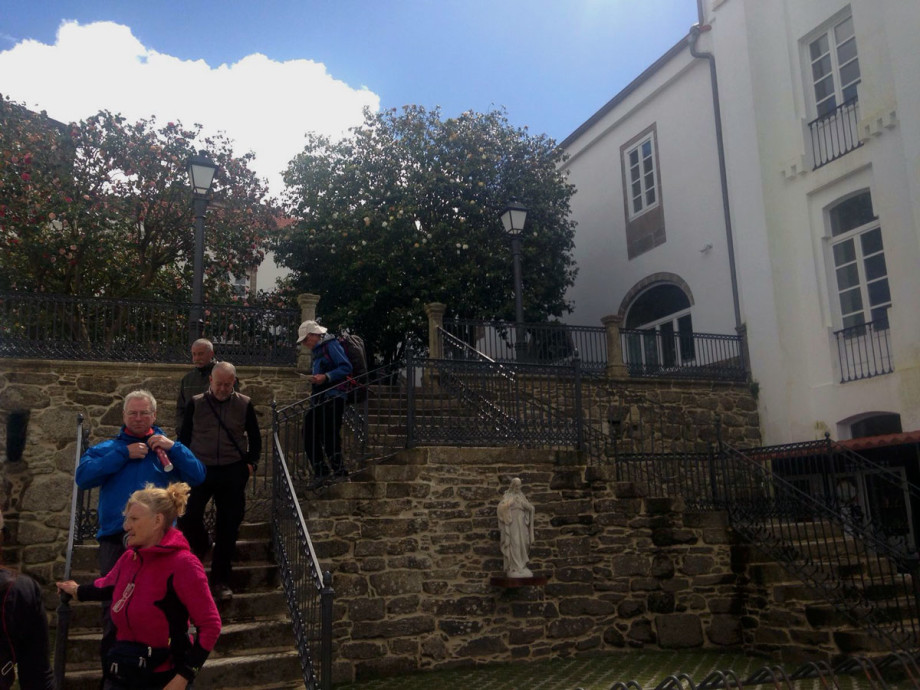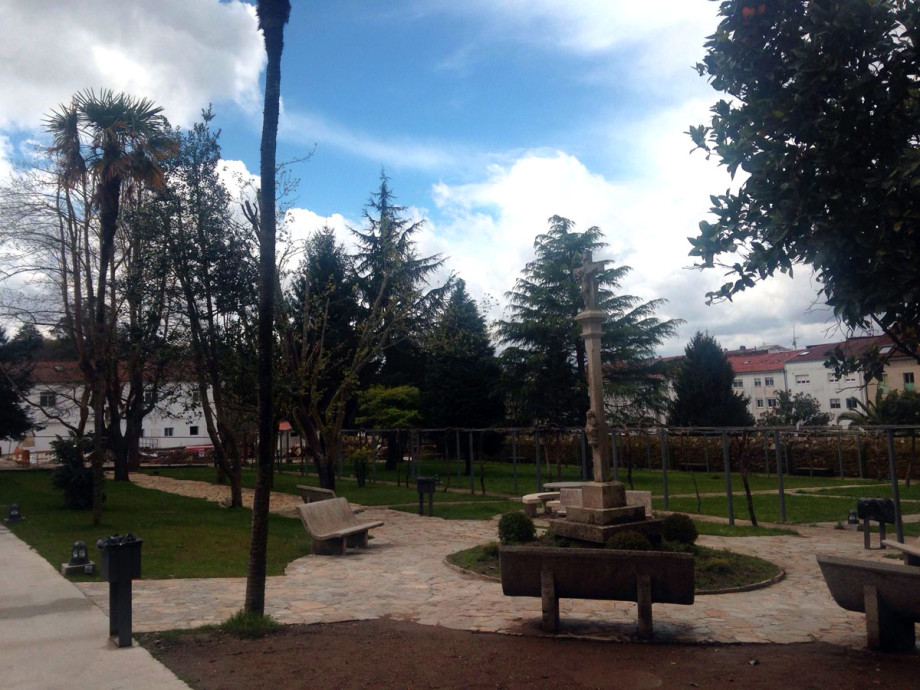 The Office
The time has come to go to the desk to pick up your 'Compostela', the document certifying that you have travelled the Camino de Santiago, fulfilling the conditions required depending upon the chosen option (on foot, bicycle, etc.).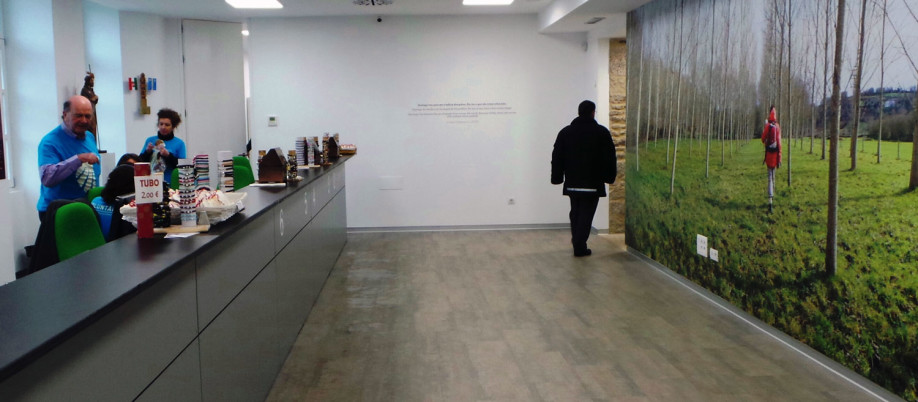 Reception and procedures are carried out in a new room, both spacious and functional, where appointments are managed by number. The persons attending there are volunteers in most cases. Remember to be thankful for their work!
On one of the walls, a quote from the Codex Calixtinus in Galician, Spanish and English welcome all the pilgrims while making a clear declaration of intentions.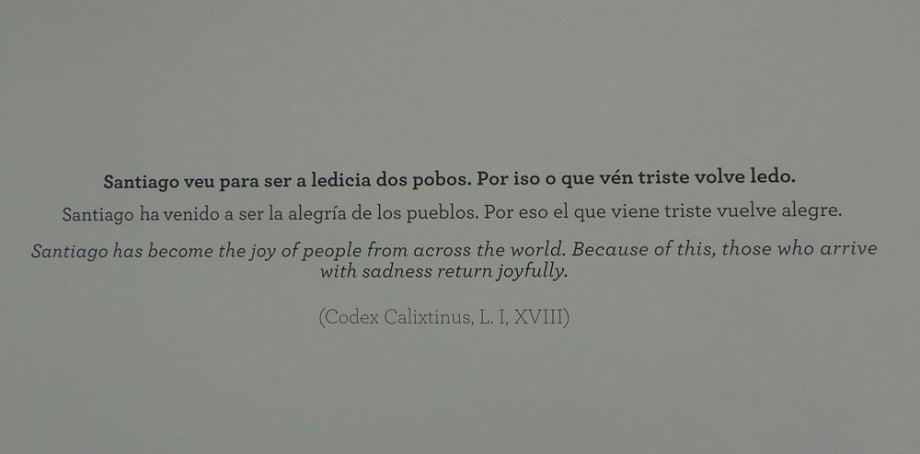 Opening Hours and Contact
From 1 April until 31 October, opening hours for the Pilgrim's Office are from 08:00 to 21:00; during winter, from 1 November to 30 March the schedule is slightly shortened (from 9:00 to 19:00), but they are still open every day.
However, if you arrive to Santiago on Christmas Day or New Year's Day, you will have to wait to obtain your 'Compostela', or go to the Sacristy of the Cathedral, since the Office is closed on those days. If you have any questions, please contact the Office via mail oficinadelperegrino@catedraldesantiago.es or by telephone at +34 981 568 846.
Correos at the Pilgrim's Office
The main goal of El Camino Con Correos is to be there when pilgrims need our services. Therefore, we have installed a small post office in this area and are able to give service and provide information to very diverse people with different needs. In addition to the access via Carretas, you can also reach our desk from inside the Office.
What services does Correos provide at this office?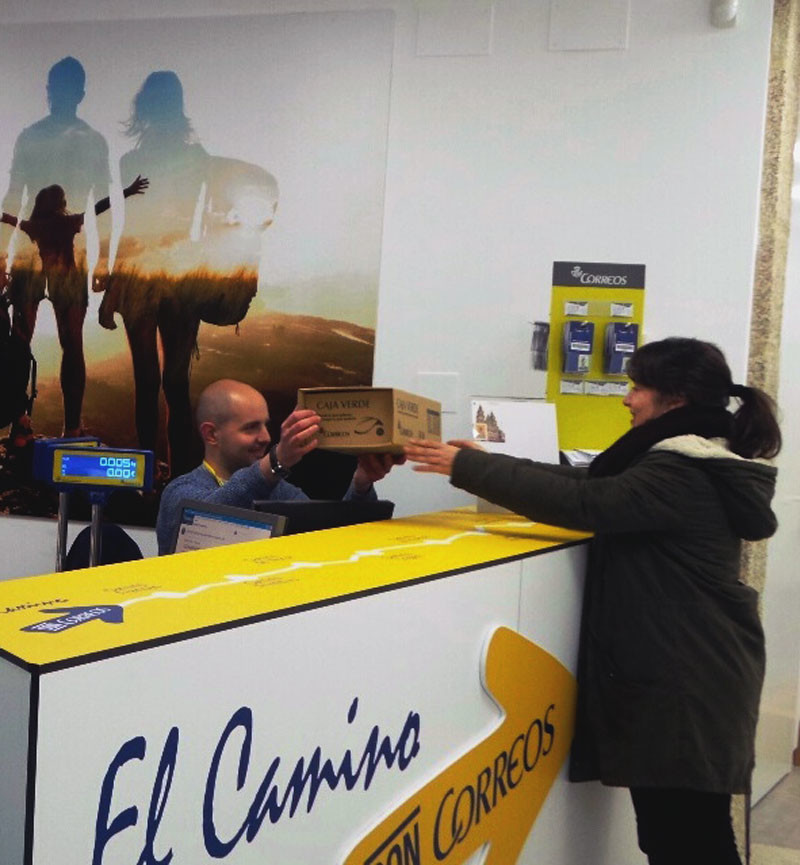 This are some of the things you'll be able to do from our desk:
Send your Compostela via certified mail service. You've come all this way to get it, don't risk it getting lost!
Send letters or postcards, with their corresponding stamps.
As a new feature, we also provide some basic and useful stuff that can help you in a tight spot: hats, basic first aid kit, locks for your bike, flashlights, chargers for your mobile...Check it out!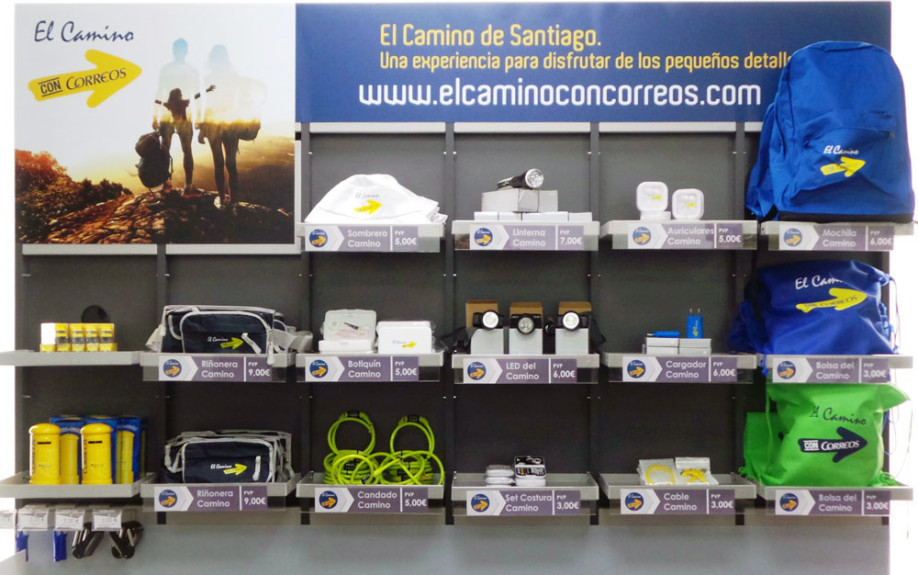 If you have any questions or need more information about the postal service, don't hesitate to ask one of our colleagues attending this office: Álvaro, Santi and Mari will be happy to help you.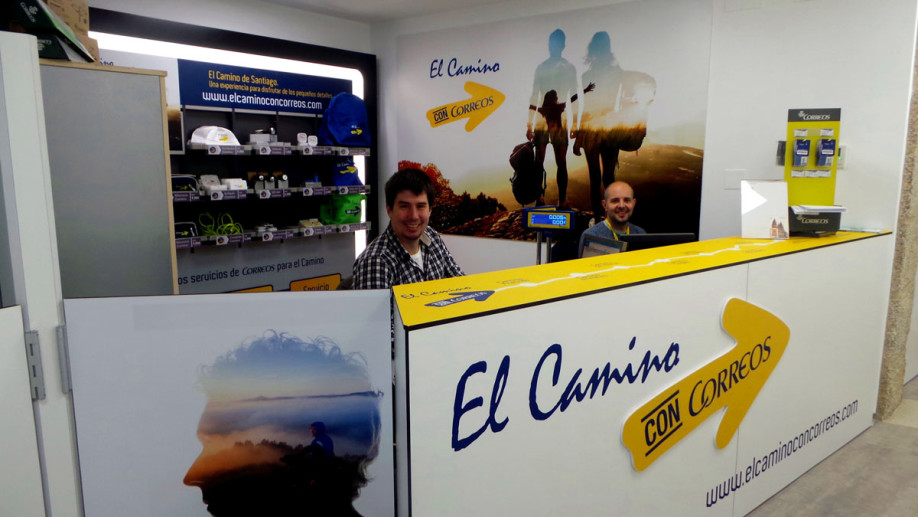 What else can you find at the Pilgrim Office?
In addition to the basic services of pilgrim's reception and issuing certificates, the new Office aims to be the place that comprehensively meets the needs of all those pilgrims who have come to the end of their journey.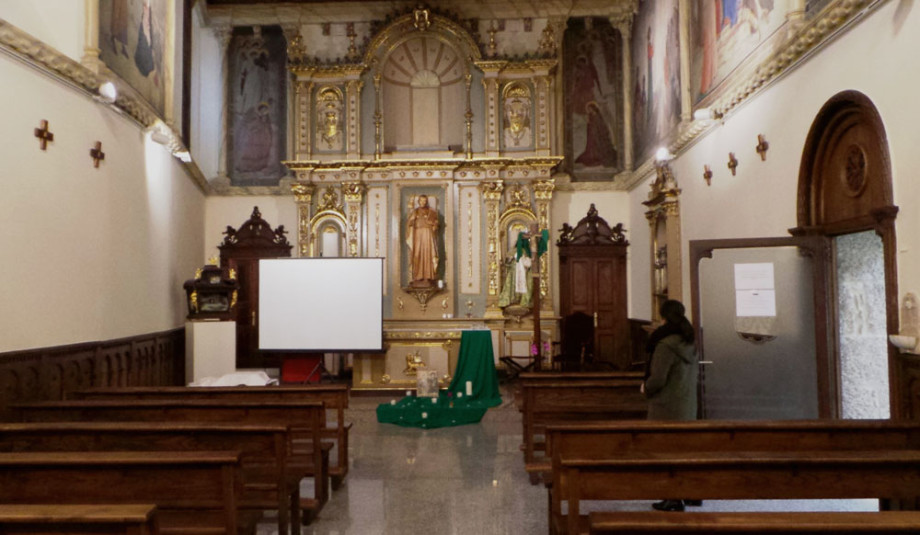 This is why you'll find an official tourist information point, bathrooms, a chapel for those seeking a few quiet moments of meditation and even a library, specialising in the Jacobean culture and pilgrimages to Santiago.
As a curiosity, we can tell you that this new reception centre is in the same place where the Asylum Hospital of Carretas was once located: hospitality and support has always been an integral part of this corner of Compostela's Old Town.
Have you already been to the new Pilgrim's Office? Share your thoughts!
---
Your email address will not be published.
Mandatory fields are marked with *