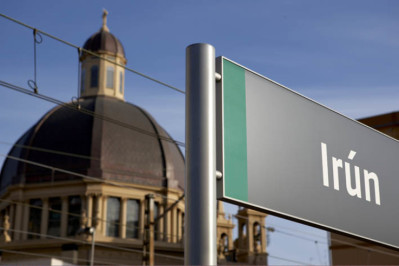 14-05-2019
The Camino del Norte or Northern Way is one of the longest Jacobean Routes to Santiago but also one of the most appealing. Almost 20.000 pilgrims got to Santiago in 2018 after walking this itinerary that crosses the Spanish Northern Coast from Irún to Santiago de Compostela.
As old as the French Way, the Northern way was the itinerary used by the European Kings in the Middle Ages to get to the tomb of the Apostle. Its starting point In Spain is Irún, a city by the French border. Today we detail how to get to this Basque city, starting point of the Northern Way.
How to get to Irún by plane
Irún has a stategic location due to its proximity to the two main towns in the Basque Country, San Sebastián and Bilbao, and with France. If the pilgrim wants to start its Northern Way in Irún and wants to get there by plane, he has several options.
San Sebastián Airport. Irún is only 3 kilometers away from the San Sebastián Airport, located in Hondarribia. There are regular connections with the Madrid and Barcelona airports through the companies Air Nostrum (from Madrid) and Vueling (from Barcelona). From the airport there are several urban bus lines, the Lurraldebus, that connects with Irún: E-23, E-25, E-28, E-27 y E-77 y E-78 (which also offers night service).
Bilbao Airport. The main airport of the Basque Country, Bilbao Airport has numerous connections with different Spanish cities such as Madrid, Barcelona, ​​Valencia, Malaga, Canary Islands and A Coruña. Bilbao also receives planes from Germany (Berlin, Frankfurt, Stuttgard and Munich), the United Kingdom (London, Bristol, Manchester and Edinburgh), Dublin, Portugal (Lisbon and Oporto) or Italy (Milan and Naples), among others. Every day there is a bus (Lurraldebus-Transportes Pesa) that connects the Bilbao airport with the center of San Sebastián (Federico García Lorca Pasealekua, 1).
Bayonne-Anglet Biarritz Airport. Another option is to fly to the Bayonne-Biarritz airport, just 25 kilometers from the Spanish border. This airport located in the southwest of France has flights from the United Kingdom, France, Ireland or Belgium. From the airport there is daily bus transportation to Irún and San Sebastián with two companies: Transportes Pesa and Conda, where you can check schedules and rates.
How to get to Irún by bus
If we start from cities like Madrid or Barcelona it is very easy to get to Irún by bus. From Madrid, the company Alsa has daily connections from Avenida de América (00:30, 7:30, 16:00 and 10:00) and from Terminal 4 at the Madrid-Barajas Airport (7:45 and 19:15). From Barcelona it's possible to get to Irún by bus through two companies: From the Barcelona Nord Station depart buses daily at 10:30 with the Company Alsa, (you have to transfer in Zaragoza); and also Monbús-Vibasa, with departures at 14:40 and 21:45.
From Bilbao it is also possible to get to Irún by bus taking an Alsa from the Bus Station of Gurtubay Street, in the vicinity of San Mamés. From San Sebastián, Irún is reached through several regular lines of the Ekialdebus urban bus.
There are bus connections with Irún from other locations in Spain. For example, from Vigo (Galicia) it is possible to get to Irún by taking a Monbús from the Bus Station. However, you must take into consideration that the duration of the trip is over 12 hours. From Andalusia, Socibus has an Irún-Algeciras line, with stops in Córdoba, Sevilla and Cádiz.
How to get to Irún by train
The strategic position of Irún as a border city with France allows the connection by train with different areas of Spain. From Madrid, Renfe offers four daily frequencies from Chamartín: 8:00, 8:48, 13:22 and 16:05. In addition, from Atocha a train departs at 7:30 am and another at 15:30 with Irún as its destination and transfer to Zaragoza. From the Barcelona Sants station it is also possible to travel by train to Irún. There are two daily trains: 7:35 am and 3:30 p.m.
From San Sebastian you can also choose to travel by train to Irún thanks to Topo, the train that connects both cities every 30 minutes approximately. You have all the information in Euskotren. If you travel to Irún from Galicia, a night train that connects Irún in 14 hours departs from Santiago de Compostela every day. In the case of Andalusia there is no direct train. But the pilgrim could take a AVE between Seville, Malaga or Cordoba and Madrid. And take another train to Irún from there.
How to get to Irún by car
Pilgrims who prefer to get to Irún by car to start their Camino del Norte have good road connections. From Madrid there are 472 kilometers that can be covered in just over 4 and a half hours. To get there, just take the A1 towards Burgos and then the AP-1 and later the AP-8 towards San Sebastián. From Barcelona to Irún we have about 560 kilometers that you can travel in about 6 hours through the AP-2. The AP-8 links Bilbao and Irún in just an hour and a half.
How to get to Irún from Paris
There are many pilgrims who choose to get to Irún to start the Camino del Norte from Paris. The capital of France has three airports with multiple international connections: Charles de Gaulle, Orly and Beauvais.
The pilgrim that wants to arrive by train should go to the Paris-Montparnasse station or the Paris-Austerlitz station and take a TGV train to Hendaye with a travel time of about 4 hours. From Hendaye there is a possibility to get to Irún by train in just 10 minutes. By bus, the pilgrim can travel to Saint Jean de Luz or Hendaya and from there take another bus to Irún. By car it is possible to get to Irún in 8 hours through the A10 and the A63.
We hope that these indications on how to get to Irún and start the Camino del Norte will be useful. We remind you that in Irún we have two Post Offices (Luis Mariano, 45 and Luis de Uranzu, 11) from which you can send your bags to Santiago with the Paq Peregrino in case you need it, or get one of our Correos Prepaid Cards for the Camino de Santiago to take your money safe on the Camino. And in case you do not want to carry your backpack, remember that in Correos we offer the Paq Mochila, the transport service from stage to stage that you can hire online.
Buen Camino and enjoy the Camino del Norte!
---
Your email address will not be published.
Mandatory fields are marked with *