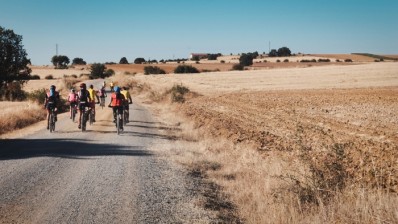 10-06-2021
The Camino de Santiago by bicycle gains followers every year. Pilgrimage at the stroke of the pedal gives you more freedom, you can travel more kilometers in less time and allows you to know in depth the towns through which they pass as well as the surroundings.
However, when planning the Camino de Santiago, many bicigrinos have the big question: how do I take my bicycle to the Camino?
To solve this situation, Correos makes the Paq Bicicleta available to lovers of two wheels, which facilitates logistics on the Camino de Santiago. With this service, the pilgrim can send his bicycle to the starting point of his Camino and back at the end.
However, the bicycle is not always available at the time we plan to do the Camino de Santiago. You may be a bike lover but don't have one at the moment. Or that you think that it is not in good condition to endure the Camino. Or you simply travel outside of Spain and the logistics to bring your own bike is complicated.
The best option on these occasions is to do the Camino de Santiago on a rental bike. In recent years, several specialized companies work day by day on the Jacobean Routes, providing pilgrims with their companion on the Camino.
Tips when renting a bike on the Camino de Santiago
Check the condition of the bike. It is going to be your inseparable companion on the Camino in the next few days, so she has to be in shape, like you. Check the pressure of the wheels, the condition of the chain and the brake system.
Guarantee, contract and insurance. Review each point and do not forget to have insurance that covers situations such as an accident or theft.
Accessories for the bike. Remember that during your Camino de Santiago you will need to bring clothes, toiletries and food. Although many pilgrims decide to carry their backpack on their back, the best thing when doing the Camino by bike is to carry saddlebags or cart. Check if it is possible to hire these accessories. If you do not want to carry these extras, in Correos we put at your disposal the Pack Backpack, with which we transport your luggage daily from hostel to hostel so that you can pedal without loads. It is also necessary to carry a tool kit (patches, camera, pump and multitool) in case an incident arises during the Camino, as well as a helmet (mandatory) or a lock.
Bike rental companies on the Jacobean Routes
At El Camino con Correos we work side by side with various companies that offer this service. In addition to bicycles adapted to all needs, these companies include shipping to the starting point and the return in the rental price. We leave your information for those who are interested in this service:
Bikeleon. It is a family business specialized in the Camino de Santiago, which offers the rental of all kinds of bikes (mountain, ride and e-bike), sizes and accessories to make the experience more pleasant (saddlebags, helmets ...).
Bikeleon sends the bicycle to the starting point of the French Way that you want and includes the return shipment. All bicycles have insurance to solve any breakdown or incident during your Route, travel assistance and civil liability insurance.
Bicigrino. It offers bicycle rental on various routes on the Camino de Santiago, sending it to the starting point of your choice. Bicigrino's bicycles are modified and adapted to the needs of the Camino. In addition, they offer accessories to make the route more comfortable such as luggage racks, saddlebags, padlock, tool kit ...
In Bicigrino they also offer electric bikes, for those who want to do the Camino de Santiago more comfortably.
Bikenbabia. Another good option to rent your bike. They send it to the starting point of different routes (check here) with delivery in Santiago or wherever you want.
Their services include the bicycle that best suits you and accessories that will make your Camino more comfortable, such as luggage rack with rubber bands, saddlebags, tool kit (pump, allen tool, spare tube, removable and patch), padlock, helmet, bell or bottle cage.
In addition, it has all kinds of special accessories such as baby trailer cart, handlebar flashlight or toe cap.
If you are going to do the Camino Francés there are two other very interesting options:
Mundicamino. This company offers bicycle rental on the French Way, with a specialized service from Burgos to Santiago. However, you can check with them the delivery to the starting point of your choice.
In addition to bicycles adapted to all needs, Mundicamino has a large number of models, advice from its staff and all kinds of accessories necessary for your pilgrimage such as bottle holders or luggage racks.
Burgos Bike Rental. From Burgos, this company also offers bicycle rental on the French Way. It can be a good option to go through the stages that separate Burgos from León, which are usually the most tedious for pilgrims who travel it on foot.
Just 5 minutes from the cathedral, Burgos Bike Rental offers more than 40 fully equipped bikes adapted to all sizes. Those who wish to do the Camino de Santiago by electric bike can also rent it.
We hope that this information will help you when planning your Camino de Santiago by rental bike. Buen Camino, bicigrinos!
* The photo that illustrates this article is the authorship of Lucas Corral.
---
Your email address will not be published.
Mandatory fields are marked with *