Take our Prepaid Card on the Way with you
If you want to enjoy the Camino without a care and enjoy the experience as much as possible, you can get our MasterCard® Prepaid Correos Card.
Our prepaid card will allow you to pay in any establishment accepting MasterCard® (practically all over Spain), buy on-line or withdraw money from ATMs. The difference is that this card is not linked to any bank account and so you cannot spend more than what you have in it.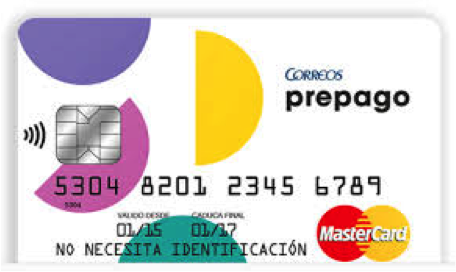 You can top it up as many times as you want at any Correos office in Spain, and also wire money from your regular cards through the web. You can also transfer money between Correos prepaid cards.
With this option, you can walk the Camino de Santiago without having to carry cash nor your regular cards. If you do not exhaust your balance, you can continue using it in Spain or in any other country in the world where they take MasterCard®.
The prepaid MasterCard® Correos card works with a safety password chosen by you. If you lose it, you can deactivate it the same as you would any other card and get your money back on a new one. You can also download our APP from the App Store or Google Play to manage your card from your mobile phone, check your balance, top-up or block and unblock your card whenever you want with just one click.
You can get this card in any of our Correos offices. Just pay 6 Euros and it is yours! From then on, you can top it up and use it on the Camino or whenever and wherever you want. You can also get it through the Correos Prepago website, where you can read the full terms and conditions.