Culture & Traditions of the Camino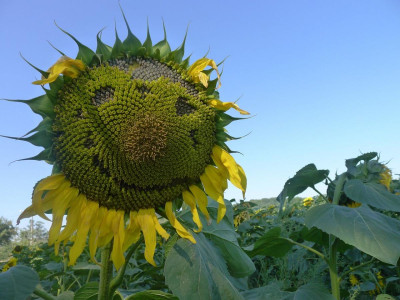 30-08-2016
How many thousands of photos have you taken during your Camino de Santiago? Thanks to the the Internet and to social media, we are in touch with in the particular view of the pilgrim. And we have found some shared themes & subjects. Of course each photo is unique, just like the experience of each pilgrim.
Below are some of these shared subjects. We hope they inspire and encourage you to take some good pics along the Way.
1. Arrows, scallop shells and other signs
Is it because they are the compass for all of the pilgrims travelling to Santiago de Compostela? Because of the design variety? Because they're everywhere, on all of the routes and it's impossible to not take at least one photo of them? The answer escapes us, but it is clear that photos of the different Camino signs (yellow arrows, scallops and various plates) are a big hit amongst pilgrims.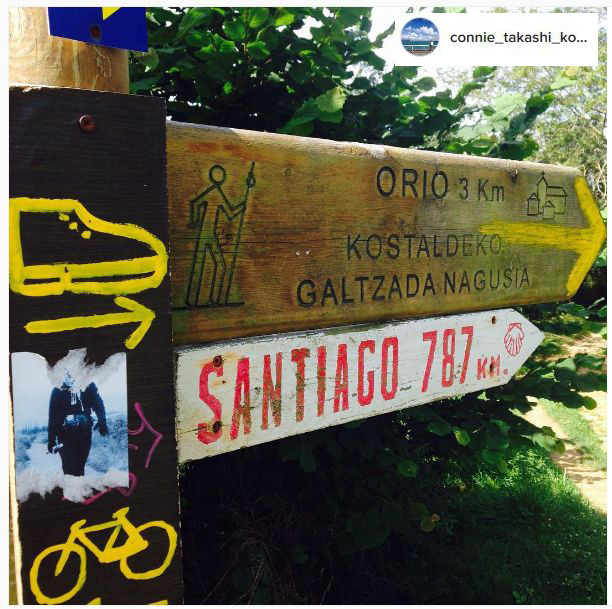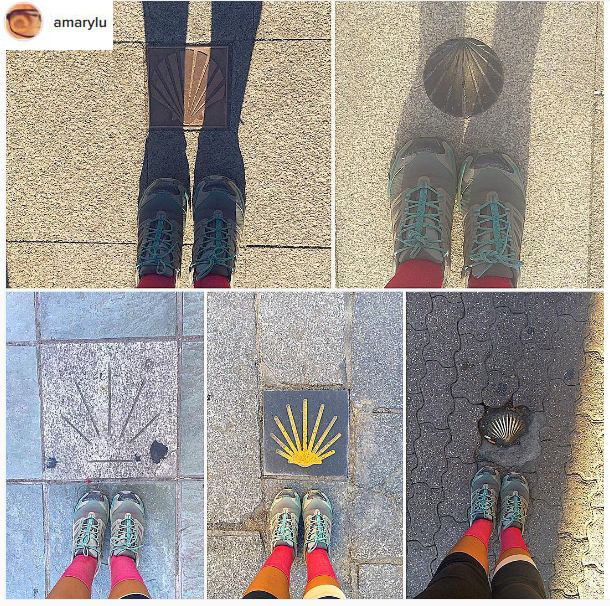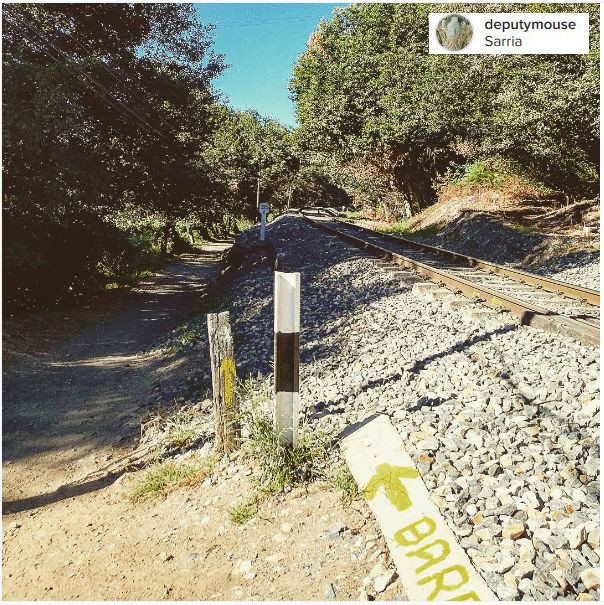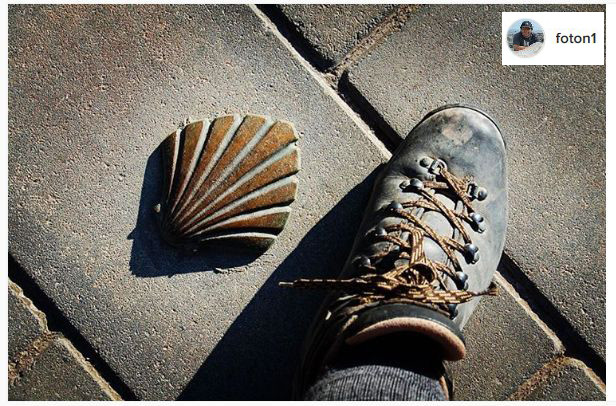 2. Typical food – that's certainly delicious
Are you familiar with that Galician saying 'bread and wine to travel the Camino?' It's a brief phrase for the spectacular gastronomic variety of the routes to Santiago. On the Camino you must eat well in order to keep up your energy. You can rest assured, for on all of the routes you'll have plenty of opportunities to try typical dishes.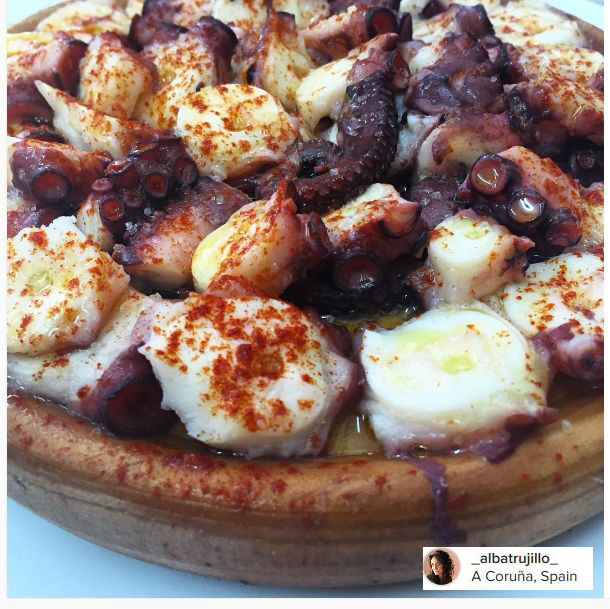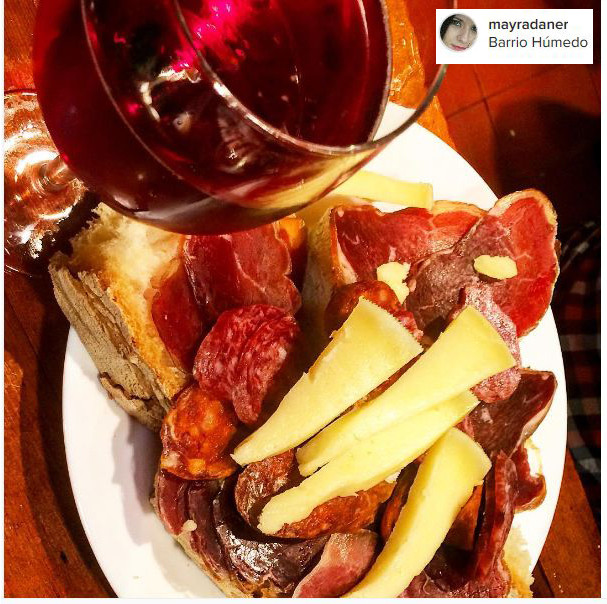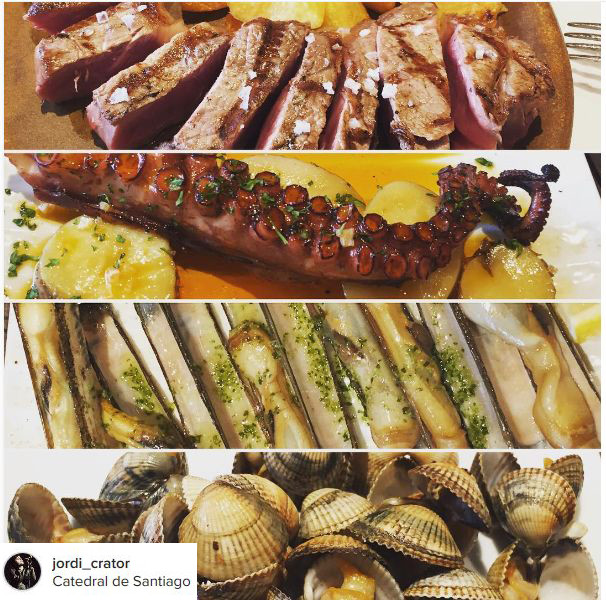 3. Sunflowers
The immense sunflower fields that you'll pass by on certain stages of the Camino are impressive – we know this quite well. And they are also incredibly photogenic. How many of you have waded your way through endless flowers to take photos like these?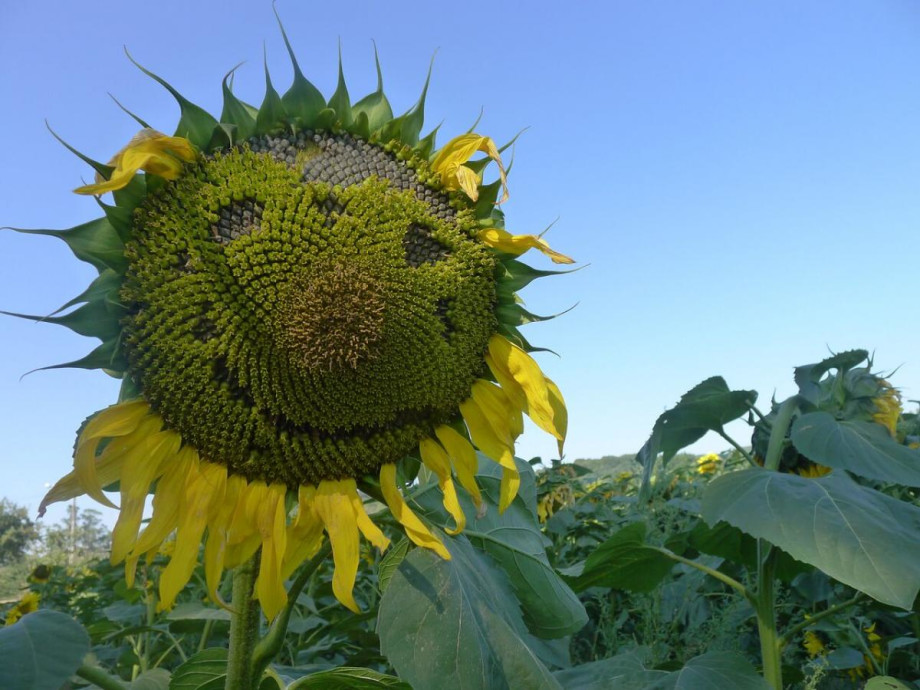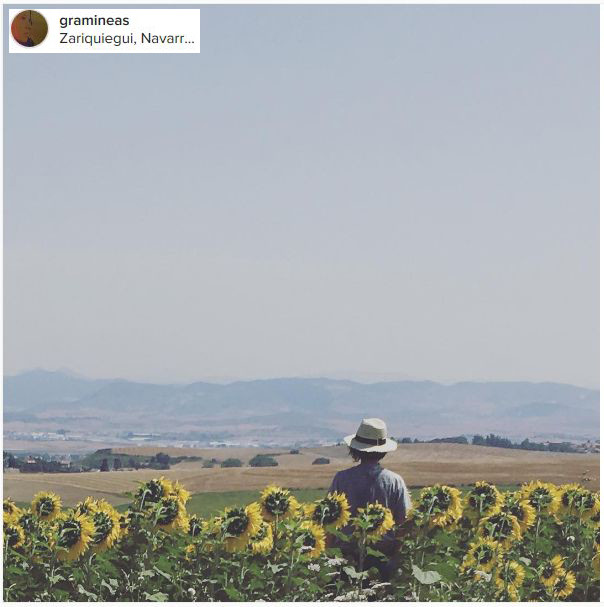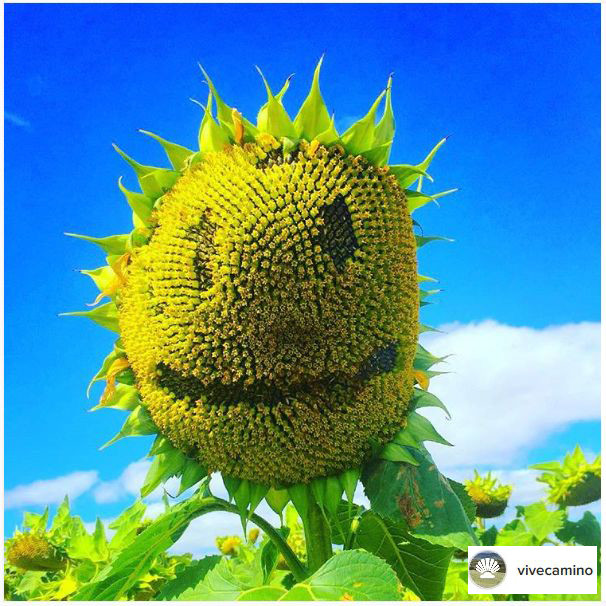 4. Monuments dedicated to pilgrims and to the Camino
Just as the route leaves its mark on the pilgrims, so do the sites they pass. We're sure that you've visited some of these sculptures that have been created to honour the pilgrims and the Camino.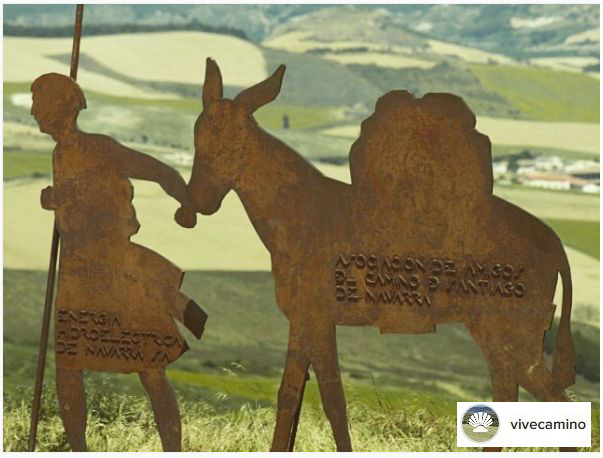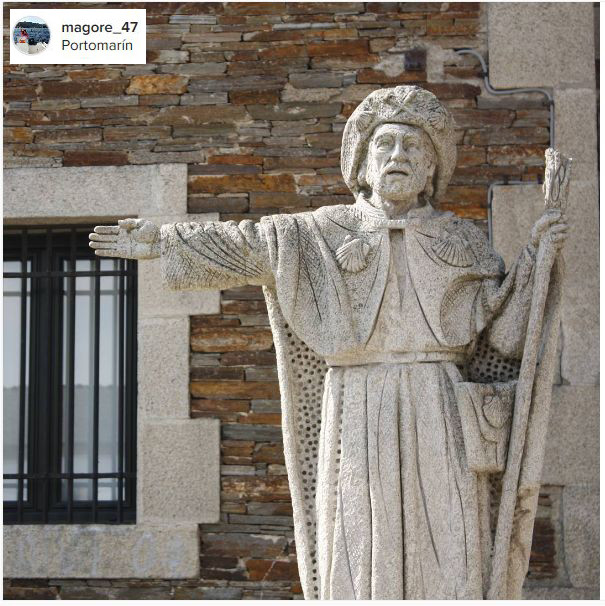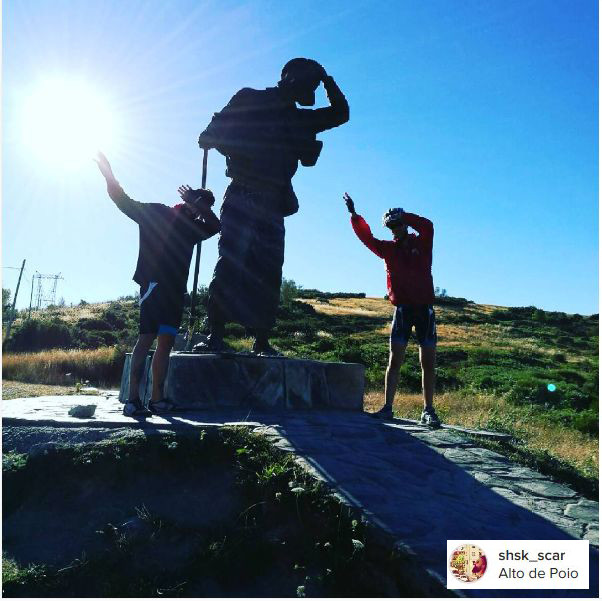 5. Pilgrim animals
Just a few days in nature go far if you're observant. If not, animals are curious and will not miss out on watching you pass by. They can even pose for you! For many city folk, the Camino is a great opportunity to unwind and enjoy the company of unexpected friends.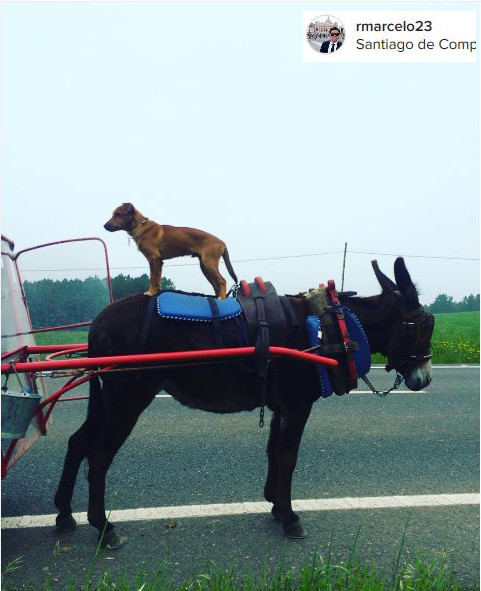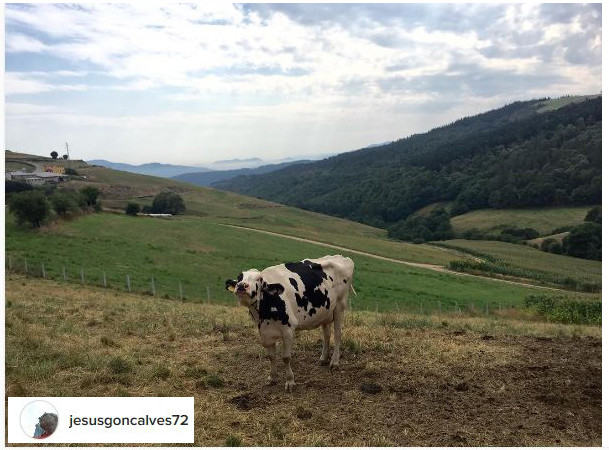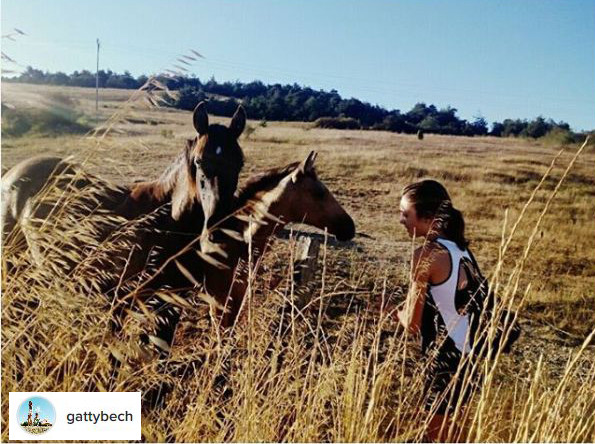 6. Spectacular scenery
It's irresistible. Some landscapes of the Camino are so beautiful that we need to be immortalised with them. Many of these images have been taken without realizing what's in the background. But we don't doubt you'll be delighted with the result. Something to remember: the best way to immortalise these landscapes is to take care of them...don't forget after taking the photo! ;-)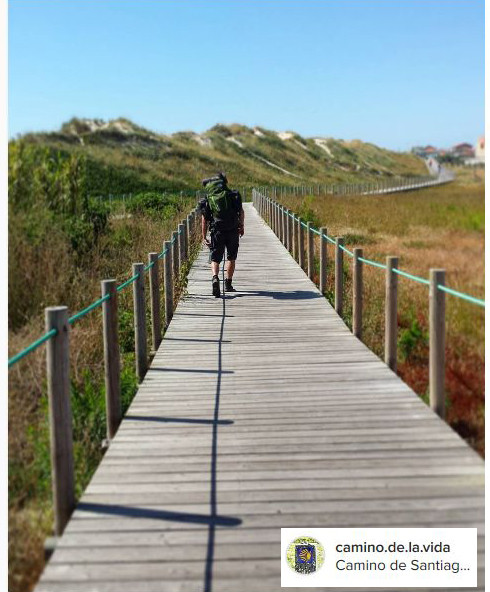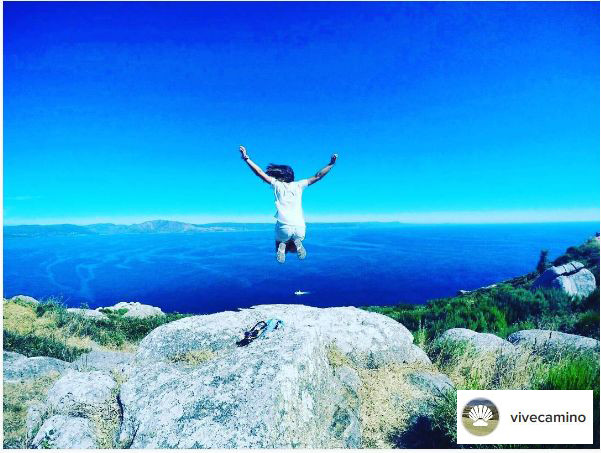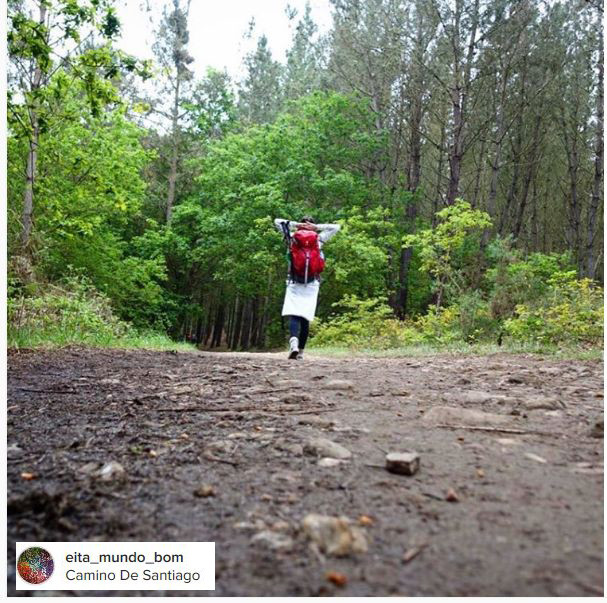 7. In the Obradoiro, in its different forms
The Ultimate Camino Pic. The end of the Camino (for most) deserves an entire album. On any day you'll find pilgrims photographing the Cathedral, tired but conveying a joy that's difficult to hide. The mixture of emotions is so much that these photos are the most varied:
- Lying down: what many do upon arrival is take off their backpack or get off their bike and directly lie on the hard stone of the Obradoiro. It is one of the best ways to admire the facade of the Cathedral!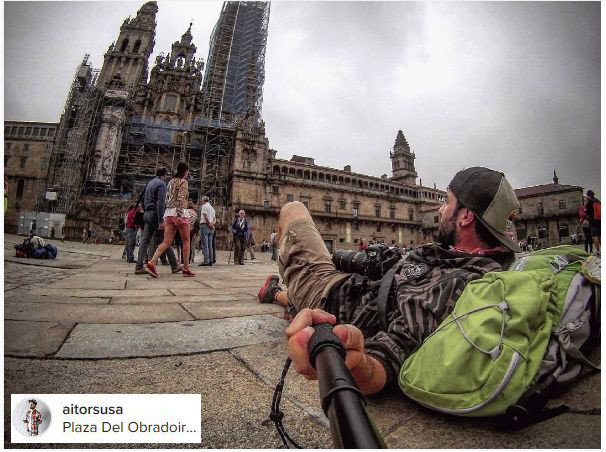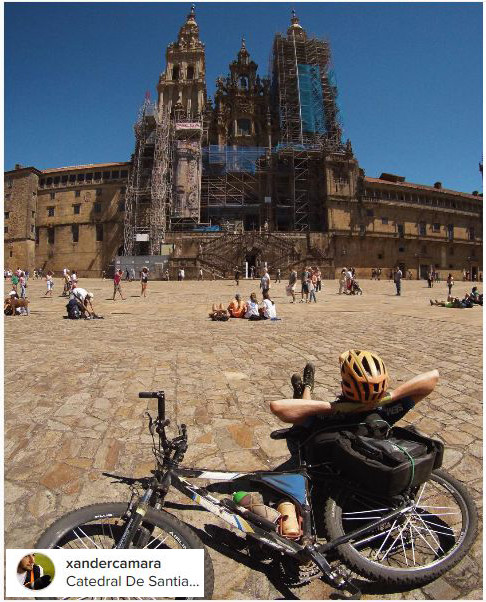 - Seated: they have probably arrived a while ago but stayed in the plaza internalising that they've finally arrived. What better way than to sit and soak up everything...and take a few photos!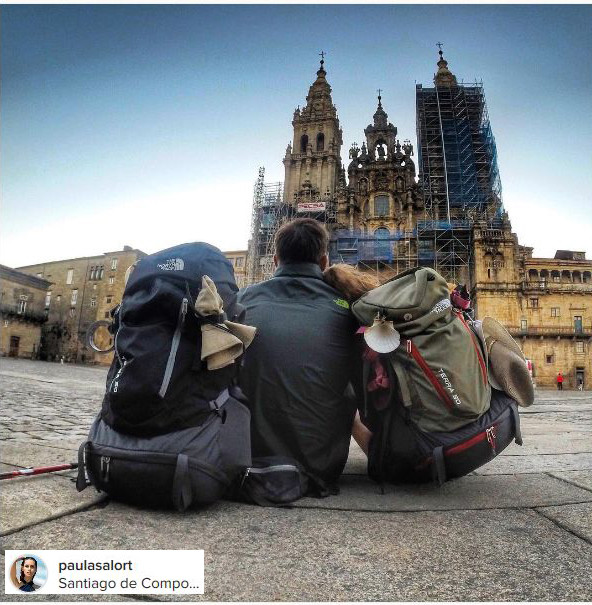 - Extra energy: they arrive as if it was no big deal. They could start walking all over again! They are definitely tired... but happiness is able to draw new strength from everyone. Arriving in Compostela, entering this plaza and knowing you have finished is something to rejoice for.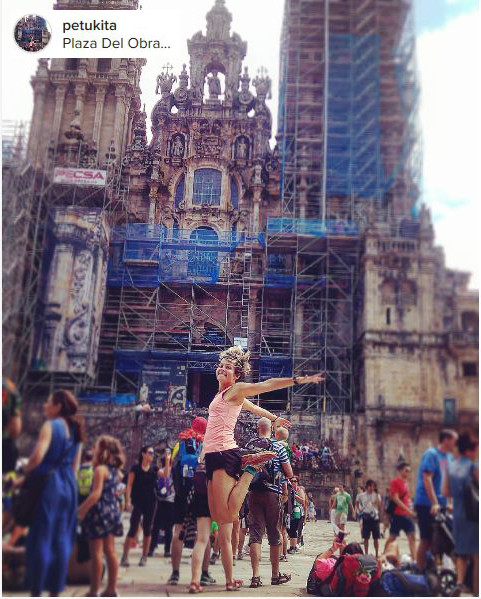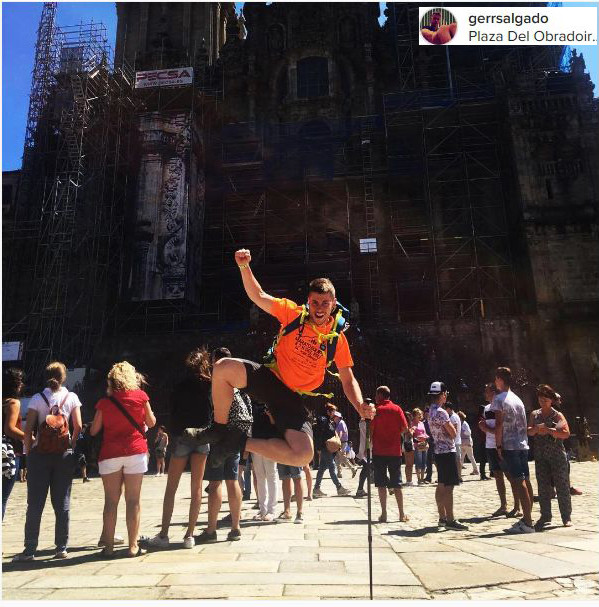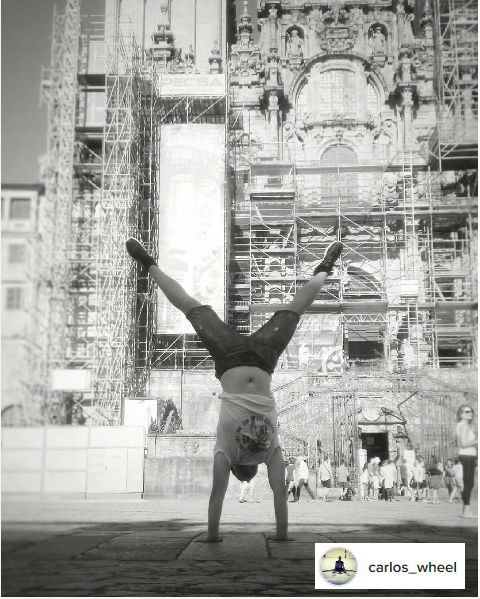 - With an epic touch: another view of this end to the Camino. Many photos in the Obradoiro have an epic air, like that of heroes and heroines. It's no wonder, of course. The Camino de Santiago is an adventure; and reaching the end is an achievement to be proud of.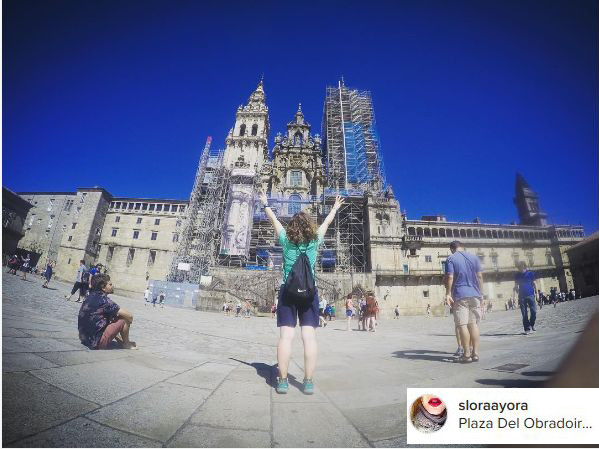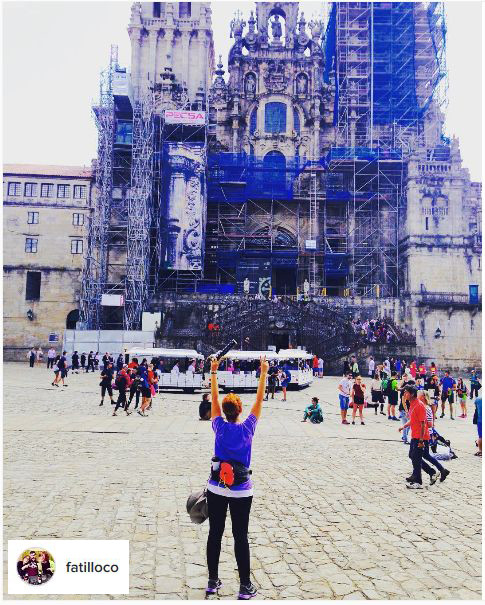 - Feet and the Cathedral: we love this simply because it acknowledges that which has suffered the most during the Camino de Santiago: your feet. They have brought us here with a lot of effort, so it's only fitting that they have their photo finish ;-)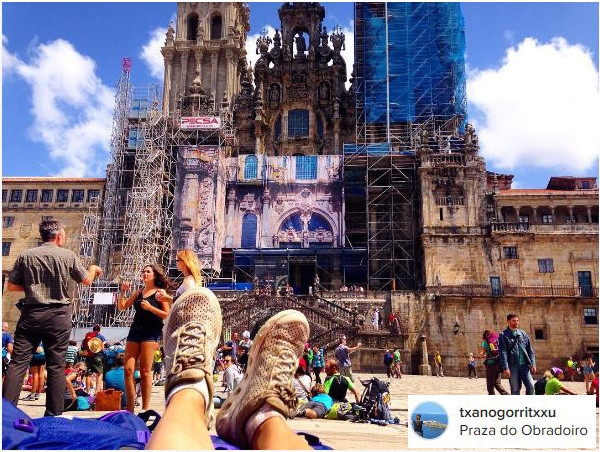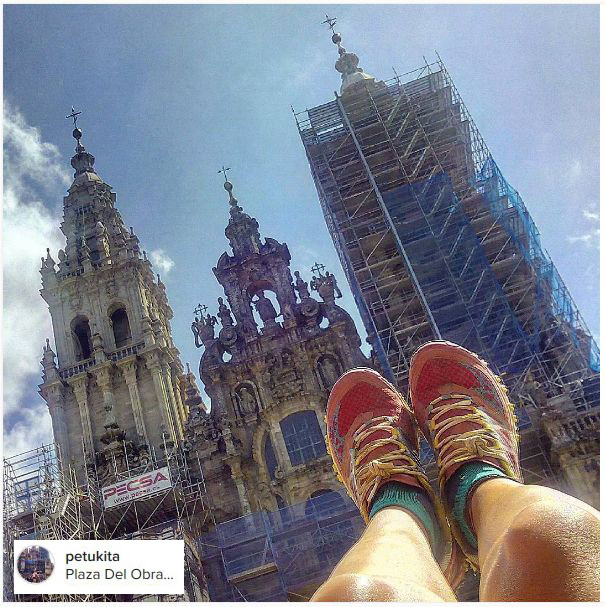 - Bonus for bike pilgrims: if you've arrived by bike, your photo in the Obradoiro should look like this: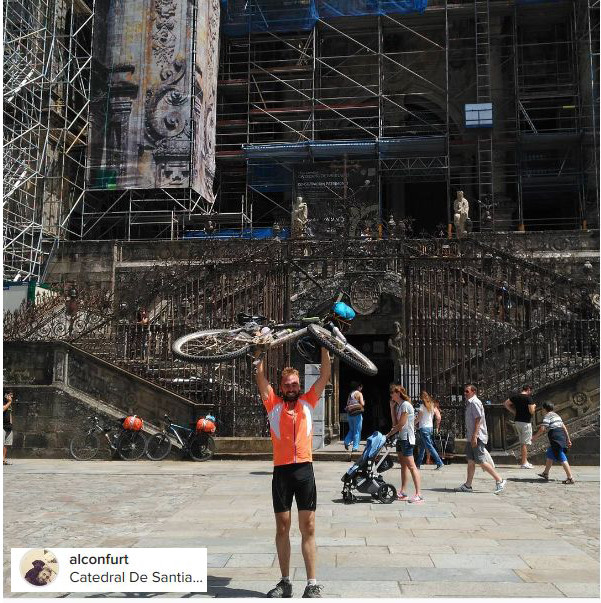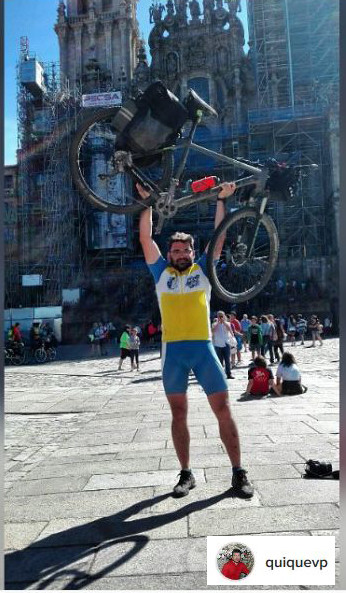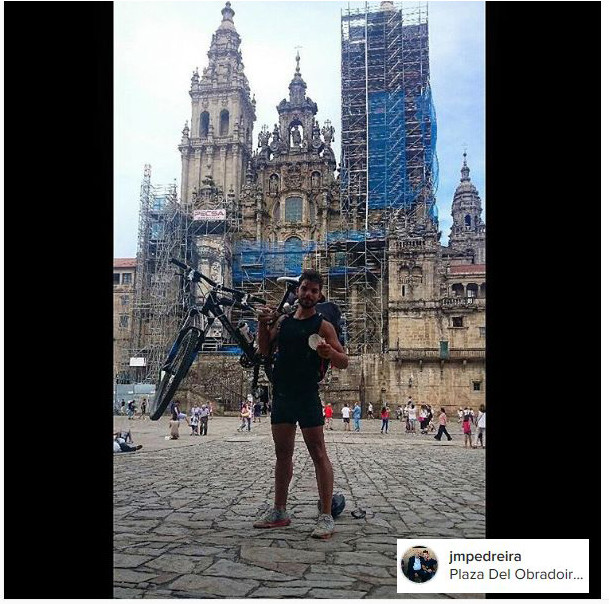 8. On km 0 if you're travelling to Fisterra
The extension of the Way to Fisterra is increasingly popular amongst pilgrims. And this is, of course, noted in the number of photos taken from there. The most searched is the Kilometre 0 landmark. Obviously!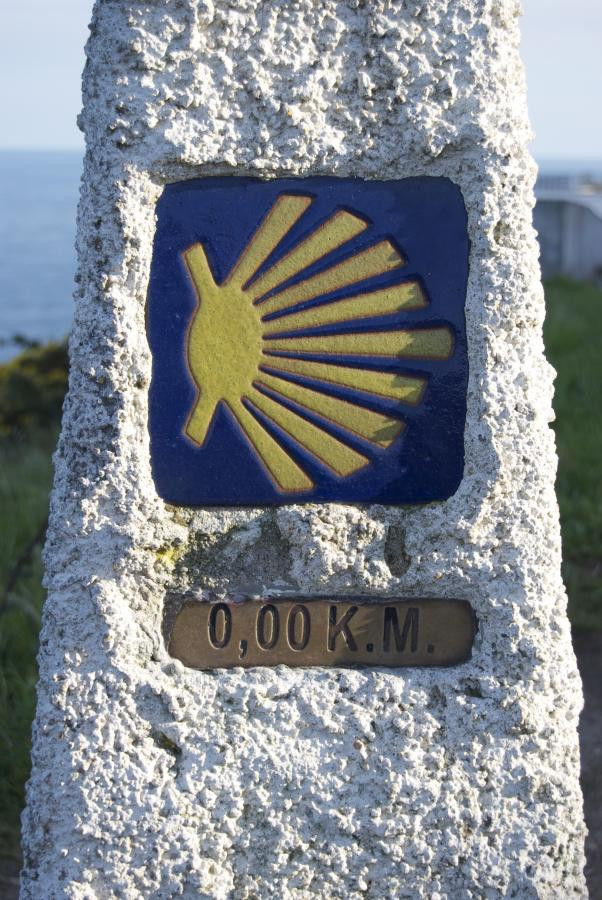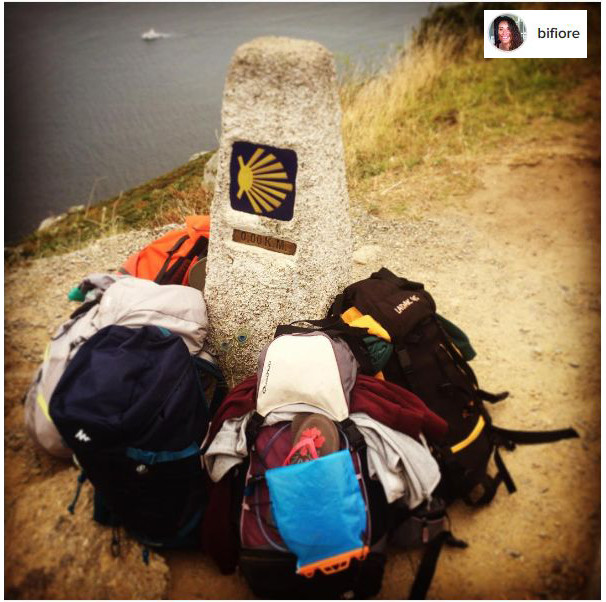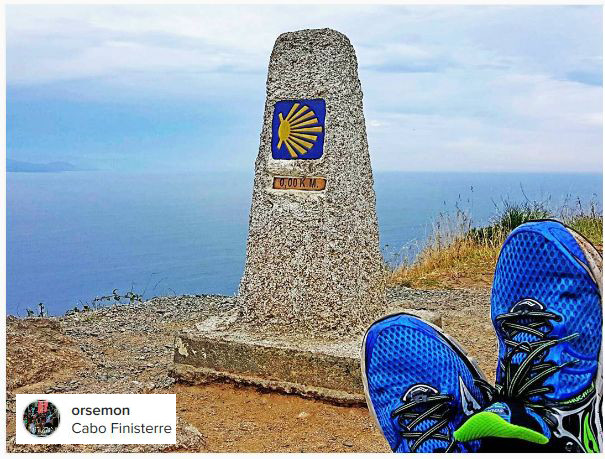 How many photos like these do you have in your Camino album? Which ones are you missing from this list? Join us and tell us about your special photos!
Buen Camino!
---
Your email address will not be published.
Mandatory fields are marked with *