Culture & Traditions of the Camino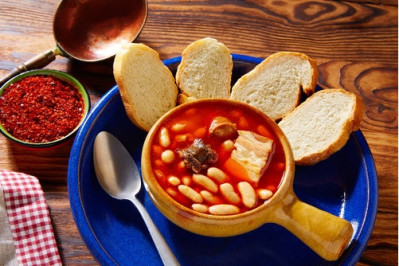 02-03-2017
That our country has an excellent gastronomic culture is a well-known fact, but learning about each and every one of the typical dishes of each region can be a gargantuan task if we consider the tremendous amount and variety of dishes which exist along the length and breadth of our geography.
On our blog we wanted to dedicate a section on the gastronomy of this part of the Camino, given that learning about and tasting some of the most characteristic dishes of the regions which we will visit along the Camino de Santiago (St. James's Way) will allow us to know its culture, history and people better, given the fact that gastronomy has much to do with all of these three things.
Several weeks ago we started this section of our blog learning about the ten typical dishes of Galicia, and today we decided to retrace our steps back along the Northern Way and travel to Asturias, which with its fabada (Asturian bean stew) as its insignia which welcomes us with a table chock-full of flavours. So come and join us to learn about the most delicious dishes of Asturian cuisine.
Fabada (Asturian bean stew)
It is difficult to start off a list with the typical dishes of Asturias without listing the Asturian fabada as the number one dish. This dish which is based on the Asturian faba (a white large bean variety) and cold cured meats such as the chorizo (cold spicy sausage) or black pudding.
This plate has acquired such importance that, according to several authors, it is one of the ten typical recipes of Spanish cuisine, on par with the Spanish omelette, tripe or paella. Leaving Asturias without having tried even once its fabada is a mortal sin, especially if you wish to enjoy the unsurpassable experience of overcoming the winter cold with a dish of this exquisite delicacy;)
Cider
Cider is another of the icons of Asturias, and this is due primarily because nobody can make (or serve) the cider better than they can. Whilst it is true that the cider existed long before it began to be produced in the north of the peninsula (the ancient Greeks and Egyptians are said to have made cider).
But in very few places in the world can it be said that this drink has become so deeply rooted as in Asturias, and which it has not only has made them manage to produce superior quality cider. But they have also mastered the technique of pouring the cider from a height with such skill, that it has become a sight worth seeing on your way through the lands of Asturias.
Cachopo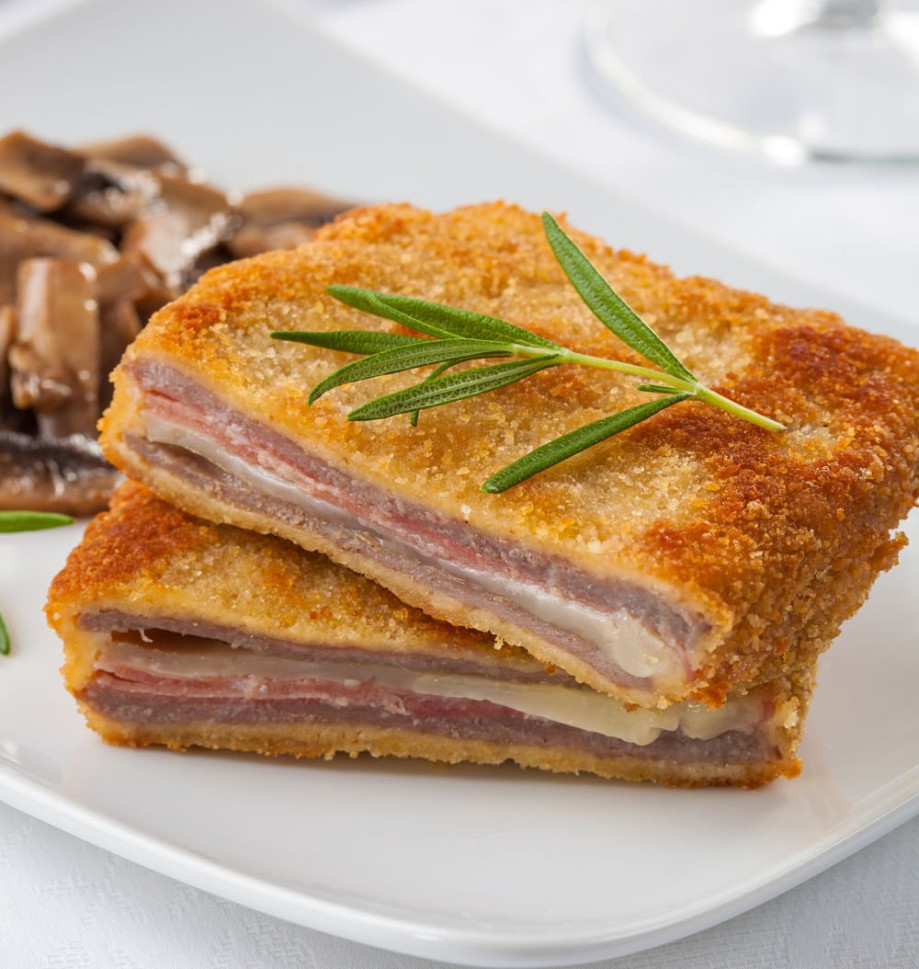 The cachopo is, for those who are not familiar with it, something like an improved version of a San Jacobo (Cheese and ham in breadcrumb).
In fact these two dishes bear no resemblance to each other, but the preparation process is similar: whilst the San Jacobos consist of a slice of ham wrapped around cheese which is fried after being coated in flour and breaded, the cachopo takes these two slices of ham and cheese, and sandwiches them between two large veal fillets, and also after being coated in flour and breadcrumbs are fried.
The result is a Version 2.0 San Jacobo of biblical proportions, which entices both for its taste and its ability to satisfy even the most ravenous of hungers.
Entrecôte a la Cabrales
Meat and cheese are an important part of Asturian cuisine, and a good example of the way in which these two raw materials can be combined in a delicious dish is the Entrecôte a la Cabrales.
Unlike the cachopo, to which first reference is made in the eighteenth century or the Asturian fabada that has more than a century and a half of history (although it is believed to be more), the Entrecôte a la Cabrales is a relatively modern dish, given that it gained popularity in the 80's. This is purely anecdotal, given that it is so good, we care very little about how old it is.
Chorizo a la Sidra
If you want a purely traditional dish and for your first course you'll opt for the Asturian fabada, ask for a chorizo a la Sidra (cider-glazed chorizo) as an entrée. Cooked in the cider itself, this characteristic Asturian dish falls within one of the most delicious categories of the world gastronomy: the "mouth watering" category : D for delicious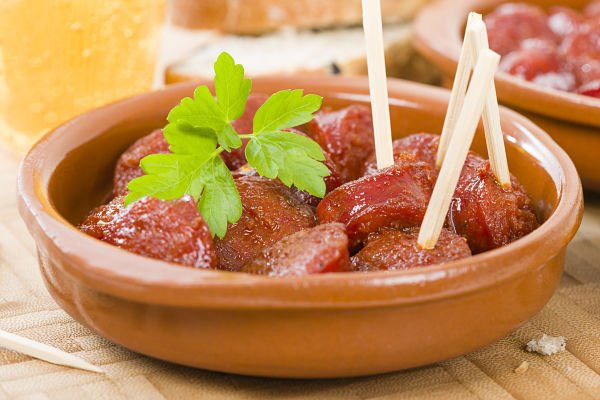 Pastel de cabracho (or large-scaled scorpion fish cake)
But if there is a typical Asturian entree capable of going head-on against the Chorizo a la Sidra, that is the large-scaled scorpion fish cake. This soft and creamy cake has, as many other dishes, as many recipes as chefs, that is why we don't know which one to try first. What we can assure you is that, whichever one it is it is, it will be superb.
Pixín (Asturian monkfish)
Pixín is the manner with which monkfish is known in Asturias, and has a very strong presence in Asturian gastronomy that we can find it in a great many recipes and is prepared in many different ways: fried, in sauce, with rice, a la cider etc. Choosing the dish is a matter of taste and preference, but you can't leave Asturias without having tried it at least one.
Tortos
The wildcard of Asturian cuisine. Tortos are round "tortillas" made from corn flour which are fried and that can be served with practically anything, and goes well with everything. Do you fancy something salty? Serve with ham, cheese, minced meat or black pudding, among many other things. Do you fancy something sweet? Serve with quince, sprinkle with sugar, serve with cream or even chocolate, it will always be perfection!
Their cheeses
Fundamental in Asturian gastronomy, the cheeses of this region enjoy great recognition and popularity. From the Cabrales to the Gamonéu and from the Vidiago to the Casin, you can't miss out on tasting the delicious cheeses that the principality has to offer you.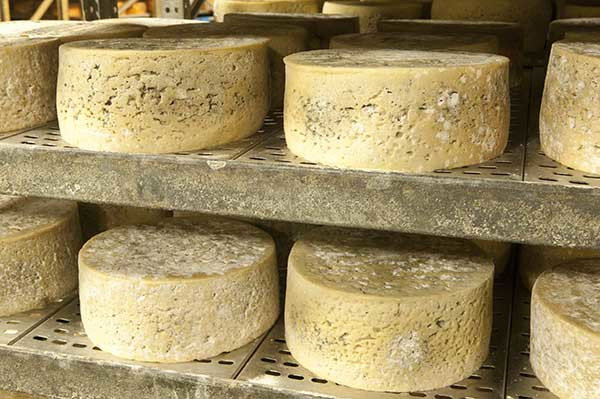 Casadielles
And wrapping up our list on Asturian gastronomy with a typical Asturian sweet which serves also as a dessert. Casadielles are a kind of fried turnover or dumpling stuffed with nuts, sugar and anisette, which, as with many other dishes, has variations according to the region of Asturias where we sample them. They generally have a tangible presence during the Carnival season but actually you can eat them all year round.
Our list goes no further with the top ten of the most delicious traditional Asturian dishes. As we have seen, the gastronomy of Asturias is much more than fabada (Asturian bean stew) and cider, reason why we invite you to become better acquainted with it when the Camino de Santiago (St. James's Way) takes you through the Principality. Bon Appetit!
---
Your email address will not be published.
Mandatory fields are marked with *