Rucksack transfer from Section to Section along the Camino de Santiago
CORREOS transfers your rucksack, suitcase or luggage along the Way so that you can walk unburdened and enjoy the routes and sections as much as possible.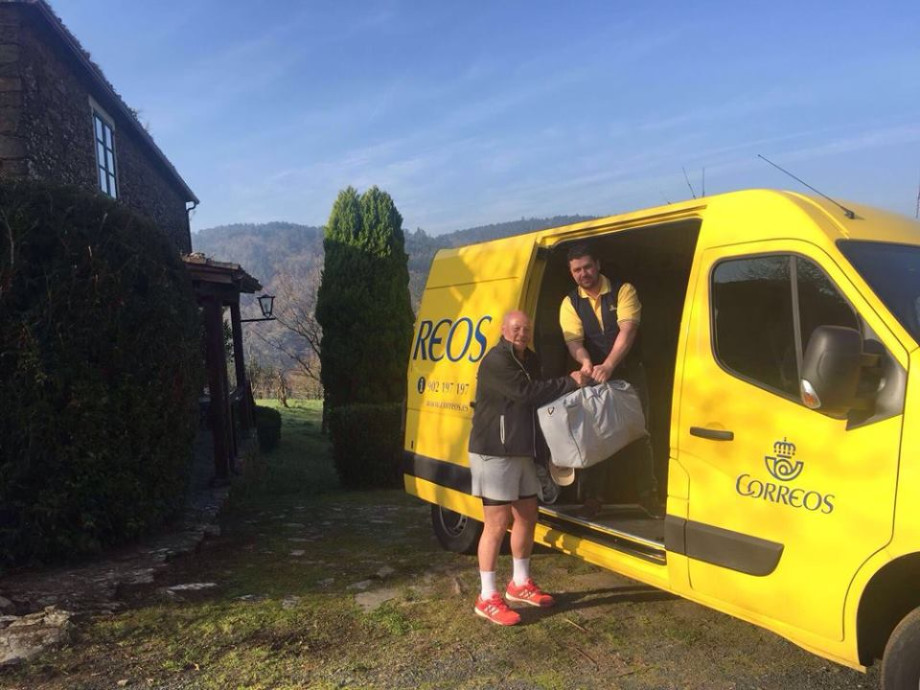 If you decide that you want to be on the Way without your rucksack so that you do not have to carry too much weight, or to have some extra things with you, CORREOS sends you your rucksack or suitcase every day (Sundays and holidays too) from section to section to the hostels or accommodation you tell us.
With out PAQ MOCHILA, we collect your luggage in the morning from the accommodation you tell us, and take it to your next hostel, hotel or boarding house before 14: 30 of the same day, so that you have all your things with you when you finish the section.
This section-to-section rucksack transfer service is available for the French Way from Roncesvalles and from Somport*, the Portuguese Way from Tui, the Original or Primitive Way from Oviedo, the Northern Way from Irún, the English Way from Ferrol, the Sanabria Way from A Gudiña and the Fisterra Way.
Our rucksack and suitcase transfer service is available for all these Ways from 1st April until 31st October and all year round from O Cebreiro to Santiago de Compostela (except for the 24th, 25th and 31st of December and 1st January).
*Please check the availability of our rucksack transferring services on the French Way from Somport sending a mail to paqmochila@correos.com or calling +34 683 44 00 22 (you can also use Whatsapp).
How does the Paq Mochila work? It is actually very simple!
You may book your PAQ MOCHILA from CORREOS in three very simple ways: on-line, per e-mail o by phone. The easiest way is using this on-line form. You can fill it with all the information that we need to transfer your luggage. We need to know, at least, which Camino you are going to be doing, when, how many Sections you want to book and the details of your first accommodation. In this way, you can arrange for, book and pay for the service (by credit card or through Paypal) in one go. If you already know the details of all the accommodations for your Camino, you may also give us this information and you can arrange your luggage transfer for the whole trip. If you do not have this information, do not worry, you can tell us later, even while you are doing the Camino. Please beware we will only take bookings up until 21:00 hours of the day prior to the luggage transfer you want to book. Once you complete your booking, we will send you an e-mail with all the details and the password you will need to make any changes to your reservation.
You can also send us an e-mail at paqmochila@correos.com or send a WhatsApp or call +34 683 44 00 22. You need to tell us about the dates and Sections you want us to take the rucksack for you and then follow the instructions to complete the booking and payment (direct payment or bank transfer).
You can hire our PAQ MOCHILA from 4 Euros per section hiring 5 or more sections *
You can also hire the service for a single section. In this case, the price is 5 Euros per section *
* The price includes a single bag of max. 20 kg and shipping for stages separated by less than 25 kilometres. Maximum distance, for routes on bicycle, is 90 km/day.
Once you complete your reservation, we start up!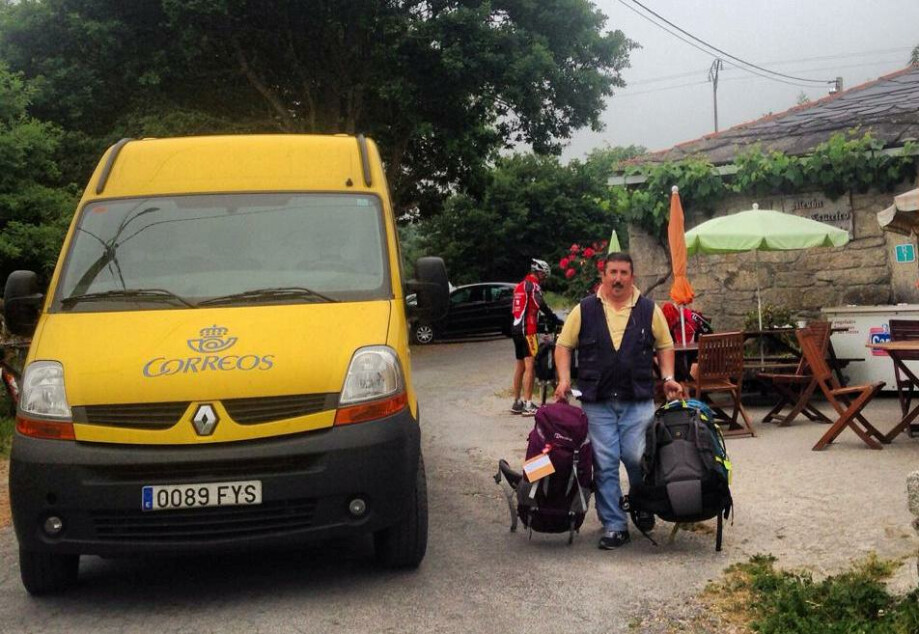 Once you complete your reservation, we will arrange for the luggage pick-up and delivery using the information you have submitted (starting date, hostels, hotels or boarding houses where you will stay..). Your rucksack or suitcase will be assigned a tracking number to ensure proper transportation.

The day you start your Camino

, we will be ready to pick-up your rucksack or suitcase from the place you have indicated in the form. You just have to get up and leave your luggage at the reception before 08:00 and you can start your Camino. The first day you need to leave

our Paq Mochila envelope

on top of your rucksack or suitcase so that we can identify it. You will find these envelopes in any accommodation on the Camino, but you can also download them

here

. Our postmen and women will collect your rucksack, place a tag with a tracking number on it and they will transfer it for the rest of the journey.

While you walk unburdened, our postmen and women will take your rucksack or suitcase to the next accommodation on your list before 14.30, so that you can have all your things with you once you finish each section.
For any question or queries, you can read our FAQs or send us an email at paqmochila@correos.com or call +34 683 44 00 22 (also using WhatsApp) from 8:30 to 21:00 hours.
This video shows how our Paq Mochila and other pilgrim services work in the Camino de Santiago. For example, our Paq Peregrino to send your luggage and suitcases home or to any Correos office on the Camino, so that you can collect them once you reach, or our Locker service in Santiago, where you can leave your things before you go to the Cathedral.