Consejos para hacer el Camino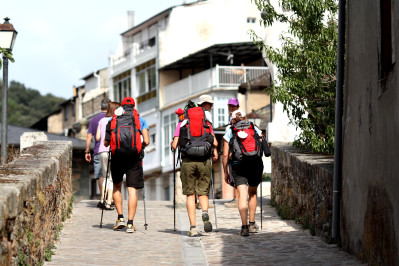 05-06-2019
A day in the life of a pilgrim walking the Camino de Santiago is quite different from a regular day. From early morning walks to enjoying meals with other pilgrims. Even though no two pilgrims are alike, today we'll try to show you what a typical day in the life of a pilgrim would look like.
A pilgrim will usually wake up at around 6 a.m. and get ready for the day ahead. If you chose to sleep at an albergue, you will probably be woken up by other pilgrims that are also preparing to start their day. Pack your things, do your stretches and prepare for the road. Getting up early will mean you finish your walking day by lunch time and will also help you to get a spot on public albergues on crowded months.
If you choose to send your bags through Paq Mochila, you can leave them at the reception (or any other place destined for this purpose) and go on with your walk.
The next step is to eat breakfast. Usually cafeterias will open around 6 a.m. to serve breakfast. The typical Spanish breakfast consists of coffee, tea, hot chocolate and/or orange juice served with toast, pastries such as croissants and churros or fruit. Toast can be accompanied by strawberry jam and butter for people with a sweet tooth or tomato and oil for those who prefer salty foods. A cooked breakfast is less common in Spain, but you can ask for it.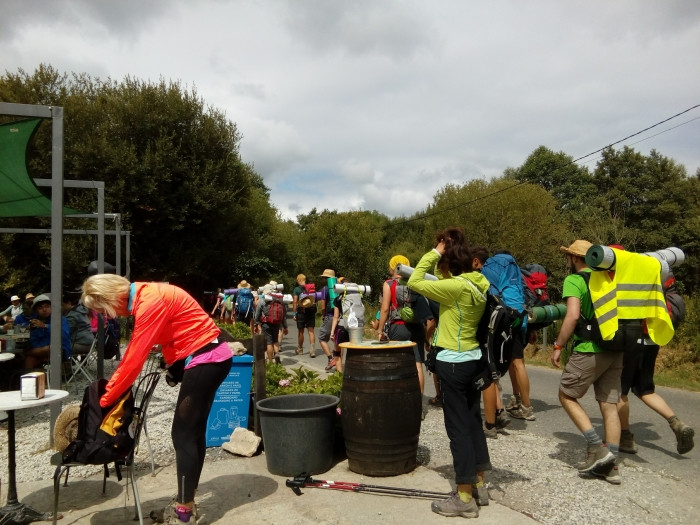 After that, you will start walking. Whenever you pass by fellow pilgrims, you can greet them by saying ¡Buen Camino! (Good Way) as a way to encourage on The Way. After a couple of hours and walking around 10 kilometers (about 6 miles), pilgrims will take their first break to replenish forces or sit down to rest for a couple of minutes.
You can stop for a drink and a snack. You can change into fresh dry socks and let your feet breath while you rest. If you find any public fountain, you can fill up your water bottle. If you reach an intermediate town you can take advantage of this and stamp your credential.
You need to stamp the credential once a day, or twice a day if you are in your last 100 kilometers. You can do this in albergues, coffee shops, friends of the Camino associations, churches and Correos Post offices. At many of the Correos post offices along the Camino, you will find special stamps with images of significant places on the Camino.
After that, we are on the move again, following yellow arrows and counting down kilometers. You can arrange your stops as you want and do as many as you need. The last kilometers of your walk are the hardest ones, since you've been walking all day and your body is tired.
After reaching your destination town, around lunch time, you will look for your accommodation and check in. If you need to do so, you can stamp your credencial again here.
After resting a little bit, finding your backpack (if you chose the Paq Mochila service) and taking a shower, you can change your shoes and go have lunch. Some albergues open in the afternoon, so if you got to the town early, you may want to eat and the come back for check in. In Spain lunch is eaten at 14:00, but restaurants, especially those on the Camino, are very flexible and kitchens will serve food from noon to 4:00 pm.
After eating you can return to your accommodation and sleep siesta. You will want to wash your clothes tend to your feet and plan your route for tomorrow. Afterwards, you can choose to go sightseeing around the town and join other pilgrims to share your stories and experiences.
Then you will eat dinner. A great option is the pilgrim menu, available in many restaurants and bars along the Camino.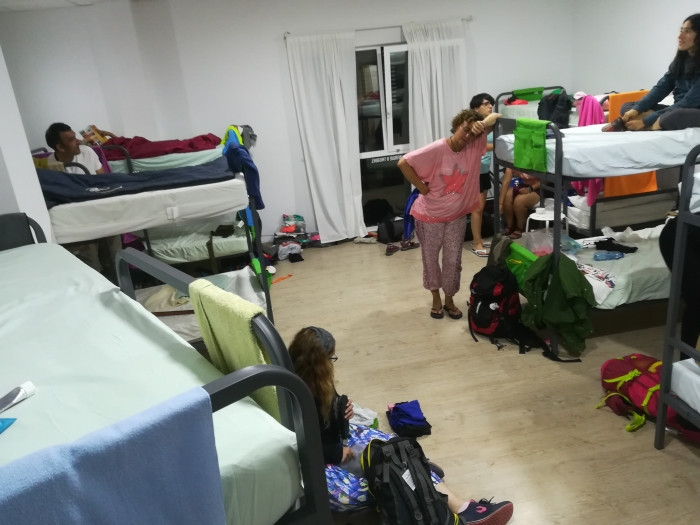 Remember normally albergues close at 10 pm, so you must be back before closing time. It might seem early, since in Spain dinner is typically delayed until 9 pm, but as a pilgrim you will thank going to bed sooner taking into consideration how early you will be waking up.
¡Buen Camino!
---
Tu dirección de correo electrónico no será publicada.
Los campos obligatorios están marcados con *