We have the winners of the Values of the Camino contest!
07-09-2017
Four prizes, twelve values, two months and a total of 753 participants. These are the results of the The Values of the Camino in 12 months competition held by the Camino Post Office and iPeregrinos, and we have the names of the four contest winners.
Strength, peace, sensitivity, solidarity, sustainability, diversity, integration, friendship, culture, hope, spirituality and hospitality. Each of the photos that you've sent us perfectly transmits some value we've selected and many more. Each hide a story. An anecdote. An important moment on the Camino of a person. But only four could be chosen as winners. And here they are.
1st Prize: Strength
Manuel Blanco
Plaza del Obradoiro, Santiago de Compostela
Stage 31 of the Camino Francés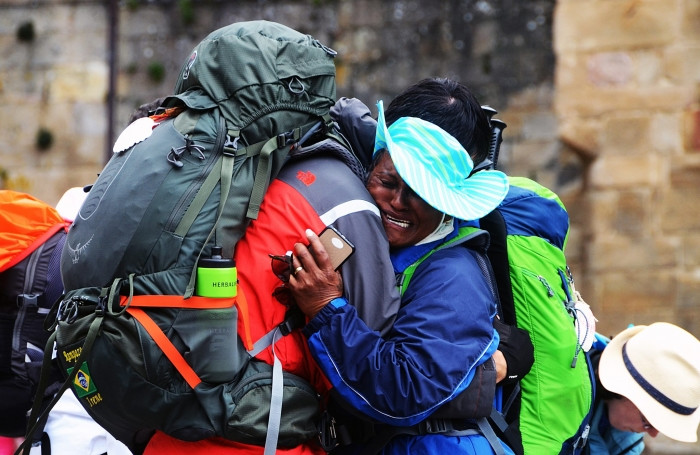 It represents strength. But it could have been friendship, sensitivity, solidarity or diversity. And it is the winning image of this contest, bringing multiple values of the Camino and eliciting excitement to the viewer. Its author is Compostelan Manuel Blanco, a professional photographer that has observed life through his camera from a young age. For fifteen years he worked for one of the best Galician newspapers: El Correo Gallego, and continues today as a freelancer, at the foot of the barrel with a camera on his shoulder.
"After travelling the Camino, I will never look at the Obradoiro the same again."
That's why Manuel is more than accustomed to seeing the Obradoiro full of new pilgrims, people excited to reach their goal, countless walkers in the plaza. In spite of everything, the photo of a hug that made him the winner of the Values of the Camino contest is different. Because it is an image taken at the end of his own Camino, done this year with friends from Lugo. And because, perhaps, it was the first time he knew how to understand the feeling and emotions of a pilgrim recently arrived to Compostela. "It was very exciting. I have hundreds of photos of pilgrims in the Obradoiro. But this one is special. There was something very beautiful between them. So many feelings," Manuel explains, who after taking the picture with his camera did not hesitate to approach them to know their story. A story that could be any one of us. A South African girl and Brazilian boy who met on the Camino Francés and arrived at their destination together. After this experience, Manuel is clear: "I will never see the Obradoiro the same way again."
2nd Prize: Peace
Pablo Collantes Jiménez
Between Hornillos del Camino and Hontanas
Stage 13 of the Camino Francés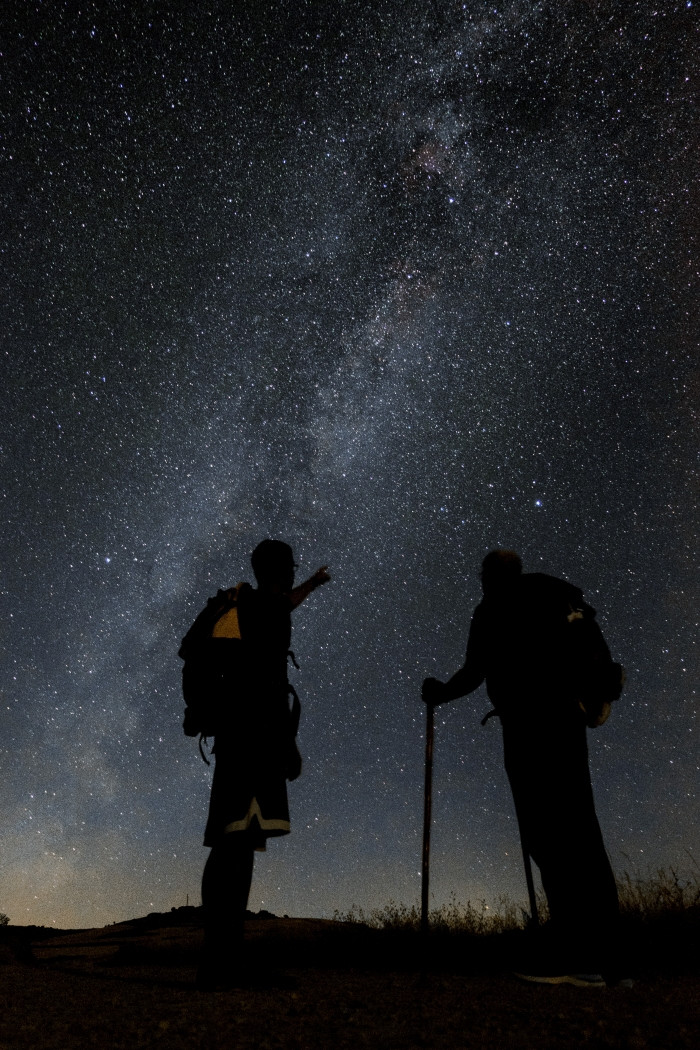 Stifling heat, a starry night and perfect company. These three ingredients were enough to create Pablo Collantes' photograph, which has won the second prize in the contest. It was taken during a rest stop at Hornillos del Camino and Hontanas, on the Camino Francés. In the last stage of this new section of the Camino that Pablo and his father began three years ago. Five stages per year. Five days in which to discover the magic of the route, enjoy the people and forge another type of relationship between father and son.
"I dedicate this photograph to my mother, to my father and to my friends. Because they're the starts that shine brightest."
"The decision to travel the Camino was a bit spontaneous. My father had done it years ago with my mother from Sarria and he wanted to do it again. For him it had been a great experience, especially because of the contact with people," Pablo explains. And they enjoyed the experience. "I was not much of a walker. But when you are on the Camino you realize that this doesn't matter. The Camino allows you to meet people and situate yourself within your inner path," he says.
This time a camera travelled with them, a hobby that was awoken on the Camino during last summer. After training all year long and experimenting with the camera, Pablo decided to take it with him and capture what he was experiencing. The next year will be the same… Safe travels!
3rd Prize: Hospitality
Elia Álvarez Brito
Lestedo
Stage 17 of the Camino Sanabrés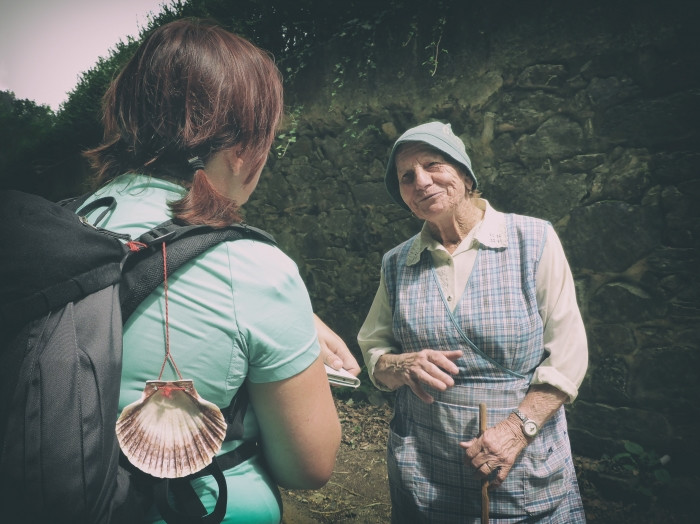 "The Camino has been magical. The landscapes, the people. Despite the difficulty and many kilometres, it was wonderful. There has been no pain, only fantasy." This is how Elia summarises her experience of the Camino, which she travelled for the first time this summer with two friends. They chose the Sanabrés and in five stages journeyed the distance separating Ourense from Santiago de Compostela.
"The Camino has been magical. There has been no pain, only fantasy."
The winning photo was taken during the last stage, a few kilometres from reaching their goal. "We were about to arrive in Santiago and this woman approached us and was encouraging us. It was a moment of euphoria, of pure happiness and she gave us that last push," Elia assures, for whom the magic of the Camino resides in its people. Although she confesses that the best moment was the day that it rained. "The first two stages were very difficult, very hot and very long. But the third was special: despite being the longest, the day started with rain. And it was the perfect gift for my birthday." Elia is already thinking about going back on the Camino. And we hope to see her on the road.
Most Votes Prize
Juan Carlos Navarro
Plaza del Obradoiro, Santiago de Compostela
Stage 31 of the Camino Francés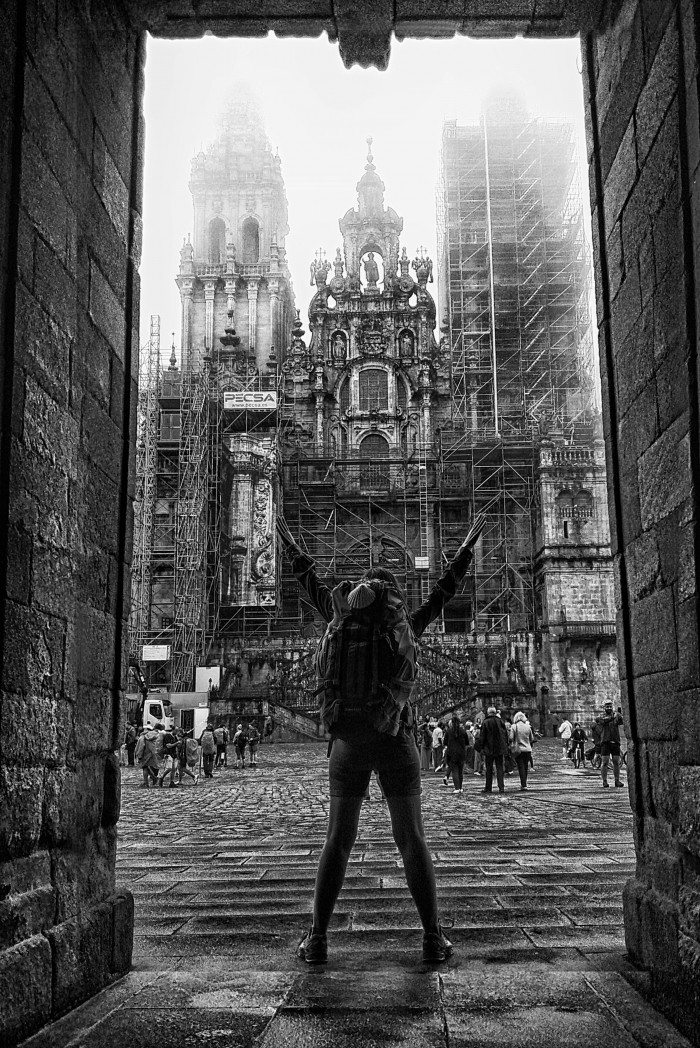 Juan Carlos Navarro is a veteran of the Camino. It takes several decades to travel the different routes to Santiago, "without missing a single year." His photos perfectly illustrate the feelings and experiences of the pilgrimage, which has lead him to star in some 20 exhibitions that have toured many points in Spain.
"The Camino imparts many things. I have met so many people, forged great friendships and it's also helped me on a professional level."
The image is, without a doubt, in the Plaza del Obradoiro. Specifically, after travelling the Camino from Saint Jean Pied de Port. "The girl in the photos is my partner. He had thought about her for a long time and wanted to reflect the feeling of the pilgrim with her when reaching his destination. It is a photo that transmits passion, strength...It conveys a lot," Juan Carlos says, who believes that even the scaffolding of the cathedral gives it a perfect temporal touch.
The first time that Juan Carlos travelled the Camino was in 2003, encouraged by some friends of his futsal club. Now he is preparing to go on the Camino Portugués, the only one he hasn't yet travelled. And to, of course, continue enjoying this unique experience. "The Camino imparts many things. I have met so many people, forged great friendships and it's also helped me on a professional level."
José Miguel Grandal
07-09-2017
No veo que haya premio sobre el valor "Cultura"
El Camino con Correos
07-09-2017
Buenas tardes, José Miguel Grandal. Efectivamente no hay un premio sobre el valor 'Cultura', como tampoco lo hay de otros 8. Las bases del concurso no contemplaban un premio por cada valor, sino tres premios a fotos que expresasen algunos de los doce valores sugeridos. Saludos y Buen Camino!
José Miguel Grandal López
07-09-2017
Gracias por la respuesta, y sí, es cierto, no recordaba las bases del concurso. Y me parecen merecidas las ganadoras, incluida la del público, cosa que en otros concursos no sucede.
Felicidades a los ganadores!! Hay calidad y creatividad. Contad conmigo para el año que viene.
Las fotos me parecen muy buenas, sin embargo dos de ellaa están hechas por profesionales, considero que tendría que haber dos categorías una para amater y otra para peofesionales...
Es una pena que peregrinos de otros paises no tenian la oportunidad de participar. Es más, no podían mirar las fotos del participantes, ni votar. ¿Mejor la proxima vez?
Gregorio Cordovez Yanes
25-09-2017
Bueno por lo Menos este año la más votada tuvo premio, no fue así el año pasado donde fui el ganador no reacivi nada a cambio , pero bueno mis comentarios sobre ese respecto parece que fructificaron y este año si fue premiada con algo. Un fuerte abrazo y mis felicitaciones a los ganadores. Buen camino
Deja un comentario
Tu dirección de correo electrónico no será publicada.
El comentario está siendo enviado, por favor espere.
El comentario se ha enviado, Gracias.