Foreigners on the Camino: Predominant countries and languages
24-04-2017
The great influx of pilgrims from all over the world on the Camino de Santiago is the main reason we started this section: 'Foreigners on the Camino' on our blog. Every day there are more pilgrims who come to the Camino from outside our borders and, therefore, we find more and more people wondering who they'll find in Spain.
Statistical data reflects the multiculturality of the Camino, where 55% of pilgrims are foreigners, compared ot at least 45% of Spaniards, according to the data from the Office of the Pilgrim.
The most common nationalities amongst pilgrims are Italy and Germany. In 2016, 23,944 Italians and 21,220 Germans arrive to Santiago de Compostela, constituting 15.59% and 13.81% of all pilgrims, respectively. The United States, with 15,236 (9.92%) and Portugal, with 13,245 (8.62%) are the countries where most other pilgrims come from, followed by France, with 8,868; Ireland, with 6,537; the United Kingdom, with 6,050 and Korea, with 4,534.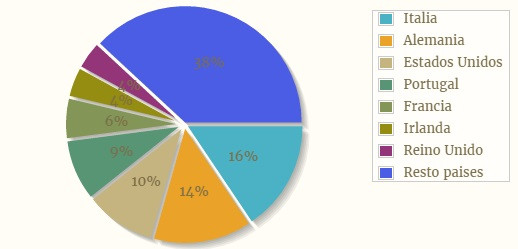 Official data from the Office of the Pilgrim
When you join so many people of different nationalities, communication may be the biggest obstacle, but at the same time it offers the opportunity to learn about new cultures and pick up a phrase or two in another language.
What are the languages most widely spoken by pilgrims on the Camino?
The Camino is multicultural and, therefore, you will surely find compatriots on your route wherever you come from. But this also means that there will many other people from other countries. Within this particular Tower of Babel, foreign pilgrims mostly use English to communicate with each other along with staff at different accommodation spots. It is necessary to taken in account that, between British and Americans, 27,823 pilgrims are anglophones. On the other hand, 21,220 Germans passed through the Camino last season, of whom a large percentage speak English.
Italian, French and Portuguese are the other two languages that you'll usually hear on the route. People who come from these two countries will try to communicate, in most cases, in Spanish, due to the similarity between Romance languages, although it is also common for them to use English to interact with people from different countries. Obviously Portuguese is the main language on the Portuguese route, which goes from Lisbon to Santiago de Compostela, beginning in Tui, the national stretch of this Camino.
We are trying to adapt to this idiomatic variety at the Camino Post Office. On our web site, not only have we produced interesting information about the main routes of the Camino de Santiago and our services, but we also try to reach as many people as possible, offering versions in Spanish, German, French and Italian, in addition to the content in English.
The Camino in South America
Even though official data on foreign pilgrims does not show a large number of people coming from South America on the Camino de Santiago, we've observed more and more people arriving from countries such as Argentina, Mexico and Brazil.
Pilgrims arriving from these countries further increase the diversity on the Jacobean routes. This means more Spanish and Portuguese speakers on the Camino and a better chance to learn more about the nuances of each of these countries.
12 years of expansion
The figures that we have now have very little to do with those we encountered ten years ago, when the number of domestic pilgrims was very high, while that of foreigners began to grow annually with lesser impact.
In 2004, the arrival of Spanish pilgrims to Santiago de Compostela was very similar to the past year. There were 137,466 people who embarked on the Jacobean route, coming from different parts of Spain. However, the number of foreigners lowered to 42,425 people.
At that time, Italy and Germany contributed the most pilgrims. One of the biggest changes we found pertained to the Irish. Today that country is in the top 6 of pilgrims on the Camino de Santiago, contributed only 563 persons in the past, in contrast to the 6,537 Irish pilgrims who travelled the Camino last year.
The Camino, a sensation in South Korea
South Korea is, undoubtedly, the focus of an unusual phenomenon. Today it is common to find many pilgrims coming from this country, with more intensity throughout the winter months. Last year 4,534 South Koreans stamped their Compostela and this year the number is sure to increase. The change is impressive, since only 18 persons came through the Camino de Santiago from South Korea in 2004.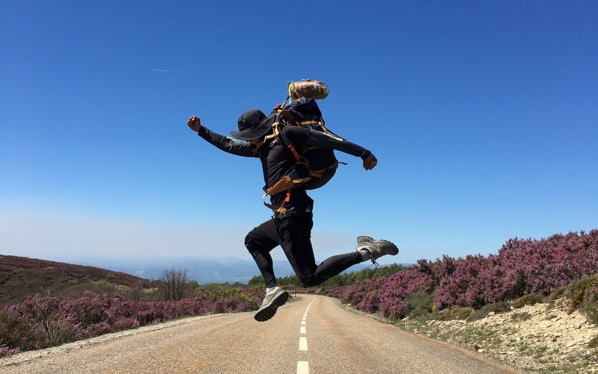 Image from @sanguk_89. Source: Instagram
The reason: The Camino de Santiago has become a recurring theme in Korean literature and cinema. In 2006, a book written by journalist Kim Nan Hee was popularised in the country. The book was titled The journey of a woman alone wove the tale of her own experience crossing the Camino Francés. Her steps were followed by another writer, Kim Hyo Sun, who travelled the trilogy: Camino Francés, Portugués and Vía de la Plata.
Thanks to literature, art and, above all, the positive experiences on the Camino, multiculturalism has invaded our routes, making the Camino de Santiago a benchmark of diversity and allowing pilgrims to take in new cultures.
Despite all of this, communication problems on the Camino are minimal; however, the opportunity to practice and learn foreign languages is enormous. Thus, we return home with a backpack full of experiences and, perhaps, knowledge of another language or at least a handful of new phrases.
Safe travels, pilgrims!!
José Enrique García Zorrilla
24-04-2017
Fantástico reportaje ! En mis años caminando guardo recuerdo de varias nacionalidades, destacando mis contactos con neozelandeses y uruguayos.
I'm from the USA and one of my favorite parts of walking the Camino was having the opportunity to meet people from all over the world. I met Pilgrims from South Africa, South Korea, Australia, New Zealand, Italy, Finland, and Germany just to name a few! Wonderful experience.
El Camino Con Correos
13-06-2017
We agree with you Fiona. One of the best parts of this pilgrimage lies on the people you meet all over the Way, because they all gather the values of the Camino.
Soy de nacionalidad argentina y estoy programando mi recorrido por el Camino de santiago, y mi mayor inquietud se refiere al idioma , ya que solo hablo castellano , y a mi edad , 61 años , con lo cual tengo mis dudas respecto al los kms por que pueda afrontar , privilegiando el placer y no el apuro , Todo comentario acerca de multiples experiencias seran apreciado Gracias
Graciela, lo mejor que puedes hacer es comprar un buen par de zapatos y calcetas para evitar problemas con tus pies. Mi esposa e hija usaron la marca Salomon modelo X-Ultra. Recuerda que la mayoria de los peregrinos van a hablar el castellano, mi edad 64, recuerda que todos no llevan prisa y lo mejor es disfrutar el recorrido y hacer amistades de por vida con la gente que te topas en el Camino de Santiago. Preparate con unos 6 meses antes caminando de dos a tres dias seguidos aumentado la distancia segun tu nivel de salud. Buen Camino Graciela.
Leave a comment
Your e-mail address will not be published.
Sending comment, please wait.
The comment has been sent, Thank you!